This edition of Today in Books is sponsored by Dynamite Entertainment, publisher of Nancy Drew & The Hardy Boys.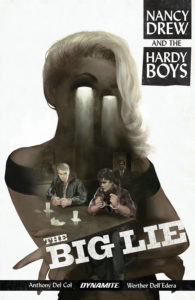 ---
National Book Critics Circle Awards Finalists
The National Book Critics Circle announced the finalists for the 2017 awards. The 30 finalists fell into six categories––autobiography, biography, criticism, fiction, nonfiction, and poetry. Finalists include Masha Gessen's The Future is History: How Totalitarianism Reclaimed Russia, Thi Bui's The Best We Could Do: An Illustrated Memoir, and Arundhati Roy's The Ministry of Utmost Happiness. The awards will be presented on March 15 at the New School in New York City. Find the complete list of finalists here.
Book Publisher Seized In China
Gui Minhai, a Hong Kong-based book publisher with Swedish citizenship, was seized by police officers on a train headed for Beijing. He was one of five Hong Kong booksellers who disappeared in 2015, only to resurface in police custody in China. The bookseller was released from detention last October. According to the New York Times, supporters are calling the detention of Mr. Gui and the other booksellers "a campaign by the Chinese government to shut down publishers of books offering unsparing criticism and also unflattering gossip about the party elite."
New A Wrinkle In Time Trailer
Those of us anticipating the upcoming adaptation of Madeleine L'Engle's A Wrinkle in Time were treated to another peek at the film with the release of a new trailer from Disney UK. See more of the cast, including Oprah Winfrey, Reese Witherspoon, and Mindy Kaling as the Mrs Ws, more eye candy settings, and more Meg, Charles Wallace, and Calvin.
We're giving away a library cart! Enter to win here.