It's Tuesday (again!) which means there are a bunch of faboo new releases! (Why, yes, I did watch a lot of Animaniacs as a child.) I have a few more awesome books for you below and you can hear about several more great titles on this week's episode of the All the Books! Jenn and I talked about a few amazing books we loved, including Brass, Eternal Life, The Milk Lady of Bangalore, and more.
OH! Did you know Book Riot is giving away a library cart? WELL WE ARE. Because that's how we roll. Enter to win here.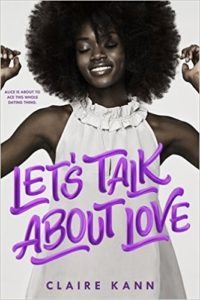 Let's Talk About Love by Claire Kann
Alice's romantic dreams were dashed when her girlfriend dumped her after Alice confessed to being asexual. Now she's planning to spend her summer alone, binge-watching television and working at the library. Then she meets Takumi and her heart sings. Is she ready to risk their friendship to confess feelings that Takumi may not reciprocate or even understand? This is a heartfelt debut that is perfect for young (or not-so-young) readers, especially those still working out their place in the world. More asexual representation like this in books, please.
Backlist bump: Tash Hearts Tolstoy by Kathryn Ormsbee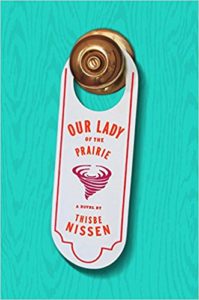 Our Lady of the Prairie by Thisbe Nissen
There's a hurricane headed to town, but that's the least of Phillipa's problems. The theater professor has just had a passionate affair while teaching away from home, now is returning for her daughter's wedding, where she will have to endure her menacing mother-in-law, her husband, and all the baggage she left behind while she was gone. But what would happen if she walked away? Nissen's sharp, funny novel explores what it means when a woman stands up for herself and starts putting herself first in her own life.
Backlist bump: The Good People of New York by Thisbe Nissen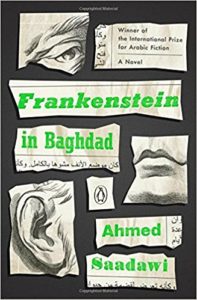 Frankenstein in Baghdad by Ahmed Saadawi
A scavenger in US-occupied Baghdad stitches together the body parts of corpses in an effort to get citizens a proper burial, and a grieving mother claims it as her son. But when the corpse goes missing, a series of murders begin plaguing the city, leading to an undead killer who must be stopped. This is an inventive way to talk about the horrors of war, loss, and what it's like to live in a war-torn city.
Backlist bump: Escape from Baghdad! by Saad Hossain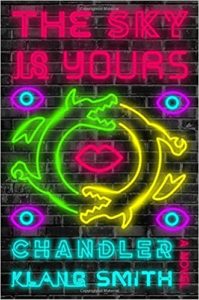 The Sky is Yours by Chandler Klang Smith
A dystopian epic about a future city called Empire Island, plagued by dragons, violence, and chaos, and three young people who must battle fire, the future, and themselves to survive in the world. I love the idea of a future world with dragons. This is a genre-bending delight!
Backlist bump: Seraphina by Rachel Hartman (For more dragons. I am so into dragons right now.)
That's it for me today – time to get back to reading! If you want to learn more about books new and old (and see lots of pictures of my cats, Millay and Steinbeck), or tell me about books you're reading, or books you think I should read (I HEART RECOMMENDATIONS!), you can find me on Twitter at MissLiberty, on Instagram at FranzenComesAlive, or Litsy under 'Liberty'!
Stay rad,
Liberty