Prepare For More Scandinavian Lifestyle Titles
Make room, hygge, there are some new kids on the block. Namely lykke (happiness), lagom (not too much, not too little), and dostadning (uh, death cleaning). The New York Times profiled three books shuffling for space alongside still-trending hygge, which is the booknerd-friendly Danish word for coziness: The Little Book of Lykke: Secrets of the World's Happiest People; Lagom: The Swedish Art of Living a Balanced, Healthy Life; and The Gentle Art of Swedish Death Cleaning: How to Make Your Loved Ones' Lives Easier and Your Own Life More Pleasant. You can bet this isn't the last time we see those words in the book world.
Wait, There's A Tolkien Movie?
Nicholas Hoult will star as J.R.R. Tolkien in a film that explores the author's formative years. Tolkien, which just wrapped filming, follows the Lord of the Rings author into the outbreak of World War I, delves into his friendship with a group of outcasts, and, in effect, explores the inspiration for his Middle-earth novels. The film also stars Lily Collins as Tolkien's wife, Edith, and is directed by Dome Karukoski.
The Serpent King Will Be Adapted
Jeff Zentner's The Serpent King has been optioned for film and television, according to a Twitter post from producer Matt Sutherland. The Young Adult novel follows a group of outcasts preparing to graduate high school and leave their small town.
We're giving away a stack of our 20 favorite books of the year. Click here to enter.
---
Today in Books is sponsored by David Kranes, abracadabra, University of Nevada Press.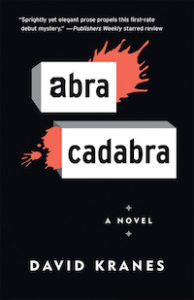 Abracadabra begins with Mark Goodson, a seemingly well-adjusted married man, disappearing during a magic act. It falls to a former professional football player, Elko Wells, to uncover the far darker story of Mark's marriage and family and weave together a story at once compelling and true. Magicians and misdirection, gambling, down-on-one's-luck, the crazed sense of possibility and impossibility, mistaken identity, impersonators and body doubles, people acting bizarrely with all sorts of chaos, and overlaps thrown in for good measure. The twists this plot takes are all but impossible to anticipate. Reading Abracadabra is deliciously magical.