Happy December, Audiobook fans,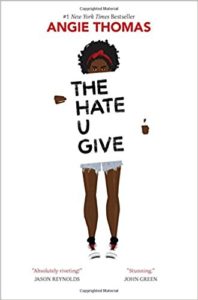 It's that time of year–-Best Of the Year lists. Audible has already kicked things off by announcing their Best of the Year winners in various categories. Among them: The Hate U Give took Audiobook of the Year! YAY! Take a minute to celebrate something good happening in 2017! Jump up and down and clap and shout. I'll wait.
Seriously, if you haven't listened to Angie Thomas's debut novel yet, what are you waiting for? It's so good and so necessary. You can take a look at all the categories, nominees, and winners  here.
---
Sponsored by Penguin Random House Audio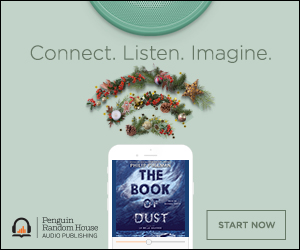 Listening to an audiobook can bring family and friends together this holiday season. Listen to Turtles All the Way Down by John Green on your next family road trip and discuss the important themes of the story. Or, listen to Seven Days of Us by Francesca Hornak with your friends at book club to prepare for the holiday season. Connect, listen, and discuss with audiobooks from Penguin Random House Audio.
---
But I want to know what you all, the readers of this newsletter think! What were the best audiobooks you listened to this year? Don't worry about if they actually came out in 2017–-if you listened to it for the first time in 2017 and it was your favorite listen of the year, I want to know about it. You can email me at katie@riotnewmedia.com or hit me up on twitter (@msmacb) (but let's use a hashtag of some kind, shall we? I have the memory of a goldfish and will likely need some way to revisit what everyone said. How about #BRaudio2017? I'll compile a list for an upcoming newsletter.
Speaking of Audible, what the hell is happening with the audio of Joan Didion's Slouching Towards Bethlehem? Diane Keaton narrates, which sounds like it would be awesome, right? Not so, according to the reviews. Of course, sometimes Amazon/Audible reviews need to be taken with a grain of salt but these reviews all seem to be written by people who loved the book but hated the narration. But…but… it's Diane Keaton? Color me confused. If anyone has listened to it and has strong feelings one way or the other, I'm all ears.
So while you are all mulling over your favorite titles of the year, I want to highlight some of the books coming out in 2018 that I am specifically stoked about.
A River in Darkness by Masaji Ishikawa (1-1-18)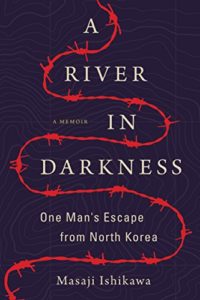 Here's an embarrassing thing about me: most of what I "know" about life inside North Korea I learned from the fictional book The Orphan Master's Son.  Incredible book, by the way, but fictional. This isn't entirely my fault–-not a lot of information comes out of North Korea about what daily life is like there. Which is why I am so looking forward to A River in Darkness.
Half-Korean, half-Japanese, Masaji Ishikawa moved from Japan to North Korea when he was thirteen years old. In North Korea, he and his family "unwittingly became members of the lowest social caste. His father, himself a Korean national, was lured to the newly Communist country by promises of abundant work, education for his children, and a higher station in society. But the reality of their new life was far from utopian."
Ishikawa recounts "the brutal thirty-six years" he spent living under a crushing totalitarian regime, as well as the challenges he faced repatriating to Japan after barely escaping North Korea with his life.
Brave by Rose McGowan (1-30-18)
Before there was #metoo, there was Rose McGowan (and many other survivors of sexual assault and harassment) who spoke out about abuses of power, both against her personally and systematically in Hollywood. After having her reputation smeared simply for speaking the truth, McGowan more than deserves the chance to say exactly what she wants to say, how and when she wants to say it. And I, for one, can't wait to listen.
The Great Alone by Kristin Hannah (2-6-18)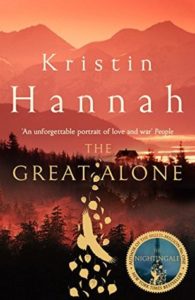 "Ernt Allbright, a former POW, comes home from the Vietnam war a changed and volatile man." He moves his family off the grid, to the Alaska. Allbright and his wife and thirteen-year-old daughter begin their new life in a "wild, remote corner of the state." Initially, it seems like the right decision. The family connects to the small, strong community. But they are unprepared for the rigor of the Alaskan wild. "In this unforgettable portrait of human frailty and resilience, Kristin Hannah reveals the indomitable character of the modern American pioneer and the spirit of a vanishing Alaska―a place of incomparable beauty and danger."
Tomorrow Will Be Different by Sarah McBride (3-6-18)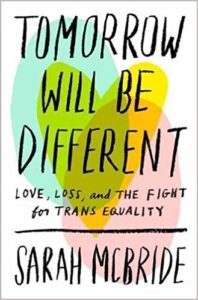 Sarah McBride shares what it was like to be frightened teenager struggling with her gender identity, a closeted college student, and tells us about her "heartbreaking romance with her first love and future husband Andy, a trans man and activist who passed away from cancer in 2014, just days after they were married." But despite (or perhaps because) of those struggles, Sarah became an activist and McBride was the first transgender person to speak at the Democratic National Convention in 2016. More books like this, please.
So Close to Being The Sh*t, Y'all Don't Even Know by Retta (5-29-18)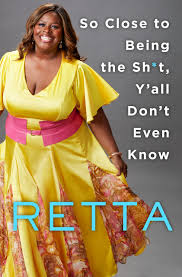 I am a Parks & Recreation superfan. Like, I actually fall asleep to it every single night because I love it so much it soothes me to sleep like a lullaby. So while I am quite confident that I know exactly how close to being the sh*t Retta is (so close it may as well be the same damn thing), I am still here for this book. I don't know much about Retta's personal story but "making it" in Hollywood isn't easy for anyone, especially for women of color. So much to look forward to with this one.
New Release of the Week (publisher description in quotes)
The Last Black Unicorn by Tiffany Hadish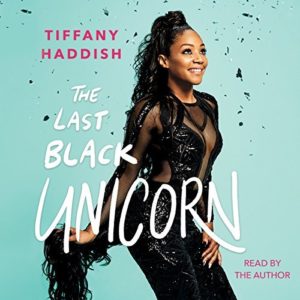 I wasn't familiar with Hadish until her SNL appearance a few weeks ago but I loved her performance on the show. Her story is challenging but inspirational (can you tell I'm a sucker for a good Nevertheless She Persisted story). And this one starts out like a punch to the gut: Hadish's mother gets a debilitating head injury from a car accident, so Hadish spent much of her childhood in foster care. "As an illiterate ninth grader, Tiffany did everything she could to survive. After a multitude of jobs, she finally realized that she had talent in an area she would never have suspected: comedy."
Hope those titles give you a little something to look forward to in 2018. Any titles you are particularly excited about? Let me know!
Until next week,
~Katie