The New Avengers Trailer Is Here
The Avengers: Infinity War trailer is out, and it is epic. So many familiar faces in one room. Iron Man, Black Panther, Black Widow, Doctor Strange–basically every Marvel superhero we've seen so far–a fittingly epic beard, and so many Easter eggs…you really should see it.
George R.R. Martin Confirms Nightflyers Series
George R.R. Martin confirmed that the Syfy channel picked up an adaptation of his story Nightflyers. The Hugo-nominated novella follows a team of academics who charter a spaceship with a mysteriously unseen captain. The team is on an expedition to find a race of intersteller nomads when the ship turns on them. The first season of the series will consist of 10 episodes to be aired sometime in 2018 (Martin hopes July). Martin will not be involved in the series' production.
The Book Christmas Tree Oddity At The White House

The White House erected a Christmas tree constructed of books and it includes some…interesting picks. Melville House discussed some of the selections, which include: American Mourning, a thriller titled Tainted Evidence, and World of Golf. According to Melania Trump's director of communications, the books were purchased for their varieties of green color tones.
---
Today in Books is sponsored by The Hanging Girl by Eileen Cook.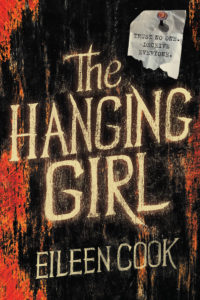 Skye Thorn has given tarot card readings for years, and now her psychic visions are helping the police find the town's missing golden girl, Paige Bonnet. Paige is everything Skye's not— rich, pretty, and popular. But they're both living a lie. A dark, rivet­ing mystery that questions just how far you'd be willing to go to become someone else.