Happy Thursday, Audiobook fans,
I loved Carrie Fisher. Unlike many in my generation, I didn't become aware of Fisher through the Star Wars films. Instead, I became aware of Carrie Fisher in 2009, through her book Wishful Drinking. I had been sober a little less than a year and OH MY GOD it was a relief to read something funny by someone sober. And not only was she sober, she also had a mental illness! It was my US Weekly "Celebs, they're just like us!" moment because I have a mental illness too! Despite struggling with addiction and bipolar, Fisher was smart, funny, and creative. imply by being honest about her experiences, Fisher made me believe it was possible for me to be all those things, too. So while I still mourn the loss of Fisher, I'm excited because….she's been nominated for a Grammy for her narration of The Princess Diarist! This is actually her second Best Spoken Word Album narration, the first was for the aforementioned Wishful Drinking in 2009.
---
Season 1 of our new podcast series Annotated is complete! Each episode is about 20 minutes long and is great for fans of podcasts like This American Life. Go here to check it out, or just click the image below:
---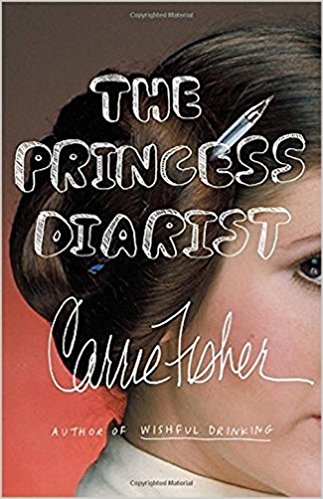 The Princess Diarist is the result of Fisher coming across her journals from 1977, the year she filmed Star Wars. The book is "Fisher's intimate and revealing recollection of what happened on one of the most famous film sets of all time – and what developed behind the scenes. And today, as she reprises her most iconic role for the latest Star Wars trilogy, Fisher also ponders the joys and insanity of celebrity and the absurdity of a life spawned by Hollywood royalty, only to be surpassed by her own outer-space royalty."
Fisher discussed the audiobook recording of the book in an interview on Penguin Random House Audio's "This Is The Author" podcast, saying: "I don't know that my mother read a lot to me when I was a kid, probably when I was a little teeny kid…but I was a big reader so she must have read to me sometimes, and I read aloud to my daughter, because I love words. I fell in love with words as a kid and the love goes on."
Listen to a clip from The Princess Diarist.
Here are a few other Carrie Fisher books I loved (and she narrates all of them! Delightful!) Goodreads description in quotes.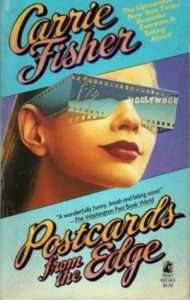 Fisher's first book, published in 1987, follows Suzanne Vale, a young actress who finds herself in a "drug hospital" (rehab, or "The 'Hab," as I call it). The novel follows Suzanne as she navigates the world of early recovery and, perhaps more dangerous, her relationship with her mother. Bonus: it was made into a movie with two actresses you may have heard of, Shirley MaClaine and Meryl Streep. Check out the trailer here.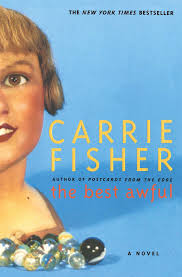 The Suzanne Vale saga continues in The Best Awful. Deciding that her medication is hindering and not helping her, Suzanne decides to stop taking it. "The 'manic' side of the illness convinces her it would be a good idea to get a tattoo, cut off her hair, and head to Mexico with a burly ex-con and a stash of OxyContin. As she wakes up in Tijuana, the 'depressive' side kicks in, leading Suzanne through a series of surreal psychotic episodes before landing her in a mental hospital. With the help of her movie star mom, a circle of friends, and even her ex-husband, she begins the long journey back to sanity."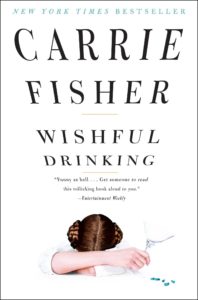 I already gave you my glowing review of this book above but here's a bit more detail from Goodreads, "It's an incredible tale – from having Elizabeth Taylor as a stepmother, to marrying (and divorcing) Paul Simon, from having the father of her daughter leave her for a man, to ultimately waking up one morning and finding a friend dead beside her in bed."
New Release of the Week
I might as well call New Release of the Week "Audiobooks that Will Eat All My Audible Credits" because that's basically what this is. My remaining audible credit this month will likely go to Roberto Bolaño's By Night in Chile.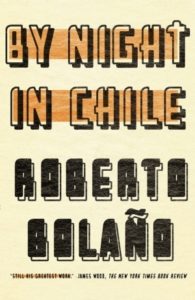 This is a new audiobook but not new book–-it was actually the first of Bolaño's novels available in English. It "recounts the tale of a poor boy who wanted to be a poet but ends up a half-hearted Jesuit priest and conservative literary critic, a sort of lapdog to the rich and powerful cultural elite, in whose villas he encounters Pablo Neruda and Ernst Jünger.
Father Urrutia is offered a tour of Europe by agents of Opus Dei to study 'the disintegration of the churches' – a journey into realms of the surreal – and, ensnared by this plum, he is next assigned, after the destruction of Allende, the secret never-to-be-disclosed job of teaching Pinochet, at night, all about Marxism, so the junta generals can know their enemy. Soon, searingly, his memories go from bad to worse."
The narrator of By Night in Chile, Thom Rivera, has some serious audiobook cred–he's narrated work by Isabel Allende, Maggie Stiefvater, Marlon James, and Lucia Berlin.
Links for Your Ears
Count on PBS to do a really excellent history of the audiobook.
I love love love stories about audiobooks and accessibility.
That's all for this week! As always, you can hit me up on Twitter at msmacb or by email at katie@riotnewmedia.com.
~Katie