Good Monday, YA Lovers: let's mix things up a bit and talk about movies today!
"What's Up in YA?" is sponsored by Renegades by Marissa Meyer.
Extraordinary Powers.
She wants vengeance. He wants justice.
The Renegades are a syndicate of prodigies—humans with extraordinary abilities—who emerged from the ruins of a crumbled society and established peace and order where chaos reigned. As champions of justice, they remain a symbol of hope and courage to everyone . . . except the villains they once overthrew.
Nova has a reason to hate the Renegades, and she is on a mission for vengeance. As she gets closer to her target, she meets Adrian, a Renegade boy who believes in justice—and in Nova. But Nova's allegiance is to the villains who have the power to end them both.
---
Before diving into that, though, it's time to announce the annual "What's Up in YA?" reader favorites survey. Between now and December 13, drop your favorite 2017 YA book into this short survey. We'll tally up the books brought up and share our reader favorites at the end of the month. The fine print is simple: the book has to have been originally published in 2017 and has to have been published for the YA reader. And because I love an underdog, in addition to sharing your favorite read of this year, let's talk about the books we wish had seen more attention and deserve a little shout out. Click here to take part!
Have you been itching to do a little movie watching but are unsure what you should check out? Over the long holiday weekend, I took a few hours to catch up on some of the latest titles on the screen and found two which would make for excellent viewing for those who love YA.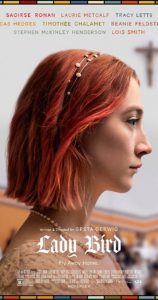 Lady Bird, which currently has the highest positive review rating on Rotten Tomatoes ever, should be a must-see for those who love YA stories. The film, which isn't about Lady Bird Johnson, but rather a 17-year-old teen girl who prefers to be called Lady Bird over her real name, is a coming-of-age that takes place over the course of a single year. Lady Bird hates living in Sacramento, and she hates being one of the poor kids. She and her best friend, both who attend a parochial school on scholarship, spend their days imagining what it must be like to be rich, and Lady Bird — unwilling to settle with a life in Sacramento after high school — dreams of heading to the East Coast and reinventing herself.
What sings in the movie, though, is the relationship Lady Bird has with her mother. Lady Bird, who is played by Saoirse Ronano, and Laurie Metcalf, who plays the mother, have it out time and time again with one another. As a viewer, we're privy to both sides of the story: we know Lady Bird acts the way she does because she wants so much more for her life and feels confined and we know that her mother pushes back because she, too, wants so much more for her daughter and knows the sort of work it will take for her to reach those goals.
By turns funny and heartbreaking, Lady Bird is one of those movies that really shows the sorts of stories which can be told from a really simple concept. This one explores social class, it showcases family struggles, and though it's not at the center of the story, race is explored through Lady Bird's brother. There's also powerful stuff here about ageism, particularly when it comes to Lady Bird's dad losing his job and attempting to find a new career.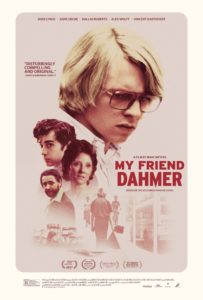 Another movie worth checking out, which perhaps hasn't seen the same sort of publicity that Lady Bird has, is My Friend Dahmer. This is the adaptation of Derf Backderf's graphic memoir of the same name. The book was named a 2013 Great Graphic Novel for Teens, as well as an Alex Award winner, which is given to books originally published for the adult market but with great appeal to YA readers.
Backderf's story follows growing up with legendary serial killer Jeffrey Dahmer. While the book focuses a bit more on the outsider perspective — it would, given that it's about Backderf's interactions with Dahmer — the film shifts slightly to give more time and attention to Dahmer. The focus is on Dahmer's later years in high school, ending right before he pursues his first victim.
As viewers, we see a lot of the challenges Dahmer faced growing up, while also being shown the side of his story which isn't sympathetic. Those who know the killer's story know he was known for torturing animals, and the film doesn't shy away from showing those things; that's a warning for viewers, though much more is insinuated than given graphic representation.
My Friend Dahmer is an uncomfortable film, but that's intentional. The look at Dahmer's life in those late high school years is a look at the argument we'll never have a resolution to: is it nature or nurture which causes a person to be who they are and do what they do?
Both Lady Bird and My Friend Dahmer are in theaters now. And if you haven't read Backderf's graphic memoir My Friend Dahmer, you should.
____________________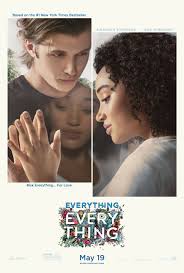 For those who want to do a little YA-friendly movie watching from the comforts of home, here's a quick round-up of the YA adaptations and those films with huge YA appeal which have come out this year. You should be able to snag 'em wherever you prefer to buy or borrow movies.
Before I Fall by Lauren Oliver
Everything, Everything by Nicola Yoon
Hidden Figures by Margot Lee Slattery
Nerve by Jeanne Ryan
The Glass Castle by Jeanette Walls
____________________
Thanks for hanging out this week. We'll see you again next Monday, and in the meantime, don't forget to drop your favorite 2017 reads into the survey!
–Kelly Jensen, @veronikellymars