Welcome back to In The Club, a newsletter of resources to keep your book group well-met and well-read. Let's dive in.
---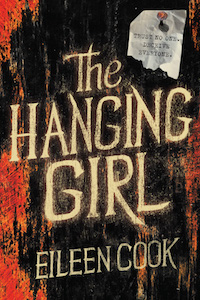 This newsletter is sponsored by The Hanging Girl by Eileen Cook.
Skye Thorn has given tarot card readings for years, and now her psychic visions are helping the police find the town's missing golden girl, Paige Bonnet. Paige is everything Skye's not— rich, pretty, and popular. But they're both living a lie. A dark, rivet­ing mystery that questions just how far you'd be willing to go to become someone else.
---
Read and watch: The movie adaptation of Hillary Jordan's Mudbound has been released on Netflix, and it's an Oscar contender. The book is also much beloved among readers, so there's no time like the present to add it to your group's calendar.
Read and eat: Did you know there are cookbooks based on kids' books? There are! Anne of Green Gables! Redwall! The Gruffalo! Why don't I own all of these already?! Must acquire and have a tasting party ASAP.
A passel of mystery authors answered contributor Jamie's "Little Q&A", and the responses are both fun and informative. You might have read one of them in your group, or you might have read a bunch of mysteries — either way, worth the read!
Looking for diverse YA reads? Sharanya rounded up A WHOLE LOT (seriously, so many) of books with Asian-American protagonists, and it includes a bunch of personal favorites (shout-outs to Not Your Sidekick, The Epic Crush of Genie Lo, Warcross, Want, Tiny Pretty Things, and Tell Me Again How A Crush Should Feel). I love discussing YA, since there are so many angles to think about them through. Did it reflect your own teenage experiences/emotions? How realistic did the dialogue feel? How much did it grab you, and if not why not?
Looking to dip into romance on the cheap? Here's a list of places to look for free romance audiobooks, which is a great way to get into a genre you're not familiar with OR supplement your current reading in it.
Armchair-travel to the Middle East: This list of must-reads set in the Middle East is from this summer, but it remains a good one — it includes novels, history, and contemporary nonfiction. Salt Houses and An Unnecessary Woman are both Book Riot favorites and would make great discussion fodder.
Need to decompress from family post-Thanksgiving and pre-Christmas? Here's a post about fictional families you would NOT want to spend the holidays with that cracked me up. Related, a thought for your December meet-ups: everyone come prepared with which fictional family your own family is most like, and why!
And that's a wrap: Happy discussing! If you're interested in more science fiction and fantasy talk, you can catch me and my co-host Sharifah on the SFF Yeah! podcast. For many many more book recommendations (including the occasional book club question!) you can find me on the Get Booked podcast with the inimitable Amanda.
Your fellow booknerd,
Jenn
More Resources: 
– Our Book Group In A Box guide
– List your group on the Book Group Resources page