Today's Riot Rundown is sponsored by Wednesday Books.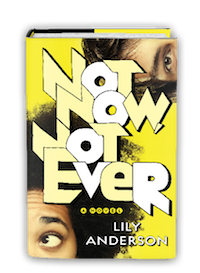 Jennifer E. Smith meets The Fangirl's Guide to the Galaxy in this deliciously nerdy sequel to The Only Thing Worse than Me Is You, inspired this time by The Importance of Being Earnest.
Elliot Gabaroche is packing up her determination, her favorite Octavia Butler novels, and her Jordans, and going to summer camp. Specifically, a cutthroat academic competition for a full scholarship to Rayevich College, the only college with a Science Fiction Literature program. It's going to be an epic summer.
Not Now, Not Ever is a "witty, romantic, and exuberantly geeky." —Jenn Bennett, author of The Anatomical Shape of a Heart