Hi fellow mystery fans! The holiday season has arrived so I thought I'd roundup a bunch of awesome gift ideas for mystery fans. Whether that means you're buying gifts for someone else or for yourself is totally up to you. (News links and Kindle deals at bottom!)
---
Sponsored by Penguin Random House Audio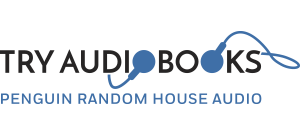 When there's a crime that can't be solved, listen to the experts. Visit http://www.penguinrandomhouseaudio.com/thriller-series/ for a thrilling mystery series that you can get hooked on.
If you are looking for a brassy, independent female protagonist, you'll love Janet Evanovich's Stephanie Plum. If you want an experienced ex-CIA man turned President, Tom Clancy's Jack Ryan is the man for you. Or, perhaps you'd like a Victorian-era detective; then Clive Cussler's Isaac Bell is a character you'll enjoy.
---
Let's start with Clue:
Not only is this fun game a great gift for fans of the movie and Agatha Christie's And Then There Were None there are so many editions:
There's the Classic, Retro 1986, and Junior Edition.
A Harry Potter Edition! A Star Wars Edition! A Game of Thrones Edition!
And (drum roll, please)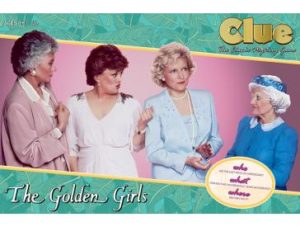 The Golden Girls Edition! (It was Sophia–always Sophia!)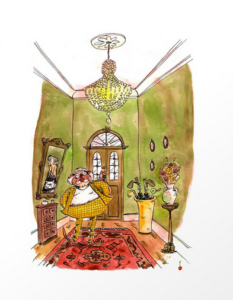 There's this Clue art print: Colonel Mustard, with the spanner, in the hall
There's even a Hallmark Keepsake 2017 Family Game Night Clue Christmas Ornament.
Speaking of ornaments here's one for fans of Richard Castle.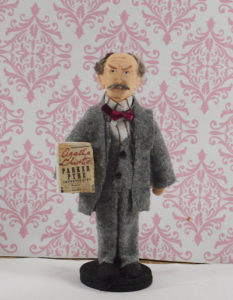 These one of a kind artist made dolls (only 1 of each): Dorothy Sayers Crime Writer Doll; Hercule Poirot doll; Agatha Christie Mystery Writer Doll; Agatha Christie's Parker Pyne Detective
Speaking of Agatha Christie:
The Queen of Mystery (Agatha Christie) T-shirt (available in Unisex xs-3xl) Also comes in Women's Dolman (xs-3xl)
Ideal Bookshelf 822: Agatha Christie Print
Writer's Block: Agatha Christie (has option to be converted into Xmas ornament)
For Nancy Drew fans: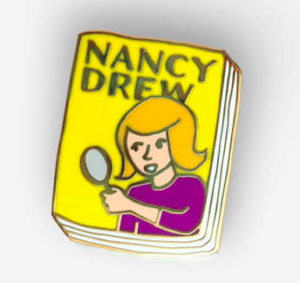 Nancy Drew enamel pin
500 piece Nancy Drew puzzle or a 1,000 piece Nancy Drew puzzle
"Read in Color" Nail Polish – Nancy Drew's Red Herring
Nancy Drew tote bag (adorable pocket inside)
For Sherlock fans: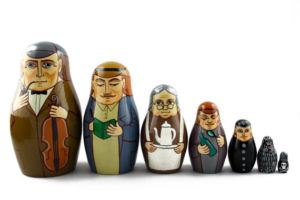 Sherlock and Watson Russian Nesting Dolls
BBC Sherlock 221B Door Wooden Ornament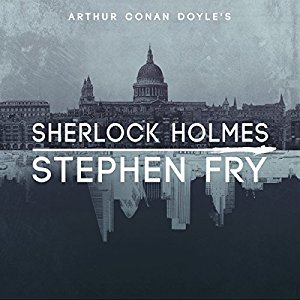 For Sherlock, audiobook, and Stephen Fry fans: Sherlock Holmes: The Definitive Collection by Arthur Conan Doyle, Stephen Fry (Narrator) (my review) Especially great gift for those who like to reread.
A Sherlock Holmes Literary Glass
A 221B Baker Street Literary Candle (Smelling a dude's Victorican flat wouldn't be my first choice but who knows!)
Sherlock Comic Tshirt (Available for men and women, xs-xl, 20+ colors)
Sherlock:The Mind Palace: A Coloring Book Adventure
Sherlock Holmes socks (can't catch a perp without proper socks.)
Holmes Is Where The Heart Is – Sherlock Cross Stitch Pattern Digital Download PDF File
For Crime & Detective fans: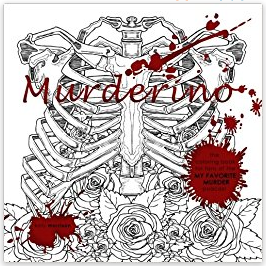 Murderino: A coloring book for fans of the My Favorite Murder podcast
True Crime Planner Stickers – SSDGM – Murderino Stickers
True Detective Pin & Sticker Pack
Partners in Crime friendship heart necklaces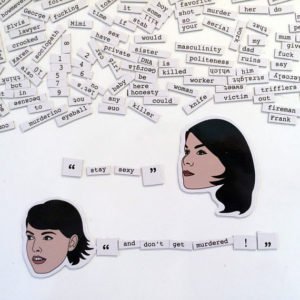 My Favorite Murder Magnetic Story Poetry
Murder She Wrote Cross Stitch Pattern PDF download
Murder She Did Jessica Killed Them All T-Shirt (If you thought it was super suspicious that murders just always happened around Jessica Fletcher…) (available in: 7 colors, unisex, s-xxl)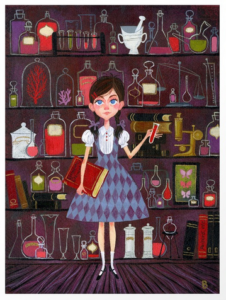 Flavia de Luce print (perfect for fans of Alan Bradley's series)
Law & Order SVU intro text mug
Saint Angela Lansbury // Murder, She Wrote Prayer Candle
For Die Hard fans (an adaptation of the thriller Nothing Lasts Forever by Roderick Thorp): Die Hard: The Authorized Coloring and Activity Book and there's  A Die Hard Christmas: The Illustrated Holiday Classic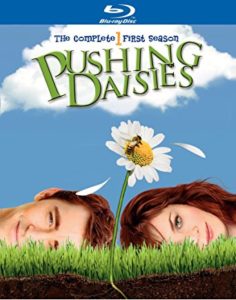 Pushing Daisies season 1: This show is utterly delightful, quirky, unique, with beautiful sets and costumes, AND every episode is a mystery. Ned has a secret gift: if he touches something dead it comes back to life. But there's a catch (isn't there always?!): if he touches it a second time it is dead forever, and if he doesn't touch it dead again then something nearby will die in its place. Naturally a local detective figures out Ned's gift and uses him to help him solve crimes (for reward money) by touching the recently deceased. The show is never streaming anywhere so it's a great DVD or digital gift. And there's a 2nd season.
For Paperback Readers Here are Recent Releases: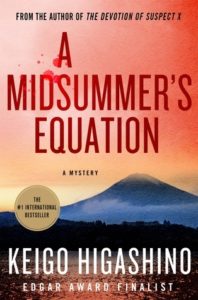 A Midsummer's Equation (Detective Galileo #6) by Keigo Higashino, Alexander O. Smith (Translator) (I love Higashino)
I See You by Clare Mackintosh (my review)
IQ by Joe Ide (The first in a great series.)
The Mistletoe Murder: And Other Stories by P.D. James
And for Fans of Movie Tie-in Paperbacks:
Murder on the Orient Express (Hercule Poirot Mysteries) by Agatha Christie
The Snowman by Jo Nesbø, Don Bartlett (Translator) (For fans of dark Scandinavian thrillers.)
Links:
Time is almost up to enter Book Riot's giveaway of $500 to a book store of your choice! (That's a lot of mula for gift giving!)
Rioters talking mysteries: 10 minutes of Liberty talking about backlist mysteries on All the Backlist!
Rioter Tasha Brandstatter with The Most Mysterious Edgar Allan Poe Story You've Never Heard Of
Rioter Jen Sherman with Crime Fiction Novels Make Excellent Travel Guides
Rioter Kristy Pasquariello with 8 Thriller Missing Person Mysteries on Audio
And I am ridiculously excited: Attica Locke's Bluebird, Bluebird will be an FX series titled Highway 59. *muppet arms
More to be excited about: Mahershala Ali will executive produce and star in the movie adaptation of the upcoming true-crime thriller Burn by A.J. Wolfe. (The book rights are being shopped and the book is about "the incredible true story of a Northern California detective who destroyed a cartel while keeping his undercover life secret from his family.")
And looks like there will be a followup film to Murder on the Orient Express: Fox is developing Agatha Christie's Death on the Nile.
Kindle Deal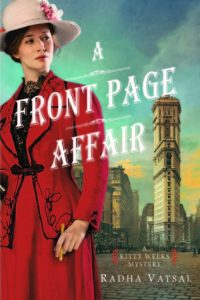 A Front Page Affair (Kitty Weeks Mystery Book 1) by Radha Vatsal is $3.14 and the sequel Murder Between the Lines is $5.59 (my review here and here) A good series for fans of historical fiction, cozy mysteries, and awesome women.
Browse all the books recommended in Unusual Suspects previous newsletters on this shelf. And if you like to put a pin in things here's an Unusual Suspects board.
Until next time, keep investigating! And in the meantime come talk books with me on Twitter, Instagram, and Litsy–you can find me under Jamie Canaves.