Hello mystery fans! Unusual Suspects is officially a one-year-old–and I never had to change a diaper! Thank you for reading, sharing, and being awesome mystery fans!
---
Sponsored by Endeavour Press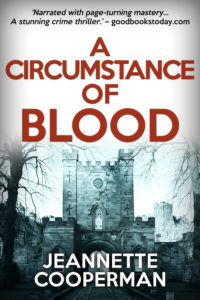 Father Colin McAvoy is the principle of the newly formed Matteo Academy. Its staff include Father Charron who, although brilliant, never fully recovered from assisting an exorcism. Its students include such eccentrics as Phillip Grant, whose rebellious attitude has him researching the faculty's private lives for a grand reveal. On top of all this, a new pupil arrives who has been accused of trying to kill his mother. After convincing the staff he is not violent, a boy is found dead, suspected drug overdose. Will this circumstance of blood be unravelled before more are killed?
---
Noir Short Stories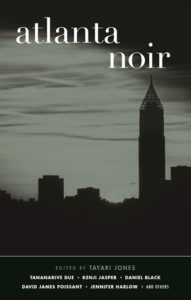 Atlanta Noir by Tayari Jones (editor): Akashic Books has a lot of Noir collections set in different places, and while I usually reach for the collections set outside the US, Tayari Jones is the author of one of my favorite novels ever (Silver Sparrow) so I had to read this collection. It opens with a short story by Tananarive Due (another excellent author: Ghost Summer) which was suspenseful and left me too scared to sleep. While the stories aren't puzzle-type mysteries, they're all crime stories, following either the criminal(s) or victims (or both) and this is noir so don't expect upstanding citizens or happy endings. Definitely a great collection that will introduce you to many writers, and being short stories you can fit one in here and there for a nice small bite of noir.
Links:
Over on Book Riot I did a roundup of all the Little Q&A's so far: A Little Q&A with 8 Mystery Writers
Book Riot has $500 for one lucky winner to spend at a book store of their choice!
Rincey and Katie discuss what they're currently watching and reading, plus the GoodRead's Choice Awards and why people might gravitate towards true crime on the latest Read or Dead.
Rioter Kathleen Keenan takes a look at the many on-screen Hercule Poirots.
Sounds like a second season of HBO's Big Little Lies (adapted from Liane Moriarty's novel) is going to happen.
AMC's next John le Carré adaptation will be The Little Drummer Girl.
Watch the teaser trailer for Game Night, a comedy about a murder mystery party which turns out to be a real murder mystery.
Amazon's Best of 2017 picks our up, including their mystery, thriller, and suspense choices. (Human Acts is fantastic, especially on audio, but I would not classify it under this genre.)
Vulture did a comparison between Margaret Atwood's Alias Grace and Netflix's adaptation.
Wired thinks you need to give Dirk Gently's Holistic Detective Agency another chance–or first. (Sci-Fi mystery, adapted from Douglas Adams series.)
Backwards Storytelling (Trigger Warning: Suicide)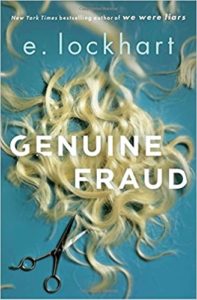 Genuine Fraud by E. Lockhar: Like Megan Miranda's All the Missing Girls, this novel plays a bit with structure in that a lot of it is told backwards. You usually know the outcome of things but not the why, how, or who in many instances until another chunk of the story is revealed. The novel begins with a woman, Jules, who appears to be on the run, and it seems she thinks she's been found. That's when we're taken back, back to her friendship with Imogen where the pieces start to be put into place and stacked together to reveal these two women… Suspenseful at times, I enjoyed watching the slow reveals of the characters, and Rebecca Slower did a great narration for the audiobook. (If you go with audiobook just make sure you pay attention to the dates, since it's told backwards.)
A Good Slow Burn Read: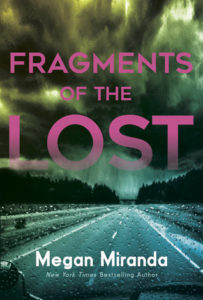 Fragments of the Lost by Megan Miranda: This is my third Miranda mystery read, and at this point I can count on a good read with some element of surprise. In this case the surprise was in what the novel was not–but I can't tell you, because mystery. High schooler Jessa Whitworth is tasked with the brutal job of cleaning out her now deceased ex-boyfriend's room. His family is moving and his mother can't handle the job. The story starts with you getting to know Jessa and her ex Caleb through flashback memories she has while going through the items in his room. Throughout the present and past stories you'll get a little blip that may ping your brain or a sentence that seems like something you should pay attention to. It isn't until 70% into the story that all those little threads start to come together and you realize not only the mystery, but start needing to know the what-who-how. Jessa was a lovely teen girl to get to know, who does her best in the situations she finds herself in.
Kindle Deals! (I don't know when they expire, sorry.)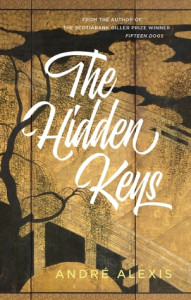 The Hidden Keys by André Alexis is $6.99 (A puzzle mystery, one of my Best of 2016 picks.)
Malla Nunn's Blessed are the Dead and Present Darkness are each $1.99 (From Detective Emmanuel Cooper series, set in South Africa.)
Browse all the books recommended in Unusual Suspects previous newsletters on this shelf. And if you like to put a pin in things here's an Unusual Suspects board.
Until next time, keep investigating! And in the meantime come talk books with me on Twitter, Instagram, and Litsy–you can find me under Jamie Canaves.