Happy Monday, book lovers! As you read this, I am on my way to NYC for a week of book-related adventures. I hope to learn about a lot more exciting book news. I also have some spectacular things to share today. Hope you're reading something marvelous! Enjoy your week, and be excellent to each other. – xoxo, Liberty
AND OHHHHH! Did you know we're giving away $500 to the bookstore of your choice? Click here to enter!
---
Sponsored by Unbound Worlds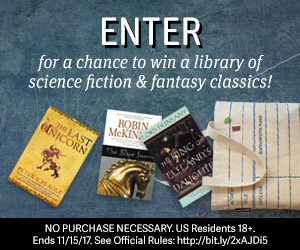 Build your library with a collection of classic science fiction and fantasy novels from Unbound Worlds! Fall is in full swing, and it's the perfect time to cozy up with some classics. Unbound Worlds is giving away thirty-two books from timeless sci-fi and fantasy authors like Philip K. Dick, T.H. White, Anne McCaffrey, and Samuel R. Delaney, plus some bookish swag from Out of Print! Enter for a chance to win.
---
Deals, Reals, and Squeals!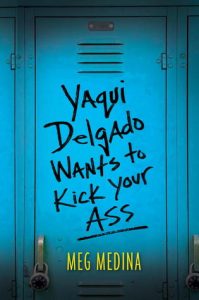 Keira Knightley will star in The Other Typist.
Yaqui Delgado is headed to the big screen.
Yessssssss: Ellen Page to star in Umbrella Academy series.
Lord of the Rings: Amazon, Warner Bros. in talks for series adaptation.
I Was Told To Come Alone is becoming a television series.
G. Willow Wilson announced her forthcoming book, The Bird King Takes Flight.
Michael B. Jordan sets directorial debut with The Stars Beneath Our Feet.
Rupert Everett and John Turturro to star in a Name of the Rose remake.
How did I not know there was a film of I Remember You??? I loved this book!
Netflix's first comic book from Mark Millar revealed.
Little Drummer Girl set as latest John le Carre adaptation.
HBO is planning for a second season of Big Little Lies.
Julianna Margulies to star in the Dietland adaptation.
Cover Reveals
Here's Brave, Rose McGowan's forthcoming memoir. (HarperOne, January 30, 2018)
Wish there was a YA feminist witch anthology? Presto! (Harlequin Teen, August 28, 2018)
Sneak Peeks!
The first look at Fifty Shades Freed.
Book Riot Recommends 
At Book Riot, I work on the New Books! email, the All the Books! podcast about new releases, and the Book Riot Insiders New Release Index. I am very fortunate to get to read a lot of upcoming titles, and I'm delighted to share a couple with you each week!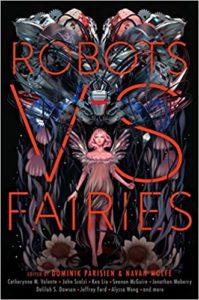 Robots vs. Fairies by Dominik Parisien (Editor), Navah Wolfe (Editor) (Saga Press, January 9, 2018)
Do I even need to say anything? LOOK AT THIS COVER. I would buy this just for the cover. Luckily the insides are hella awesome, as well. Featuring an incredible line-up of authors including John Scalzi, Catherynne M. Valente, Ken Liu, Max Gladstone, Alyssa Wong, and Jonathan Maberry.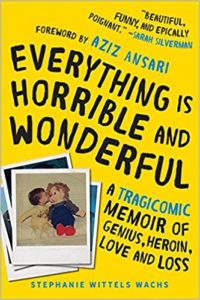 Everything Is Horrible and Wonderful: A Tragicomic Memoir of Genius, Heroin, Love, and Loss by Stephanie Wittels Wachs (Sourcebooks, March 8, 2018) 
To be completely honest, I started reading this book because the galley was going to expire. I cannot claim to be a fan of Harris Wittels' comedy, although I do love Parks & Rec. But this is something besides a story about a lost celebrity, it's an achingly real look at what death does to those left behind. I cried through a lot of this book, but in a "we are so lucky to be alive" kind of way.
And this is funny.
HMH Books used the new 280 Twitter character count for good, not evil.