Good Monday, YA Friends: It's reading season!
"What's Up in YA?" is sponsored by Last Chance by Gregg Hurwitz.
An alien threat has transformed everyone over the age of eighteen into ferocious, zombie-like beings, and Chance and Patrick are humanity's only hope for salvation in Last Chance, the second book in Gregg Hurwitz's thrilling The Rains Brothers series. Don't miss the continuation of the tale Ridley Pearson called "all-too-creepy-and-believable…. Chilling!"
---
Let's kick off our foray into the month of November with a round-up of YA books in honor of Native American Heritage Month. This list includes both authors who identify as Native American, as well as books where the main character is Native. Titles in the first category don't always include a Native main character. For books which fall in the second category, I've done what I can to ensure that the titles noted are among the strongest representations. For readers who are curious about and want to know more about Native American representation in youth literature, I recommend spending some time at Debbie Reese's American Indians in Children's Literature blog.
All descriptions below are from Goodreads.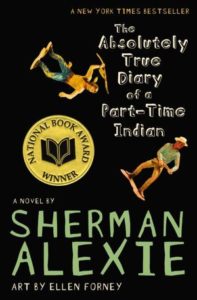 The Absolutely True Diary of a Part-Time Indian by Sherman Alexie (Sherman is Spokane-Coeur d'Alene)
Bestselling author Sherman Alexie tells the story of Junior, a budding cartoonist growing up on the Spokane Indian Reservation. Determined to take his future into his own hands, Junior leaves his troubled school on the rez to attend an all-white farm town high school where the only other Indian is the school mascot.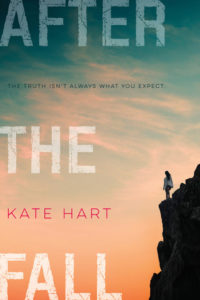 After The Fall by Kate Hart (Kate is a member of the Chickasaw Nation)
Seventeen-year-old Raychel is sleeping with two boys: her overachieving best friend Matt…and his slacker brother, Andrew. Raychel sneaks into Matt's bed after nightmares, but nothing ever happens. He doesn't even seem to realize she's a girl, except when he decides she needs rescuing. But Raychel doesn't want to be his girl anyway. She just needs his support as she deals with the classmate who assaulted her, the constant threat of her family's eviction, and the dream of college slipping quickly out of reach. Matt tries to help, but he doesn't really get it… and he'd never understand why she's fallen into a secret relationship with his brother. The friendships are a precarious balance, and when tragedy strikes, everything falls apart. Raychel has to decide which pieces she can pick up – and which ones are worth putting back together.
If you haven't, check out my interview with Kate from earlier this year.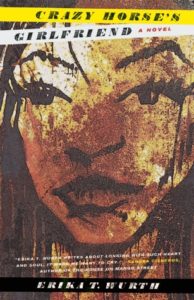 Crazy Horse's Girlfriend by Erika T Wurth (Erika is Apache/Chicasaw/Cherokee)
Margaritte is a sharp-tongued, drug-dealing, sixteen-year-old Native American floundering in a Colorado town crippled by poverty, unemployment, and drug abuse. She hates the burnout, futureless kids surrounding her and dreams that she and her unreliable new boyfriend can move far beyond the bright lights of Denver that float on the horizon before the daily suffocation of teen pregnancy eats her alive.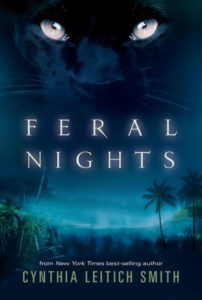 Feral Nights (series) by Cynthia Leitich-Smith (Cynthia is Muscogee Creek Nation)
When Yoshi, a sexy, free-spirited werecat, tracks his big sister, Ruby, to Austin, he discovers that she's not only MIA; she's also the key suspect in a murder investigation. Meanwhile, sarcastic werepossum Clyde and his human pal Aimee have set out to do a little detective work of their own, sworn to avenge the brutal killing of a friend.
When all three are snared in an underground kidnapping ring, they end up on a remote tropical island ruled by an unusual (even by shape-shifter standards) species. The island harbors a grim secret, and were-predator and were-prey must join forces in a fight to escape alive.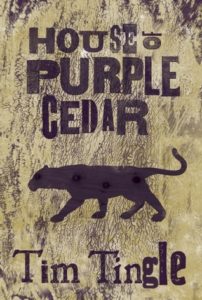 House of Purple Cedar by Tim Tingle (Tim is Choctaw)
"The hour has come to speak of troubled times. It is time we spoke of Skullyville." Thus begins Rose Goode's story of her growing up in Indian Territory in pre-statehood Oklahoma. Skullyville, a once-thriving Choctaw community, was destroyed by land-grabbers, culminating in the arson on New Year's Eve, 1896, of New Hope Academy for Girls. Twenty Choctaw girls died, but Rose escaped. She is blessed by the presence of her grandmother Pokoni and her grandfather Amafo, both respected elders who understand the old ways. Soon after the fire, the white sheriff beats Amafo in front of the town's people, humiliating him. Instead of asking the Choctaw community to avenge the beating, her grandfather decides to follow the path of forgiveness. And so unwinds this tale of mystery, Indian-style magical realism, and deep wisdom. It's a world where backwoods spiritualism and Bible-thumping Christianity mix with bad guys; a one-legged woman shop-keeper, her oaf of a husband, herbal potions, and shape-shifting panthers rendering justice. Tim Tingle—a scholar of his nation's language, culture, and spirituality—tells Rose's story of good and evil with understanding and even laugh-out-loud Choctaw humor.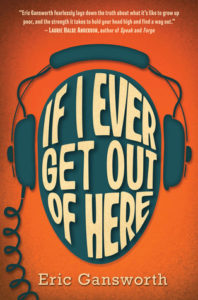 If I Ever Get Out Of Here by Eric Gansworth (Eric is a member of Onondaga Nation)
Lewis "Shoe" Blake is used to the joys and difficulties of life on the Tuscarora Indian reservation in 1975: the joking, the Fireball games, the snow blowing through his roof. What he's not used to is white people being nice to him — people like George Haddonfield, whose family recently moved to town with the Air Force. As the boys connect through their mutual passion for music, especially the Beatles, Lewis has to lie more and more to hide the reality of his family's poverty from George. He also has to deal with the vicious Evan Reininger, who makes Lewis the special target of his wrath. But when everyone else is on Evan's side, how can he be defeated? And if George finds out the truth about Lewis's home — will he still be his friend?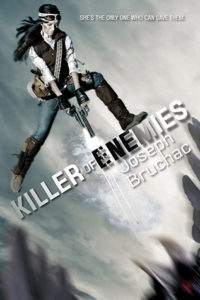 Killer of Enemies (series) by Joseph Bruchac (Joseph is Abenaki)
Years ago, seventeen-year-old Apache hunter Lozen and her family lived in a world of haves and have-nots. There were the Ones — people so augmented with technology and genetic enhancements that they were barely human — and there was everyone else who served them. Then the Cloud came, and everything changed. Tech stopped working. The world plunged back into a new steam age. The Ones' pets — genetically engineered monsters — turned on them and are now loose on the world.
Lozen was not one of the lucky ones pre-C, but fate has given her a unique set of survival skills and magical abilities. She hunts monsters for the Ones who survived the apocalyptic events of the Cloud, which ensures the safety of her kidnapped family. But with every monster she takes down, Lozen's powers grow, and she connects those powers to an ancient legend of her people. It soon becomes clear to Lozen that she is not just a hired gun. As the legendary Killer of Enemies was in the ancient days of the Apache people, Lozen is meant to be a more than a hunter. Lozen is meant to be a hero.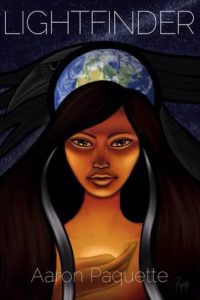 Lightfinder by Aaron Paquette (Aaron is Cree)
Aisling is a young Cree woman who sets out into the wilderness with her Kokum (grandmother), Aunty and two young men she barely knows. They have to find and rescue her runaway younger brother, Eric. Along the way she learns that the legends of her people might be real and that she has a growing power of her own.
The story follows the paths of Aisling and Eric, siblings unwittingly thrust into a millennia old struggle for the future of life on earth. It deals with growing up, love and loss, and the choices life puts in our path. Love and confusion are in store, as are loss and pain. Things are not always what they seem and danger surrounds them at every turn.
Will Raven"s mysterious purposes prevail? With darkness closing in how will they find the light to guide them? Will Aisling find Eric in time?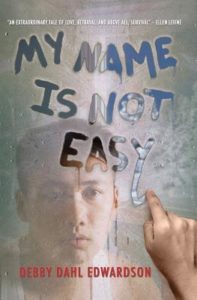 My Name Is Not Easy by Debby Dahl Edwardson (Debby is not Native, but her husband is Inupiaq)
Luke knows his I'nupiaq name is full of sounds white people can't say. He knows he'll have to leave it behind when he and his brothers are sent to boarding school hundreds of miles from their Arctic village. At Sacred Heart School things are different. Instead of family, there are students — Eskimo, Indian, White — who line up on different sides of the cafeteria like there's some kind of war going on. And instead of comforting words like tutu and maktak, there's English. Speaking I'nupiaq — or any native language — is forbidden. And Father Mullen, whose fury is like a force of nature, is ready to slap down those who disobey. Luke struggles to survive at Sacred Heart. But he's not the only one. There's smart-aleck Amiq, a daring leader — if he doesn't self destruct; Chickie, blond and freckled, a different kind of outsider; and small quiet Junior, noticing everything and writing it all down. Each has their own story to tell. But once their separate stories come together, things at Sacred Heart School — and in the wider world — will never be the same.
____________________
Cheap Reads!
Snap up some great YA without dropping a ton of bones: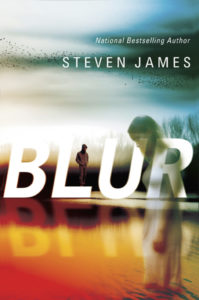 Skin by Donna Jo Napoli, who is one of those YA authors you've seen a million books by but haven't picked up yet. Here you go. $1.
ME Kerr is another author you've seen books by but haven't tried yet. Give If I Love You, Am I Trapped Forever? a spin for $1.
Begin a mystery series for $1 with Steven James's Blur.
____________________
Thanks for hanging out again this week, and we'll see you again next Monday for a round-up of the latest happenings in the YA world. In the mean time, get your read on and if you haven't yet, tune into the latest episode of Hey YA, where Eric and I talk about LGBTQ YA, new trends we're seeing, and the hilarious AOL Instant Messenger names of favorite YA authors.
–Kelly Jensen, @veronikellymars