Well, Halloween's over. I am sort of proud of myself for not acquiring All The Candy. I didn't see any romance heroes or heroines in my Instagram scrolling; did you dress up?
And now it's time for NaNoWriMo! Lots of romance novels have been born in November over the years. Are you writing one? Or just looking forward to reading them?
---
Sponsored By 36 Questions That Changed My Mind About You, by Vicki Grant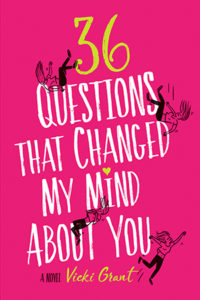 Inspired by the real psychology study popularized by the New York Times and its "Modern Love" column, this contemporary YA is full of humor and heart. It explores the interactions between Hildy and Paul, two random strangers in a university psychology study, when they ask each other the 36 questions that are engineered to make them fall in love. Told in the language of modern romance–texting, Q&A, IM–and punctuated by Paul's sketches, this clever high-concept YA will leave you searching for your own stranger to ask the 36 questions. Maybe you'll even fall in love.
---
It's mostly fun stuff this week!
The film adaptation of Afterburn/Aftershock premieres on Passionflix this weekend. I still haven't read the book. But I'm probably gonna watch it anyway. That trailer is hot.
Entertainment Weekly is continuing their romance coverage, and the October edition is definitely more diverse than their first run out of the gate. And I must say, I support those choices.
Want to support a Kickstarter? How about this queer romance comic?
Do you watch Jane the Virgin? If you're caught up, you know about Snow Falling. Well, guess what.
It's early November, which means it's definitely time for end of year Best Ofs to begin. Publisher's Weekly already announced theirs, and their romance grouping includes some Book Riot favorites!
And speaking of "best of," Goodreads has opened voting for their Goodreads Choice awards. I enjoyed a couple books in the romance section, but I am wondering why some of my favorites of this year are going to have to be write-in entries.
Where are you going to be on December 2? If you live anywhere near Culver City, you should be here.
And if you can't be there, you can still order signed copies.
I want to be sure to acknowledge the passing of Miranda Neville. She touched a lot of people in romancelandia and will be missed.
DEALS! Woo!
Beverly Jenkins' Forbidden is 99 cents right now! While the hero and his sister were featured in a previous Jenkins novel, this is still a great entryway into her work. You'll want to read it all.
Rachel Gibson's Simply Irresistible is also 99 cents! Funny hockey romance with awesome women doing things? Thanks, I think I will.
I love Cat Sebastian's books. The Ruin of a Rake is 99 cents. Yes, it's the third in a series, but it'll be a good excuse to read the  others too 😉
J. Daniels' Four Letter Word was kind of a shock to the system, but I enjoyed it so. It's 2.99 right now!
Over on Book Riot…
Want free romance audiobooks? Here're a few places to find them.
Laura doesn't care about your straight romance. Queer is where it's at for her. (PS, be sure to read the comments for some recs!)
Oh! And have you seen our new site layout? ROMANCE HAS ITS OWN TAB!!!
Now that we've gotten that out of the way, I can gush about books.
Do you read Santino Hassell's Boroughverse? He just released a freebie, Third Rail, that whets the appetite for his upcoming collection, Citywide. It's hella sexy, but it also includes a lot of character exploration that made me fall in love with Chris. So in love. If Raymond Rodriguez didn't exist, Chris would be my favorite in the verse. It sets the scene for the first story in Citywide, in which Chris comes to term with his feelings for Jace and Aiden after several hook-ups with the couple. That's right. M/M/M HEA coming through. I love the Boroughverse.
Wilde in Love
Eloisa James
It's been a while since I've read one of James' novels, but picking up Wilde in Love reminded me why I loved the ones I read years ago. I made it through the first 3/4 of the book in a single sitting, and found myself excitingly picking up my copy as soon as it was light enough in my bedroom to read early the next morning. While the title might hint at an Edwardian setting, it's a Georgian novel, set just before the American Revolution. But don't worry, there are a lot of winks to Oscar Wilde, including characters named Chasuble and Prism, witty parlor exchanges, and a play at the center of it all. Willa Ffynche is one of the belles of the Season, but she's not delighted to be at a house party where The Infamous Lord Wilde will be the center of attention. Alaric Wilde has spent the last several years traveling the world and publishing his adventures, but it's really the play Wilde in Love (which he did not write) that has made him the beloved and pursued of the ladies of England. But he finds Miss Ffynche is who he really wants to spend time with.
Also, there's a pet skunk. And she's the cutest thing ever.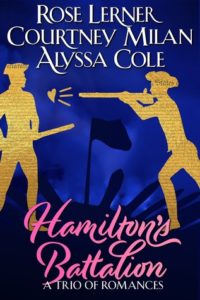 Hamilton's Battalion: A Trio of Romances
Rose Lerner, Courtney Milan, Alyssa Cole
I know, I know. I already gushed about this one. But I actually finished it and seriously, if you haven't read this already, you need to. (And it's finally out in print!) As I mentioned two weeks ago, Rose Lerner's entry is just great. But I hadn't made it to the others yet, and they are…so wonderful. You could say they amaze and astonish. They smash every expectation.
Okay, I'm done.
The Pursuit Of… is Courtney Milan's contribution to the trio, and it follows a black soldier going home after Yorktown and his unlikely companion, a former British officer. While Henry is severely talkative, John is more introspective, and a great amount of the story is the same. But the author's familiar style matched with her customary attention to detail and research make the story damn near perfect. And her author's note is sheer perfection. That Would Be Enough takes place in the 19th century, as Mrs. Hamilton's maid/secretary and the granddaughter of Elijah Sutton (of Be Not Afraid fame) take a long journey towards love (mostly because Mercy is being stubborn). Alyssa Cole's writing is amazeballs as usual, and can we talk about the whole historical fiction featuring two black women in love?
Okay, how about some new and upcoming releases?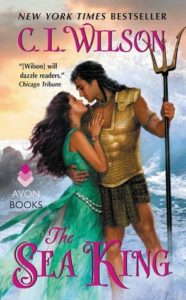 The Sea King by CL Wilson
The Texan Duke by Karen Ranney
Off the Ice by Avon Gale and Piper Vaughn
Highland Dragon Rebel by Isabel Cooper (11/7)
Snow Falling by Jane Gloriana Villanueva (Caridad Pineiro) (11/14)
That's probably enough for now, huh? In the meantime, catch me on Twitter @jessisreading or Instagram @jess_is_reading, or send me an email at jessica@riotnewmedia.com if you've got feedback or just want to say hi!