Hulu To Adapt Ralph Ellison's Invisible Man
Ralph Ellison's classic story about an African American man whose skin color renders him invisible is getting the adaptation treatment, courtesy of Hulu. The Invisible Man series is still in early development so details aren't available, but we do know Hulu has had success adapting another classic, Margaret Atwood's The Handmaid's Tale. Invisible Man is widely read, beloved, and important. Expect much nail-biting leading up to the series premier.
Zadie Smith Will Be Awarded The 2017 Langston Hughes Medal
Zadie Smith will be presented with the medal in New York at the Langston Hughes Festival, November 16. The White Teeth author joins James Baldwin, Edwidge Danticat, Chinua Achebe, Octavia Butler, and more legendary black authors on the list of honorees awarded for distinguished contributions to the arts and letters. If you're interested in watching Smith receive the award, the free event will be held at The City College of New York in Harlem.
Outlander Star and Series Writers Clash
This gossip is two days old, but it's still spicy. (No spoilers here, but don't read the Vanity Fair piece if you haven't watched Outlander Season 3, Episode 6, and intend to.) Outlander star Sam Heughan and the show's writers have taken their disagreement about a change to a beloved scene to the streets. Or, rather, to Twitter. Heughan decided to go off script and fans and writers both were displeased. I mean, this was a war waged with little more than passive aggression, but it's still a good reminder to think twice before you mess with our beloved book moments.
Don't forget, we're giving away $500 to the bookstore of your choice! Click here to enter.
---
Thank you to Renegades by Marissa Meyer for sponsoring today's newsletter.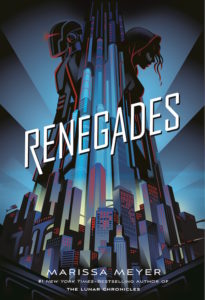 Secret Identities.
Extraordinary Powers.
She wants vengeance. He wants justice.
The Renegades are a syndicate of prodigies—humans with extraordinary abilities—who emerged from the ruins of a crumbled society and established peace and order where chaos reigned. As champions of justice, they remain a symbol of hope and courage to everyone . . . except the villains they once overthrew.
Nova has a reason to hate the Renegades, and she is on a mission for vengeance. As she gets closer to her target, she meets Adrian, a Renegade boy who believes in justice—and in Nova. But Nova's allegiance is to the villains who have the power to end them both.