"You Don't Have To Take My Word For It"
LeVar Burton and WNED reached a settlement in the lawsuit that accused Burton of "theft and extortion" for alleged trademark violations, including his use of the catchphrase, "You don't have to take my word for it." WNED has withdrawn its suit. Burton credits his fans for the turn of events–outcry erupted when WNED brought the suit claiming Burton's contributions to Reading Rainbow and the show's value could be separated. It's a complex tale, and I'm sure Burton would encourage you to read the full story.
Violence at the Frankfurt Book Fair
Violence broke out at the recent Frankfurt Book Fair after event organizers invited far-right publishers to participate. Amid protests and event cancellations, Achim Bergmann, director of Germany's leftist publishing house and record label Trikont, was punched in the face after making comments while walking past an event organized by a right-wing newspaper. Another, Nico Wehnemann who was protesting at a far-right stand, claims he was tackled by a neo-Nazi and beaten by private security forces.
Corduroy's Comeback
It's Friday. Let's end with some happy news. Corduroy is getting a sequel 50 years after its publication, and the book will be written by *drumroll* Oscar award-winning actress Viola Davis! The children's book will be titled, Corduroy Takes a Bow and it'll tell the story of the teddy bear's first trip to the theater. What a delight. Look out for it September 2018.
Don't forget, we're giving away $500 to the bookstore of your choice! Click here to enter.
---
Thank you to Penguin Teen, publisher of Turtles All The Way Down by John Green, for sponsoring today's newsletter.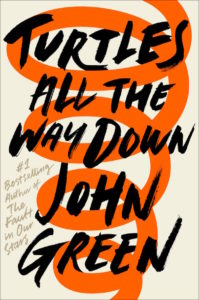 Turtles All the Way Down is about love, resilience, and the power of lifelong friendship. But at its heart is Aza Holmes. Aza is trying. She is trying to be a good daughter, a good friend, a good student, and maybe even a good detective, while also navigating daily existence within the ever-tightening spiral of her own thoughts.