Obama Wrote College Love Letters You Can Read
How horrified would you be if some school collected your love letters and let the whole world read them? Emory University's Stuart A. Rose Manuscript, Archives and Rare Book Library not only obtained Barack Obama's love letters from the 1980s; the school is making them available to the public. The letters were written to Alexandra McNear, his Occidental College girlfriend. I can just picture Michelle rolling her eyes and smirking.
Australia vs. Amazon

When Amazon announced it would be setting up shop in Australia, readers and indie booksellers did not greet the news with applause according to the New York Times piece covering the story. It sounds like Australia and Portland would get along–they're all about that local indie experience, and who can blame them? Borders didn't succeed when they tried to move in, so it'll be interesting to see how things pan out for the behemoth Amazon.
Chiwetel Ejiofor Leads Adaptation Of The Boy Who Harnessed the Wind
What would a bookish day be without bookish adaptation news? Chiwetel Ejiofor, perhaps best known for his starring role in 12 Years a Slave began production on his adaptation of The Boy Who Harnessed the Wind. The story follows 13-year-old William Kamkwamba who has to leave his beloved school when his family can no longer afford to send him. Thanks to his resourcefulness and the school library, the boy finds a way to build a windmill that saves his village. Ejiofor will direct, write, and star in the film.
---
Thank you to Penguin, publisher of Warcross by Marie Lu, for sponsoring today's newsletter.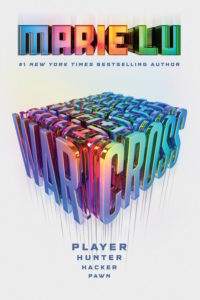 For millions, Warcross isn't just a game—it's a way of life. The obsession started ten years ago and its fan base now spans the globe, some eager to escape from reality and others hoping to make a profit. Struggling to make ends meet, teenage hacker Emika Chen works as a bounty hunter, tracking down Warcross players who bet on the game illegally. But as she becomes more entangled, Emika uncovers a sinister plot with major consequences for the entire Warcross empire.
In this sci-fi thriller, #1 New York Times bestselling author Marie Lu conjures an immersive, exhilarating world where choosing who to trust may be the biggest gamble of all.