Hello, chevaliers and chimeras! Today we're talking Provenance and Forest of a Thousand Lanterns, plus robot fighting leagues, dark fantasy, queer sf/f, and much more.
---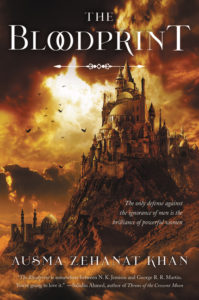 This newsletter is sponsored by The Bloodprint by Ausma Zehanat Khan.
The Talisman, a superstitious patriarchy that suppresses knowledge and subjugates women, is growing in power throughout the land. The only ones who are strong enough to stand up to their darkness are the Companions of Hira, a group of influential women whose power derives from the Claim – the magic inherent in the words of a sacred scripture. Foremost among them is Arian and her fellow warrior, Sinnia. As they search for a miraculous symbol of hope that can destroy the Talisman's leader, Arian and Sinnia know that this mission may well be their last.
---
Here's an opportunity to splurge on your personal library: we're giving away a $500 giftcard to the bookstore of your choice!
Need darker books for the darker days of winter? Have some dark fantasy. As Vernieda notes, it's hard to pin down exactly what "dark fantasy" is, but I do love this list. There are some old favorites (Margo Lanagan!) and new ones to discover (Claymore!!).
If you've been dreaming of robot fight club since Rock'em Sock'em Robots, the future is looking promising. One US and one Japanese robotics company faced off in the ring, and expressed hope that a formal fighting league would follow. I'm still not over how the US robot could hold up to TWO PILOTS.
One Tor writer contemplates their year in queer sf/f — and it was a good one. I've read and loved many of the books on this list, and can only hope along with Liz that this is a positive sign of books to come.
Need a Last Jedi reading list? We can help with that. I adored Bloodline by Claudia Grey, and anxiously awaiting Ken Liu's Legends of Luke Skywalker! (Although please note, those are the only Star Wars novels I've read outside of Timothy Zahn's Thrawn Trilogy many many moons ago, so I am by no means an expert.)
Are you watching Star Trek: Discovery? I am! (Thank the gods old and new for friends who will lend you a CBS log-in.) And this piece about Michael Burnham's name gave me all the thoughts.
Looking for some off-the-radar reading material? Unbound Worlds put together a list of 26 under-rated sf/f books and I definitely agree that you should read most (all?) of them.
Today in reviews, I've got a comedic space opera and an antagonist origin story for you!
Provenance by Ann Leckie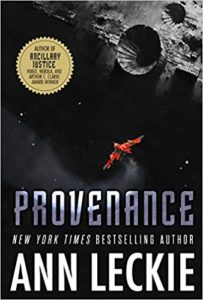 Having read the first two books in the Imperial Radch series, I thought I knew what to expect from an Ann Leckie novel. Turns out, I was wrong! It does have the intergalactic politics, pronoun fluidity, and queer/nonbinary characters we've enjoyed in previous books, but Provenance is also a comedic, much more light-hearted take on the space opera.
Ingray, our occasionally careless and ultimately clever heroine, has been competing with her sibling for their adopted mother's regard — and, eventually, her job — for most of her life. Her latest attempt in family one-upmanship sends her to a trade planet where she hires contractors to break a smuggler out of prison, in an attempt to retrieve the famous historical artifacts that they stole. Nothing from this point on goes as planned. There are aliens, gun battles, mechanical spiders, family squabbles, intergalactic treaties, and a murder mystery, as well as a pointed look at the way we invest meaning into objects. There's also a couple love stories and some shenanigans with shoes. Did I mention it's really funny?
If you've read the Ancillary books, the Radch gets a few shout-outs that fans will be happy to see. And if you particularly enjoyed the humor in Ancillary Mercy, bump this one up on your TBR. For those of you new to Leckie's work, I can't think of a better place to start. In particular, those who have been looking for found-family, character-driven books comparable to Becky Chambers' Wayfarers series are going to want to pick this up.
Forest of a Thousand Lanterns (Rise of the Empress #1) by Julie C. Dao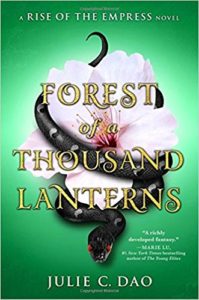 Beautiful young woman, destiny foretold, powers she doesn't understand: it sounds like a heroine story you've heard before. But Forest of a Thousand Lanterns is an unexpected and compelling surprise. Inspired by East Asia as well as the evil queens of fairytales, it follows Xifeng as she sets of to try to become the Empress of Feng Lu — no matter the cost.
Raised by her abusive aunt Guma, Xifeng has experienced very little kindness and it shows. The 3rd person narration sticks close to her perceptions of others, and they're … uncharitable, to say the least. Taught to value her beauty, she judges others for their looks; taught to set herself apart and above, she looks down on those not willing to seize power for themselves. Her blind spots are a mile wide, and her struggles to do what one might consider "the right thing" are indeed struggles. Of course, it doesn't help when a dark god is offering you everything you've ever wanted.
All of which made this one of the most gripping anti-hero stories I've read this year. I love a good antagonist, and Dao has created a complex and believable one in Xifeng. So often we watch characters make bad choices just, kind of, because? But Xifeng's reasons are clear, even when we can't agree with her actions. This is an exploration of the dark side of female power, and a promising beginning to a new fantasy series.
And that's a wrap! If you're interested in more science fiction and fantasy talk, you can catch me and my co-host Sharifah on the SFF Yeah! podcast. For many many more book recommendations you can find me on the Get Booked podcast with the inimitable Amanda.
Q'apla!,
Jenn