Hello and happy Friday the 13th, heroes and anti-heroes! Today we're talking about 27 Hours and Fifteen Dogs (I have an accidental number theme apparently), plus Star Trek, alternate history, and more.
---
This newsletter is sponsored by Dare Mighty Things by Heather Kaczynski.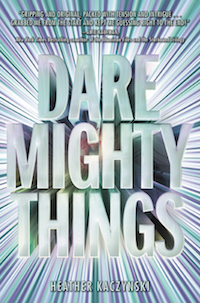 THE RULES ARE SIMPLE: You must be gifted, younger than twenty-five, and willing to accept the dangers that you will face if you win. Cassandra Gupta's entire life has been leading up to this—the opportunity to travel to space. But to secure a spot on this classified mission, she must compete against the best and brightest. Cassie is ready for the rigorous tests designed to push her to the brink. But with each passing day it's more difficult to ignore the feeling that the true objective of the mission is being hidden. As the stakes rise higher than ever, only one thing is clear: she'll never back down…even if it costs her everything.
---
Why can't I stop taking Harry Potter quizzes? I did slightly better on this one, all about things that happened on Halloween nights throughout the series.
Speaking of Harry Potter, have some '90s TV nostalgia plus sorting: I cannot believe Rachel actually sorted 101 different TV characters into their Hogwarts houses. Although for the record, Carol Hathaway is a Gryffindor and I will accept no other answers.
What should the crew of the Star Trek: Enterprise read? We have some recommendations. Also I now really want Star Trek book club fics????
Alternate history can often be a lot of bustles and monocles, but here are five that embrace inclusivity. Cosign on Everfair, The Sea Is Ours, and The Ballad of Black Tom!
Do you ever get nostalgic for text-based RPGs? Would you appreciate more profanity in them? Here you go. (NSFW!) I laughed for at least five solid minutes playing this.
Speculative fiction in translation, the Czech edition! I have a small section of my wheelhouse dedicated to fictional travelogues (I'm looking at you: Pym, Islandia, Hav, Herland), so I definitely need The Golden Age ASAP.
And now for our accidentally-thematic reviews!
27 Hours by Tristina Wright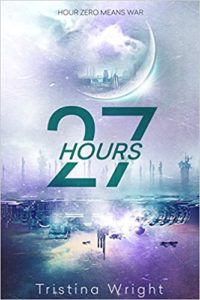 I have been waiting and waiting to talk about this book — I read it back in March or April, so it's felt like forever. But it's here, finally, and it's the Queer Teen Space Squad of your dreams.
The book follows several teenagers on the colonized moon of Sahara, where humanity has carved out a reasonably stable existence — except for the gargoyles. At least, that's what they call the original inhabitants of Sahara, largely regarded as simple but vicious beasts. As the book opens, Rumor Mora has to make a run from his home because the gargoyles are attacking, and it looks like they have a plan.
Over the next 27 hours we meet Nyx, Dahlia, Braeden, and Jude, each battling their own internal demons in addition to the literal ones. They will all discover that things are not as they were taught, and be faced with difficult choices that will change the course of this war and of humanity's survival on Sahara. This is an action-packed, fast-paced space romp with an entirely inclusive cast: disabled, transgender, asexual, ethnically diverse, you name it. And while some might call that "ticking boxes," each character felt complex, wonderfully drawn, and wholly themselves.
If I could go back in time and give this to my high-school lunch table (bookish misfit, goth lesbian, brown punk kid), I would. This book was a joy to read, and I am waiting impatiently for the second installment.
Fifteen Dogs by André Alexis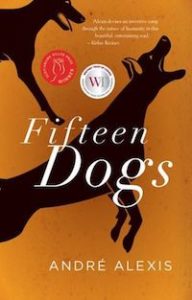 I picked this one up thanks to the Afrofuture Books box, and I am here to spread the good word. This is the book about talking, thinking dogs you never knew you wanted.
Apollo and Hermes walk into a bar in Toronto and make a bet. No, really! If animals were granted human consciousness, would they be happier or unhappier? They decide to grant intelligence to a group of 15 dogs boarded at a veterinary clinic to find out, with Apollo on the side of "unhappy" and Hermes on the side of "happy". The book follows the dogs as they seek to adapt to their new mental abilities and negotiate a suddenly very different world.
This is a deeply philosophical and thoughtful novel, which is unnerving because you're literally in the heads of a bunch of dogs. How does one balance one's innate nature with one's awareness of society's expectations? Can a complex mental state still allow for true joy? Can partnership come out of ownership? Some of the dogs meet truly awful ends, while others find poetry and beauty in their new lives. The absurdity of the situation is also its power, and Alexis handles it beautifully.
A weird, thought-provoking, and moving novel, Fifteen Dogs is perfect for that moment when you want something completely different. And when you're done? Come talk to me about it.
And that's a wrap! If you're interested in more science fiction and fantasy talk, you can catch me and my co-host Sharifah on the SFF Yeah! podcast. For many many more book recommendations, you can find me on the Get Booked podcast with the inimitable Amanda.
Valar morghulis,
Jenn