Today's Riot Rundown is sponsored by The Wonderling by Mira Bartok.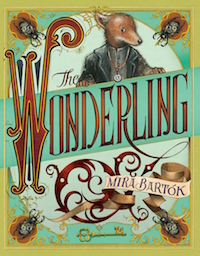 Welcome to the Home for Wayward and Misbegotten Creatures, an institution run by evil Miss Carbunkle, a cunning villainess who believes her terrified young charges exist only to serve and suffer. Part animal and part human, the groundlings toil in classroom and factory, forbidden to enjoy anything regular children have, most particularly singing and music. For the Wonderling, an innocent-hearted, one-eared, fox-like eleven-year-old with only a number rather than a proper name — a 13 etched on a medallion around his neck — it is the only home he has ever known.
Richly imagined, with shimmering language, steampunk motifs, and gripping, magical plot twists, this high adventure fantasy is the debut novel of award-winning memoirist Mira Bartók and has already been put into development for a major motion picture.