Ebook Post First Monthly Rise in Two Years in May
Publishers are reporting that their ebook sales in May were higher year-over-year for the first time in two years. The slide of ebook revenues has been well-noted, and in some parts roundly celebrated, as it has become clear that ebooks aren't going to take over the world. At least not yet. The gain was modest, just 2.4%, but could indicate a bottom for the digital segment. It will be interesting to see if this is a one-off or the start of a new trajectory, or even just a flattening, for ebook revenues.
Hollywood's Hottest Director Eyes Cleopatra Adaptation
If you had to make a list of the buzziest directors working right now, I think you wouldn't look foolish putting Dennis Villaneuve at the top. Arrival was a smash and the early buzz on Blade Runner 2049 is good, which would make him 2-for-2 with big time book adaptations. Word is that he is talks to direct a film adaptation of Stacy Schiff's Cleopatra, a magisterial biography that has long had Angelina Jolie attached to play the title role. Both Villaneuve and Jolie are terrific, but wouldn't it be great to have a female direct a star in this move that isn't white?
New York Times Give Coates the Profile Treatment
On the eve of the publication of his new essay collection, We Were Eight Years in Power, Ta-Nehisi Coates is the subject of a in-depth profile at the New York Times called, "Ta-Nehisi Coates and the Making of a Public Intellectual." It's well-worth reading, and I think the Times could reasonably have been more demonstrative in the title: at the moment I think Coates is our indispensable public intellectual.
---
Today in Books is sponsored by The Blind by A.F. Brady, published by Park Row Books.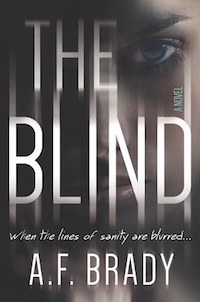 An addictive psychological suspense debut about a woman who goes so far off the deep end, she might never make it back up…
As the best psychologist at Typhlos, Manhattan's most challenging psychiatric institution, Sam James believes if she can't save herself, she'll save someone else. This savior complex serves her well in helping patients battle their inner demons. When a mysterious patient is admitted, Sam is determined to unlock his secrets and his psyche, but his twisted past leads to some terrifying discoveries about her own life. And so the mind games begin.