It's Monday! Time for another round of "Eeeeeee, I can't wait for that!" I have a few cool book-related bits to share. Hope you're reading something marvelous! Enjoy your week, and be excellent to each other. – xoxo, Liberty
P.S. – Have you checked out our newest podcast, Recommended? Each episode features two really interesting people talking about a book that they love! Check out Samantha Irby and Robin Sloan in Episode 1. Because who doesn't need more book recommendations???
---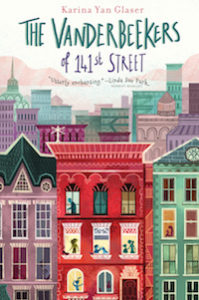 Sponsored by Houghton Mifflin Harcourt
It's five days before Christmas, and the Vanderbeeker children should be dreaming about sugar plums and presents. But when their curmudgeonly landlord mysteriously refuses to renew their lease, the five siblings must find a way to change his mind before New Year's. But as every well-intentioned plan goes comically awry, their shenanigans only exasperate their landlord more. What the Vanderbeekers need now is a Christmas miracle.
Funny, heartfelt, and as lively as any street in Harlem, this modern classic in the making is about the connections we make and the unexpected turns life can take.
---
Deals, Reals, and Squeals!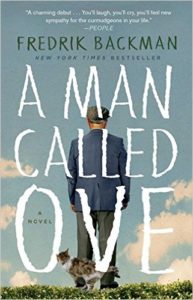 Tom Hanks to star in and produce A Man Called Ove film adaptation.
Angela Robinson will direct an adaptation of Strangers in Paradise.
Taika Waititi will direct the Akira reboot.
Zak Olkewicz will adapt Wesley Chu's Time Salvager.
Jessica Williams is writing and starring in a new Showtime comedy about a science fiction writer!
Finn Wolfhard, "Weird Al," John Stamos to recreate Willy Wonka live. (Yes, you read that right.)
Hank Green will publish his first novel next year.
The Bill Clinton/James Patterson collaboration will be a Showtime series.
The film of The Ritual by Adam Nevill has been bought by Netflix.
The Kill the Minotaur comic is coming to the big screen.
HBO has given a Watchmen series the greenlight, with Damon Lindelof attached.
Charlie Brooker will expand Black Mirror into a three-book series.
And Kat Howard has a new two-book deal! *Muppet arms*
Cover Reveals
Here's I Was Anastasia from Ariel Lawhorn. (I love an animated cover reveal.) (Doubleday, March 20, 2018)
And The Beginning of the World in the Middle of the Night by Jen Campbell. It's the UK cover, and it's sooooo pretty. (Two Roads, November 2.)
Hollywood Reporter has the first peek at Chicago, David Mamet's new novel. (Custom House, Feb. 27, 2018)
Sneak Peeks!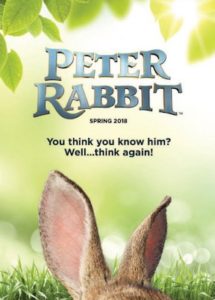 Neil Gaiman keeps tweeting out peeks at Good Omens. I think he's as excited as we are.
The first trailer for the new Peter Rabbit film.
Here's the first look at David Harbour as Hellboy.
It must be a day that ends in 'y': There's another Stephen King adaptation headed our way. Check out the trailer for 1922.
Book Riot Recommends 
At Book Riot, I work on the New Books! email, the All the Books! podcast about new releases, and the Book Riot Insiders New Release Index. I am very fortunate to get to read a lot of upcoming titles, and I'm delighted to share a couple with you each week!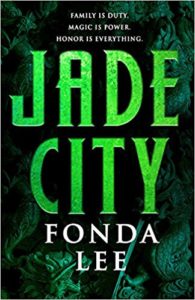 Jade City by Fonda Lee (Orbit, November 7)
I don't know if I can do much better than the blurb for this book, which described it as "an epic saga reminiscent of The Godfather with magic and kungfu." But I can add "OMG this book is such fun!" The Green Bone warriors use jade to enhance their magic, but a powerful new drug appears in the city that allows anyone to use jade, and throws the balance of power into chaos.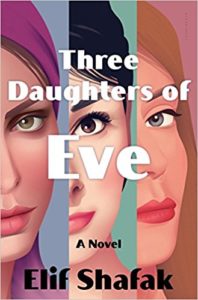 Three Daughters of Eve by Elif Shafak (Bloomsbury USA, December 5)
When Peri's handbag is snatched as she makes her way to a party, a photograph of three women falls out – a reminder of the painful past she has tried to forget. As Peri continues on to the party, her head is filled with memories of a time when she traveled from Istanbul to the Oxford University, and the profound effect that time had on her. This is a stunning book by Turkey's most acclaimed novelist, a timely novel about faith and love both in the past and the present.
And this is funny.
Sarah MacLean has Moonstruck feels.