Black Mirror Gets A 3-Volume Book Series
Every time I hear Belinda Carlisle's Heaven Is a Place on Earth, I think of Black Mirror. Every time I have a nightmare, I'm certain it's thanks to some Black Mirror remnant floating in my subconscious. Fans, prepare for more nightmare fodder–the sort you can physically carry around with you. We'll be seeing the first volume of a three-volume Black Mirror book series in May 2018. Show creator Charlie Brooker will edit the volume, which will feature stories by writers including Sylvain Neuvel (Sleeping Giants) and Claire North (The First Fifteen Lives of Harry August).
Hidden Figures Author Joins NASA to Honor African-American Mathematician
Margot Lee Shetterly, author of Hidden Figures, joined additional dignitaries to honor Katherine Johnson, a former NASA employee and one of the central figures in Shetterly's book. The book highlighted the lives and work of the black women who stepped in as human computers, and whose calculations were integral during wartime in the U.S. 99-year-old Johnson cut the ribbon for the Katherine G. Johnson Computational Research Facility at the Langley Research Center in Hampton, Virginia. The event aired live on NASA Television earlier this afternoon, but I bet you can dig up a video online.
It Becomes All-Time Highest-Grossing Horror Film
Whether you love the Stephen King story or want to throw a brick through the window of every person who's posted a picture of Pennywise on social, the masses have been parking themselves in theater seats across the country, desperate to be scared out of their minds. In fact, so many people wanted to see the newest adaptation that ticket sales pushed past The Exorcist to make It the highest-grossing horror film of all time. The movie has earned $236.3 million. That's a lot of circus tickets.
---
Thank you to Black Bird of the Gallows by Meg Kassel, from Entangled Teen, for sponsoring today's newsletter.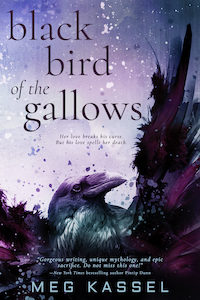 Where harbingers of death appear, the morgues will soon be full.
Angie Dovage can tell there's more to Reece Fernandez than just the tall, brooding athlete who has her classmates swooning, but she can't imagine his presence signals a tragedy that will devastate her small town. She can't know she'll be thrown into a battle between good and evil with Reece right in the center of it—and he's not human.
Still, she knows something most don't. The secrets her town holds could kill them all. But falling in love with a harbinger of death could be even more dangerous.