The Art of Fielding Author Sued Over Copyright Infringement
Charles Green, a former college baseball player, is suing best-selling The Art of Fielding author Chad Harbach. Green alleges that Harbach copied many elements of his manuscript, Bucky's 9th, including "the specific climax and denouement." According to Green, the screenplay, which was later reworked into a novel, was shared widely among publishing and entertainment professionals, which is when he believes Harbach had the opportunity to pounce. Only time and an expensive lawsuit will tell.
Clinton's Memoir Sees Highest Nonfiction Opening In 5 Years
Hillary Clinton's memoir What Happened sold 300,000 copies, and the book's hardcover sales made it the highest opening for a nonfiction release in five years. Divisive as the book may seem, based on the rating incident where Amazon had to bulk remove polarizing (mostly negative) reviews from reviewers who were not verified purchasers, readers are buying up those copies. Sales exceeded first week numbers for her 2014 book Hard Choices.
Racist Trolls Will Never Stop Whining About Black Hermione
Racist trolls lost their lids when illustrator Anoosha Syed posted a depiction of Hermione Granger as a black girl. Syed pointed out that the books never stated Hermione or Harry's race (Harry was depicted with a darker skin tone, and trolls took offense to that as well), and that she can draw WTF she wants. Syed drew the characters as she imagined them. She was shocked by the backlash, but the artistic community and people who heard about the attacks showed up to support her online.
---
Thank you to The Summer That Made Us by Robyn Carr for sponsoring today's newsletter.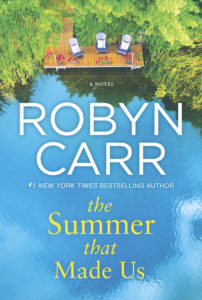 Robyn Carr has crafted a beautifully woven story about the complexities of family dynamics and the value of strong female relationships.
For the Hempsteads summers were idyllic at the family house on Lake Waseka. The lake was a magical place, a haven where they were happy and carefree. Until the summer that changed everything.
After an accidental drowning turned the lake house into a site of tragedy and grief, it was closed up. But one woman is determined to draw her family together again, and the only way that can happen is to return to the lake and face the truth.