Neil Gaiman Gives Good Omens #BTS
We got a first look at David Tennant and Michael Sheen in the upcoming adaptation of Terry Pratchett and Neil Gaiman's Good Omens, thanks to Gaiman's Twitter activity. And he didn't stop with the one photo. Today, Gaiman continued to tweet everything from an adorable, curious squirrel on set and atmosphere dressed in Victorian garb, ratcheting up the anticipation for this production. I both can't help but look, but also want to see it through fresh eyes that first airing.
Google Now Shows What Ebooks Are Available In Your Local Library
Google added a new Search feature that shows if your local library has the ebook you're looking for in stock. This is great news for people like me whose reading life heavily relies on ebook library loans. Apps like Libby have made it easier to search for ebooks, but we all use Google so much in our daily lives, it can't hurt to have one more convenient way to look up availability, especially if you're on your desktop.
Honey & Wax Announce First Winner Of Annual Book-Collecting Prize
Brooklyn's Honey & Wax Booksellers have announced the winner of their first annual book-collecting prize. The winnings go to twenty-nine-year-old Jessica Kahan, an Ohio librarian who has collected about three hundred popular American romance novels of the 1920s and 1930s. H&W's Heather O'Donnell and Rebecca Romney initiated the prize hoping to "encourage young women who are actively collecting books to own and share that part of their lives, and to think strategically about the future of their collections." Kahan will receive a thousand dollars, and five honorable mentions will each receive two hundred dollars.
---
Sponsored by Finding Grace, the chilling new drama from Warren Adler that gets to the heart of brainwashing and its power to corrupt and control.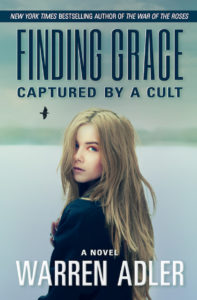 When their twenty-three-year-old daughter Grace goes missing, divorcees Harry and Paulie are forced to leave behind their newly constructed lives to track her down on a sunny farm in California. Seemingly unharmed, the two soon learn that she is actually in the clutches of a notorious cult. Under the spell of mind control, she denies Harry and Paulie as her family, leaving them to search for answers in the most desperate of places. Harry and Paulie race to bring Grace back home – but will she ever be able to return? How do you help someone who doesn't know they're lost?