The National Book Award for Fiction Longlist
Thank you! The National Book Foundation released their Fiction longlist and look who we have here: Sing, Unburied, Sing by Jesmyn Ward (there might've been some words if this one hadn't made it on), The Leavers by Lisa Ko, and Pachinko by Min Jin Lee, among seven other buzzy titles. What do you think about the list–any missed predictions?
Get the #BTS On Harry Potter With An Upcoming Documentary
I know I've been saying I'm over all things Harry Potter, but this is the thing I didn't know I needed from the franchise. The BBC (yay!) will premiere the documentary Harry Potter: A History of Magic in honor of the 20th anniversary of Harry Potter and the Philosopher's Stone. The documentary will deal with the origins of the world of Hogwarts, and feature an interview with J.K. Rowling. The doc doesn't seem to have an air date yet, so stay tuned.
Lost Ezra Pound Poem Found In Castle–Obviously
I'm done with stories about discoveries of unpublished works written by famous authors. Hahaha jk! A lost Ezra Pound poem was published in The Paris Review. First of all, the poem was found in a castle. A CASTLE. Where does one sign up to find themselves in these situations? Secondly, on why it might never have been published the discoverer said, "It is too tender, too small." What? Are we still talking about Pound?
---
Sponsored by Black Bird of the Gallows by Meg Kassel from Entangled Teen.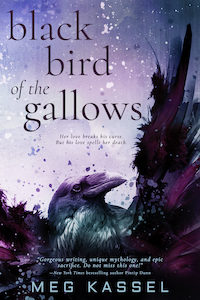 Where harbingers of death appear, the morgues will soon be full.
Angie Dovage can tell there's more to Reece Fernandez than just the tall, brooding athlete who has her classmates swooning, but she can't imagine his presence signals a tragedy that will devastate her small town. She can't know she'll be thrown into a battle between good and evil with Reece right in the center of it—and he's not human.
Still, she knows something most don't. The secrets her town holds could kill them all. But falling in love with a harbinger of death could be even more dangerous.