Hey YA Readers!
This week's edition of "What's Up in YA?" is sponsored by Rakuten Kobo Inc.
Calling all listeners—audiobooks are now available from Kobo. Find all your eBooks and audiobooks together in the FREE Kobo App for iOS and Android. Save with a subscription for the best deal on audiobooks—your first 30 days are FREE.
---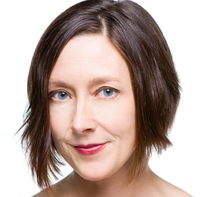 I've got a really exciting guest post today from Amber J. Keyser, an author and editor of YA fiction and nonfiction. Keyser recently wrapped up a book tour with fellow YA author and newly-crowned National Book Award long list author Elana K. Arnold. This is the story of what happened when they dared to talk about their books which feature fierce, honest depictions of teen girls and why those stories matter so much.
**
Elana K. Arnold and I write angry, uncomfortable, sexual books about teenage girls. We've been asked, "When we are going to write a real book?" which means when will we write for adult readers. We've been asked, "Why do you mention unsavory
things?" which means menstruation and female masturbation.
And yet Elana and I keep writing "those damn feminist books."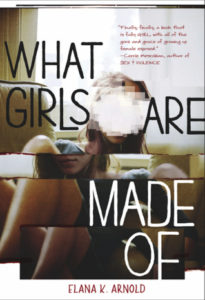 Recently we toured together to promote What Girls Are Made Of, which was recently long-listed for the National Book Award, and Pointe, Claw. We connected through our shared editor, Alix Reid at Carolrhoda Lab, who describes working on these books like this:
Although entirely different in content, the themes of each book touched on one another and made me ever more aware of how important it is to speak UP and speak OUT about ways in which girls are put in boxes, are silenced, and are made to feel less than.
We asked some of the smartest women working in YA today to join us, and in every city, we engaged with audience members on the importance of feminist literature for young adults and on the way books can be a form of resistance. Stephanie Kuehn,
author of When I Am Through With You, joined us at A Great Good Place for Books in Oakland, and she said this:
One thing that I loved that came up at our discussion was this idea of how, as an adult, having had a childhood defined by feeling alienated or on the fringes of society can leave you without a sense of responsibility for activism and change. But the political atmosphere we are currently living in has made it abundantly clear that it is our responsibility to try and bring about positive change. And continuing to hold onto that outsider identity we may have felt as adolescents and using it as an excuse not to not take ownership of the world we live in, is often an expression of privilege. If we have the means, it's
our duty to fight for human rights.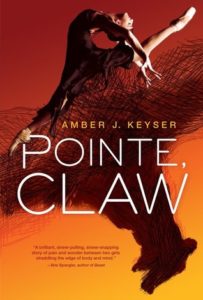 Our conversation at Secret Garden Bookshop in Seattle with Martha Brockenbrough, author of Alexander Hamilton, Revolutionary, also turned to the relevance of these books in today's political climate. She said:
This tour felt like a relief after the bizarre and punishing post-inaugural season. Intelligence, ferocity, and provocative art are what women and girls especially need.
During one of our stops in the Bay Area, a man interrupted. Elana had just finished reading a scene from What Girls Are Made Of in which the main character, Nina, is getting a pap smear. It's explicit, detailed and clinical. Familiar territory for women, but deeply uncomfortable for this guy.
"Why," he asked, leaning back in his chair, "would a fifty-year- old man want to read a book about a sixteen-year- old girl?"
I stiffened. There was an audible gasp from several people in the audience. Before I could respond, Elana's arm swept toward me the way a mother driving a car will slam on the brakes and try to hold her daughter back from impact.
"I've got this," Elana said. To the man in the audience, she said, "Let me ask you, why do we expect sixteen-year- old girls to read books about fifty-year- old men?"
This was the crux of our feminist book tour. No one asks why a girl should care about Holden Caulfield, Captain Ahab, or Hamlet.
The man doubled down and said, "If someone knew I was reading about a girl getting an exam, they'd call me a pedophile."
This guy was every obstacle that we were writing about. He took the experience of a teenage girl in a doctor's office and made it sexual. He made her, and us as the authors of these books, consumable.
After we had finished signing, he was one of the last to go. He came up to the table and held a twenty-dollar bill above our books. "I'll buy the one if falls on," he said, before releasing the bill, the way he might have dropped it on a stage before a
couple of erotic dancers.
The money drifted down to rest on What Girls Are Made Of.
He slid the twenty to Elana and picked up the book. "I won't read it," he said. "I'll give it to a woman I know."
And this is why Elana and I write the books we do.
We believe that stories about teenage girls matter deeply, and they should matter to all of readers, regardless of gender. The experiences of young women are rich and compelling in their own right—not simply as ingredients added to stories about men and boys. And in this time of political upheaval, we believe that young women, especially young women of color, are the ones we need leading us into the future.
**
Wow. I love this story and love how it highlights just why we keep talking about the importance of girls and their stories.
Thanks for hanging out this week, and we'll see you again next week right here. We'll talk YA backlist for Hispanic Heritage Month and get your TBR toppling over.
–Kelly Jensen, @veronikellymars
PS: I'll talk more about the brand new YA podcast launching this week in the next newsletter, but for now, make sure you check out Get Recommended, our other newly-launched podcast featuring interesting people recommending interesting books. Tune in here!