Welcome back to In The Club, a newsletter of resources to keep your book group well-met and well-read. Let's dive in.
---
This newsletter is sponsored by Pretty, Nasty, Lovely by Rosalind Noonan.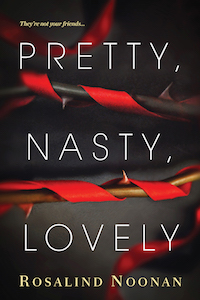 They may your sisters…but they're not your friends.
Pledging a sorority at Merriwether University seemed to offer Emma Danelski a passport to friendship, fun, and popularity. But the excitement of pledge training quickly fades, as does the warmth of her so-called sisters. What's left is a stifling society filled with petty rules, bullying, and manipulation. Most haunting are the choices Emma makes in the wake of another sorority sister's suicide . . .
It doesn't matter that no one else needs to know what Emma did, or how vastly different life at Theta House is from the glossy image it projects. Emma knows. And now, with her loyalties tested, she must decide which secrets are worth keeping and how far she'll go to protect them—and herself . . .
---
I love actors who read, and I love Yara Shahidi — so it is with great pleasure that I point you to this list of Shahidi's ten favorite books! All would make for a great discussion, which you could then pair with a few episodes of Black-ish.
For those who didn't get enough travel into their summer vacations: here are 100 travel narratives! Rebecca even organized them by region for you.
Maybe your group's wallets could use a break. Here are 15 places to find free — and legal — ebooks.
For Sens8 and Stranger lovers: five Korean novels for fans of actress Doona Bae. I strongly cosign the Han Kang and Suah Bae recommendations.
Need to keep your kids reading? Here are 20 ideas for starting a kids' book group! On a personal note, one of my favorite jobs as a bookseller was running a summer reading group for local teens — we had one of the best discussions I've ever participated in, about The Arrival by Shaun Tan.
For nonfiction fans: want something easy to pick up and put down as you have time? Let us introduce you to these six excellent essay collections.
Spotlight: Foodie Books and Groups
You might have noticed that one of my favorite things is books and [insert food or beverage here], possibly because so many of the book groups I've belonged to have had very strong snack game. If you need more side dishes (ahem) with your reading, here are some links that might offer inspiration!
– A cookbook club is one of my dreams — and if it's yours too, here's how to make one happen.
– Need vegetarian inspiration for your group? Here are some cookbooks even carnivores will love.
– Betcha didn't think about pairing boba with books before this.
– Many of these will be in paperback now or soon: the 20 best food books of 2016, courtesy of The Guardian.
– Looking for something surprising? Paste has you covered with 14 books about food you probably haven't read.
– Want more pictures? Here are 5 comics with characters who cook!
And that's a wrap: Happy discussing! If you're interested in science fiction and fantasy talk, you can catch me and my co-host Sharifah on the SFF Yeah! podcast. For many many more book recommendations (including the occasional book club question!) you can find me on the Get Booked podcast with the inimitable Amanda.
Your fellow booknerd,
Jenn
More Resources:
– Our Book Group In A Box guide
– List your group on the Book Group Resources page