Hello audiobook friends!
Last week was *very* exciting for me. WHY, you ask? Because two excerpts of Hillary Rodham Clinton's new audiobook, What Happened, (WHICH SHE NARRATES) were released. I have been an HRC superfan for a very, very long time. (I get it, not everyone agrees with me, I don't wanna fight, I just want to say HOW EXCITED I AM FOR THIS BOOK). If you haven't had a chance to listen to the excerpts, you can do that here.
---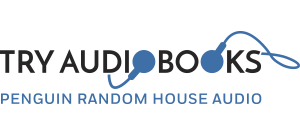 Sponsored by Penguin Random House Audio
Help your children keep up with their reading by listening to audiobooks. Visit TryAudiobooks.com/Family-Travel for suggested listens and for a free audiobook download of MY FATHER's DRAGON!
---
In the meantime, I've put together a list of badass women politicians. (No, I don't agree with all of these women on everything, but they're all accomplished and impressive, all the more so because of the heavily male political scene).
There are several women I wanted to include on this list, but their books don't have audio versions. Specifically, Shirley Chisholm, Kamala Harris, and Cynthia McKinney. All of these successful Black women have books that haven't made it to audio. Perhaps that needs to change, like, yesterday.
Awesome Women Politician Book List
(*Publishers' description in quotes)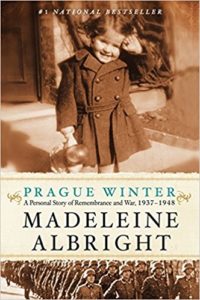 Prague Winter: A Personal Story of Remembrance and War, 1937-1948 by Madeleine Albright
The first woman secretary of state takes the reader from "from the Bohemian capital's thousand-year-old castle to the bomb shelters of London, from the desolate prison ghetto of TerezÍn to the highest councils of European and American government." Through her memories of her family and childhood, Albright tells a story of grave struggles and fierce perseverance.
Hacks: The Inside Story of the Break-ins and Breakdowns That Put Donald Trump in the White House by Donna Brazile
This is kind of mean of me because this book won't be out until November 7th. But damn if I am not dying to read it. Not just because Brazile herself was a casualty of the DNC email hack but also because she's a brilliant political mind.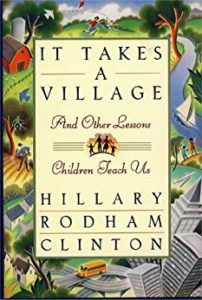 It Takes a Village by Hillary Rodham Clinton
The OG HRC book. Clinton has long been an advocate for children, specifically in the areas of healthcare and education. From the publisher: "Her long experience has strengthened her conviction that how children develop and what they need to succeed are inextricably entwined with the society in which they live and how well it sustains and supports its families and individuals. In other words, it takes a village to raise a child." Not from the publisher, from Katie, "Love you forever Hillz! If you're looking for a best friend I *am* available."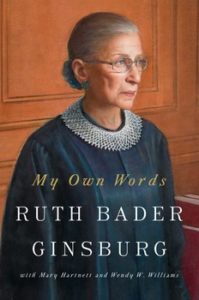 My Own Words by Ruth Bader Ginsburg
Technically Supreme Court justices aren't politicians, but they exist in the political realm and there are a couple of badass justices I'm just not going to leave off of the list. RBG is the very top of that list. Even if I didn't personally admire her (which I do), her story is really impressive. Additionally, if you want some short but informative background info on RBG, check out this episode of the Baby Geniuses podcast. It features comedian Guy Branum, who gives an entertaining summary of Ginsburg's' rise to Supreme Court Justice-hood.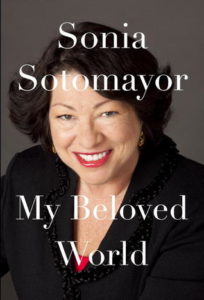 My Beloved World by Sonia Sotomayor
The third woman appointed to the Supreme Court (and the first Hispanic person) she "recounts her life from a Bronx housing project to the federal bench, a journey that offers an inspiring testament to her own extraordinary determination and the power of believing in oneself." Winner of several Audie awards, My Beloved World is narrated by the great Rita Moreno.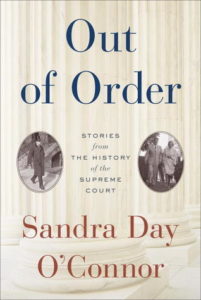 Out of Order: Stories from the History of the Supreme Court by Sandra Day O'Connor
This was a really excellent listen–-for precisely the same reason I was hesitant to listen to it. Sandra Day O'Connor's name has always been synonymous with "deciding vote in Bush v. Gore" in my mind. The decision process (and her thoughts about it some 10 years after the fact) was fascinating to hear. Though the other stories O'Connor recounts are less controversial than Bush v. Gore, the whole book is worth a listen if you are a politics and law nerd.
Democracy: Stories from the Long Road to Freedom by Condoleezza Rice
Unlike many of the other books on this list, this title is more about politics than it is about the politician. Rice explores the various struggles for democracy across the globe and draws on her experience as a policymaker when offering her insights.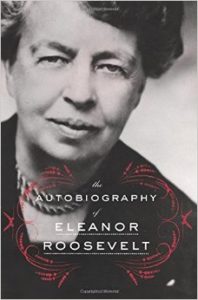 Autobiography of Eleanor Roosevelt by Eleanor Roosevelt
You know, Eleanor Roosevelt…of every inspirational quote ever? An advocate for human rights and those in need, Roosevelt had a distinguished legacy during her husband's life and after. Following her husband's death, "she became a U.N. Delegate, chairman of the Commission on Human Rights, a newspaper columnist, Democratic party activist, world-traveler, and diplomat devoted to the ideas of liberty and human rights."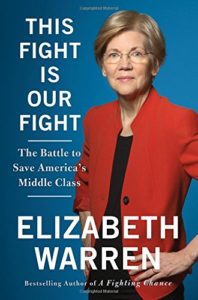 This Fight Is Our Fight: The Battle to Save America's Middle Class by Elizabeth Warren
The fact that Warren spent years writing and lecturing persuasively as a professor might have something to with how well researched and articulate this book is. Warren describes how the middle class flourished in the wake of the New Deal and began to shrink during the Reagan years. "Now, with the election of Donald Trump–a con artist who promised to drain the swamp of special interests and then surrounded himself with billionaires and lobbyists–the middle class is being pushed ever closer to collapse."
New Release of the Week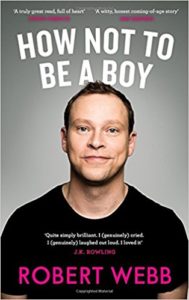 How Not To Be A Boy by Robert Webb
This book sounds excellent but even if it didn't, all I would have to tell you is J.K Rowling said the following, "Quite simply brilliant. I (genuinely) cried. I (genuinely) laughed out loud. It's profound, touching, personal yet universal. I loved it." and you'd be sold, right? Me too. Here's what the publisher said, "Looking back over his life, from schoolboy crushes (on girls and boys) to discovering the power of making people laugh (in the Cambridge Footlights with David Mitchell), and from losing his beloved mother to becoming a husband and father, Robert Webb considers the absurd expectations boys and men have thrust upon them at every stage of life. Hilarious and heartbreaking, How Not to Be a Boy explores the relationships that made Robert who he is as a man, the lessons we learn as sons and daughters, and the understanding that sometimes you aren't the Luke Skywalker of your life – you're actually Darth Vader."
Links for Your Ears from Book Riot:
One reader was skeptical about audiobooks until she tried listening to nonfiction. (I definitely relate to this. I've always enjoyed both fiction and nonfiction on audio but I realized how much more information I retain when I listen to NF on audio as opposed to reading it.)
The 25 Best Children's Audiobooks
Looking for audiobooks for kids? Look no further than this list of 25 of the best children's audiobooks out there, including classic and contemporary books!
Thoughts? Feelings? Hit me up on Twitter at msmacb.
Until next week,
~Katie