Hello my fellow mystery fans! Let's end August with a ton of mystery books!
---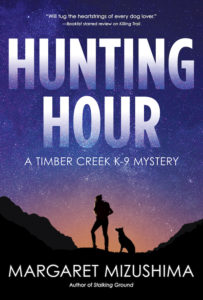 Sponsored by Hunting Hour by Margaret Mizushima—the third Timber Creek K-9 Mystery from Crooked Lane Books.
Deputy Mattie Cobb and her K-9 partner Robo get called to track a missing junior high student, until they find the girl dead on Smoker's Hill behind the high school. But before they can catch the killer, another child goes missing―and this time it's one of Cole Walker's daughters.
Knowing that each hour a child remains missing lessens the probability of finding her alive, Mattie and Robo lead the hunt while Cole and community volunteers join in the search. It seems that someone has snatched all trace of the Walker girl from their midst. Grasping at straws, Mattie and Robo follow a phoned-in tip into the dense forest, where they hope to find a trace of the girl's scent and rescue her alive. But when Robo does catch her scent, it leads them to information that challenges everything they thought they knew about the case.
---
Great Procedural With A Bit of Horror: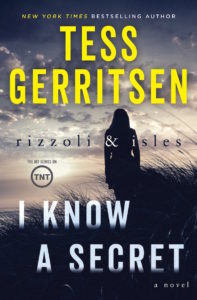 I Know a Secret (Rizzoli & Isles #12) by Tess Gerritsen: Rizzoli and Isles–a detective and medical examiner–are perplexed with their recent victim: she's dead (seeing as she's holding her eyeballs), but there doesn't appear to be a clear cause of death. Has an unhinged fan killed a horror movie creator and staged it to look like a scene? Or is there much more to this case?–hint: much more! Also mixed in with the mystery solving are Rizzoli and Isles current personal lives, mostly family issues. If you've only watched the show, the characters' personal lives are different in the books (which I love because it allows me to read and watch while being comforted by the similarities in the personalities, but getting fresh stories/plots). Gerritsen does a great job writing her series (and Rizzoli & Isles, who are very different, while having a great relationship) where you can jump in here and not feel "lost." And if the personal issues make you want to know more of what you missed, then you can decide to start at the beginning. (A great Little Q&A with Tess Gerritsen.)
Over on Book Riot a guide to Nancy Drew readalikes and a Sherlock edition Book Fetish.
While you wait for the second book in the Lady Sherlock series to release next week (it's SO GOOD I LOVE IT!) here's a stand-alone short story set in the universe: Charlotte Holmes and the Locked Box.
Marcia Clark is developing a series for ABC that may sound really familiar because it sounds a lot like her life! (Will 100% watch!)
Watch Me Disappear by Janelle Brown will be adapted.
The adaptation of Stephen King's suspense novel Gerald's Game will premiere on Netflix on September 29th.
All the Trigger Warnings: Fantastic Mystery That Explores Trauma and Living With Grief
The Good Daughter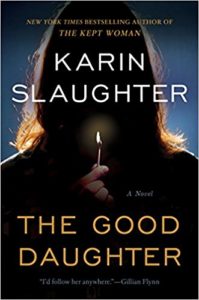 by Karin Slaughter: I cracked this novel open right before bed and ten minutes later felt like I'd been running for my life and was going to have a heart attack. And this continued to happen to me randomly throughout the book because Slaughter explores violent crimes and trauma with writing that places you right there with the characters.
The novel begins by introducing you to the Quinn family, who have just had to move because their home was burned down by someone angry with their father who is a criminal lawyer–the kind of lawyer who represents rapists/murderers. And then the family is attacked, destroying their world. Almost thirty years later, Charlie, the youngest daughter, finds herself in another violent tragedy. Still living in the small town she grew up in, things really hit the fan when her father decides to represent the person accused of the crime Charlie just witnessed. This event dredges up the tragedy Charlie survived as a child, and as much as she wants to forget it, she's now about to relive it. The characters have so much depth, the mystery has plenty of twists, the lawyering scenes are excellent, and there are tiny bursts of humor throughout that perfectly deflate the tension, making clear Slaughter is a gifted writer.
A Park Police Officer and A Crime Scene Investigator Make a Perfect Team: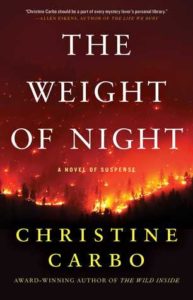 The Weight of Night (Glacier Mystery #3) by Christine Carbo: Gretchen Larson (a crime scene investigator) and Monty Harris (a park police officer) work together to try and recover human remains found near Montana's Glacier National Park. Problem is there's a raging fire that firefighters have been working to put out, so Larson can't treat this with the care a crime scene needs—they literally need to get what they can and run! Told from alternating point of view between Larson and Harris, this procedural takes you through the case as they try to identify the remains and also find a boy who was camping with his family and disappeared. Both Larson and Harris have past traumas they carry, while Larson also has a sleeping disorder she keeps hidden and refuses to get close to anyone because of it. Great read for fans of procedurals who are looking for a new setting.
More Books Recently Released Because What's a TBR For if It's Not About to Explode: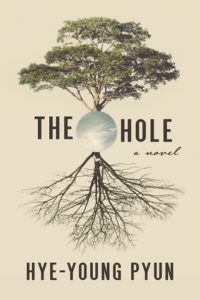 The Hole by Hye-Young Pyun, Sora Kim-Russell (Translation) (Slow-burn suspense)
Girl in Snow by Danya Kukafka (I love novels that give both YA and Adult POV)
See What I Have Done by Sarah Schmidt (Liberty Hardy loved and reviewed)
Atlanta Noir edited by Tayari Jones (Currently reading: almost had to sleep with the lights on after the first, super good, story!)
Unraveling Oliver by Liz Nugent (Seeing this one mentioned a lot.)
A Thousand Cuts (Spike Sanguinetti #5) by Thomas Mogford (Thriller set in Gibraltar)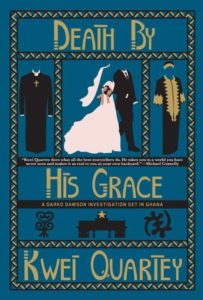 Death by His Grace (Darko Dawson #5) by Kwei Quartey (Really enjoyed.)
On Her Majesty's Frightfully Secret Service (Her Royal Spyness #11) by Rhys Bowen (Historical mystery)
From Holmes to Sherlock: The Story of the Men and Women Who Created an Icon by Mattias Boström, Michael Gallagher (Translation) (Sounds interesting.)
The Arsonist by Stephanie Oakes (Looking forward to reading this one!)
The Dire King (Jackaby #4) by William Ritter (Enjoying reading this series that's like a Sherlockian fantasy!)
Normandy Gold #3 by Megan Abbott, Alison Gaylin, Steve Scott, Lovern Kindzierski, Claudia Ianniciello (Detective goes "undercover" as an escort to find out what happened to her sister.)
Snap Judgment (Samantha Brinkman, #3) by Marcia Clark (My review of the 1st two in the series)
Glass Houses (Chief Inspector Armand Gamache #13) by Louise Penny (Latest in this great series!)
Browse all the books recommended in Unusual Suspects previous newsletters on this shelf. And if you like to put a pin in things here's an Unusual Suspects board.
Until next time, keep investigating! And in the meantime come talk books with me on Twitter and Litsy–you can find me under Jamie Canaves.