Hello audiobook lovers, how's your week going? Last week, I was still reeling from the tragedy in Charlottesville and subsequent appalling, dangerous rhetoric from that guy who had a really small crowd at his inauguration. So this week I did what I always do when I'm feeling angry and sad: I turned to books. Because, despite what those khaki wearing, tiki torch wielding, hate spouting individuals were shouting, there's ample textual evidence that reflects the inherent cruelty and racism of white nationalist movements. So this week, I'm giving y'all a list of books I call BOO WHITE NATIONALISM!
---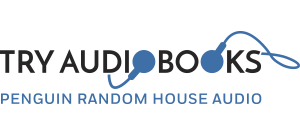 Sponsored by Penguin Random House Audio
Help your children keep up with their reading by listening to audiobooks.  Visit TryAudiobooks.com/Family-Travel for suggested listens and for a free audiobook download of MY FATHER's DRAGON!
---
Between the World and Me by Ta-Nehisi Coates
I've often spoken about this book and how it's one of the titles that has a permanent place in my collection. This short book, written as a letter to his son, is an incisive commentary on race in America and how it's been used to enslave, exploit, and marginalize black Americans. It's painful but essential reading (and listening).
Blood at the Root: A Racial Cleansing in America by Patrick Phillips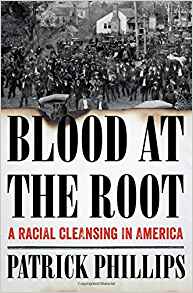 I love when authors narrate their own audiobooks *if* they can pull it off. Phillips' book is a winner, both in terms of content and his narration. National Book Award finalist Patrick Phillips' book centers around Georgia in 1912, when "three young black laborers were accused of raping and murdering a white girl. One man was dragged from a jail cell and lynched on the town square, two teenagers were hung after a one-day trial, and soon bands of white 'night riders' launched a coordinated campaign of arson and terror, driving all 1,098 black citizens out of the county." Phillips weaves this into his own memories of growing up in the 1970s and '80s and the history of racialized violence that endures in the United States.
A Colony in a Nation by Chris Hayes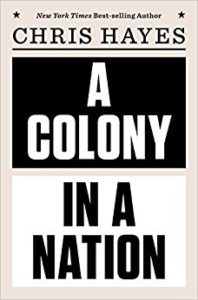 I've long been a fan of Chris Hayes' show on MSNBC but I was still skeptical about the idea of a white cable news host penning a book about race relations in the U.S. Maybe that makes me a jerk, I don't know. I do know that my skepticism was unwarranted. The short book is incisive, well-researched, and thought provoking. Hayes sounds just as comfortable in the recording booth as he is in front of a camera; his narration of the book is excellent.
The Diary of Anne Frank: The Diary of a Young Girl by Anne Frank
Because it's 2017 and Nazis are still a thing. Selma Blair narrates (!).  
The Hate U Give by Angie Thomas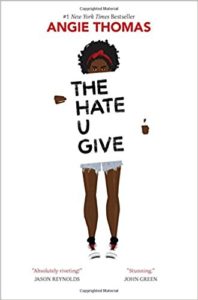 Honestly, this book is a must-read (or listen) no matter what the list. Starr Carter is 16 years old and bounces back and forth between two worlds: the poor neighborhood she's lived her whole life, and the fancy prep school she attends during the day. She's managed to keep her two worlds separate from each other, but that changes after her best friend from childhood is shot and killed by a police officer. Starr is the only witness to the shooting. This book appropriately has rave reviews from pretty much everyone who has read it. I read the print version but I've heard excellent things about the audiobook and might listen to it because the book is just that good (and sadly, just that relevant).
The New Jim Crow: Mass Incarceration in the Age of Colorblindness by Michelle Alexander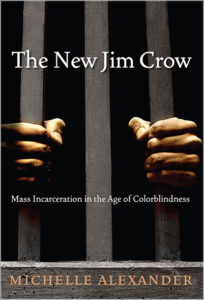 Alexander describes how the legacy of the Jim Crow era is perpetuated in our current criminal justice system. Communities of color are disproportionately impacted by the U.S.A.'s penal system and the notion of a "post-racial" era of colorblindness is more rhetoric than reality. A difficult, but important listen.
They Can't Kill Us All: Ferguson, Baltimore, and a New Era in America's Racial Justice Movement by Wesley Lowery
Washington Post reporter Lowery travels to neighborhoods and communities which have been disproportionately impacted by racially biased policing. He looks at the communities as a whole–-how they've have been neglected in so many crucial ways and suffered enormous tragedy as a result.
They Called Themselves the KKK: The Birth of an American Terrorist Group by Susan Campbell Bartoletti
Combing through oral histories, Congressional reports, and news reports, Bartoletti describes how the Ku Klux Klan went from six racist dudes to one of the most dangerous terrorist organizations in the United States.
Truevine: Two Brothers, a Kidnapping, and a Mother's Quest: A True Story of the Jim Crow South by Beth Macy
"The true story of two African-American brothers who were kidnapped and displayed as circus freaks, and whose mother endured a 28-year struggle to get them back."
Writing to Save a Life: The Louis Till File by John Edgar Wideman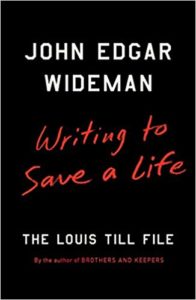 "John Edgar Wideman searches for Louis Till, a silent victim of American injustice. Wideman's personal interaction with the story began when he learned of Emmett's murder in 1955; Wideman was also 14 years old. After reading decades later about Louis' execution, he couldn't escape the twin tragedies of father and son, and tells their stories together for the first time."
New Release of the Week
Rabbit: The Autobiography of Ms. Pat by Patricia Williams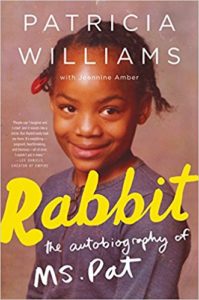 The New Release of the Week is a twofer for me: I love when comedians narrate their audiobooks, and I love books about people with tough childhoods who break a destructive cycle. Patricia Williams offers up both in her new book. One of five children being raised by an alcoholic mom, Williams was "targeted for sex by an older man when she was 12." By the time she was fifteen, she was a mother of two. With only an eighth grade education, Williams had to learn skills that would allow her to build a life and survive. The best weapons at her disposal? Humor, and a fierce determination to build a life for herself.
Book Riot Audiobooky Post Round-up
40+ of Your Recommended Audiobooks for Kids
Got kids? Read this.
My unexpected journey to a happier life
Be still my heart! One rioter talks about how audiobooks made her a happier person
Links for Your Ears
Books Where Eclipses Loom Large
Can't get enough of that eclipse? Audible's got you covered.
I just really love the idea that there's a rock star of audiobooks.