Well, the total eclipse of the heart has finally happened, and now we can move on with our lives (and hopefully, with our eyes intact as well).
---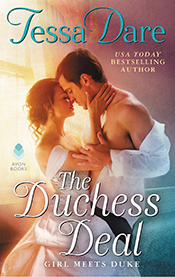 Sponsored by The Duchess Deal by Tessa Dare
Since his return from war, the Duke of Ashbury has continued to seek justice, menacing London ne'er-do-wells by night. But now he is needs an heir – and a wife to produce one. When seamstress Emma Gladstone appears in his library wearing a wedding gown, he decides immediately that she'll do. His terms are simple: they will be husband and wife by night only, and once she's pregnant with his heir, they never need share a bed again. But Emma is no pushover, and once she's seen the man beneath the scars, he can't stop her from falling in love.
---
Looking for ways to drop your well earned money? Here are a few things you can try:
The Ripped Bodice now has a Patreon! Support them from afar (and get a few perks) and keep the love alive whether you can get to the brick and mortar shop or not.
Smart Bitches, Trashy Books has all kinds of new merch, including the awesome Slayer of Words t-shirt, mug, etc., proceeds for which will go to Doctors Without Borders, Beverly Jenkins' charity of choice
They also have these excellent "Smash the Patriarchy, Read Romance" mugs.
In other news, there is apparently going to be a romance anthology based on Alexander Hamilton's battalion coming soon. You will definitely hear from me when there is more to share.
In…less exciting news, there has been some discussion about a forthcoming book announced by Carina Press in which an educator starts a romantic relationship with a student. The publishing company has since announced that they will be reviewing the book for sensitivity, but a lot of people think it shouldn't even have gotten past the pitch phase, what with the whole high school teacher/student thing, even if the student is not a minor. I've been known to pick up taboo, but I am personally not down for that particular one (probably in part because I have worked at a high school and that is not a level of trust I could see any of my teachers breaking). What do you think?
Bustle has been recognizing Romance Awareness Month, and has been posting some pretty awesome articles, including this one in romance authors' own words.
Speaking of romance authors' own words, the daily posts on the Read a Romance Month site are great for anyone, whether you're a romance reader or not. They're particularly great when you need something heartwarming and pick-me-up-y.
Over on Book Riot:
Erin recommended a few historical romances for people who get tripped up by the language and terminology in historicals.
Danika wrote about how Harry Potter helped guide her on her own queer journey, courtesy of Draco/Harry fanwork.
Rachel pulled together a fantabulous list of things (more things!) you can add to your collection in a special romance edition of Book Fetish. (PS–NSFW!)
And finally, while it's not directed at romance readers, we could all do more to support our favorite authors. Here's a quick list of things we can do!
And now, recs!
I've been in a sort of "real American heroes" mode, recently, so here are a few recs of books featuring military men across American history!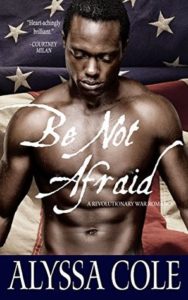 Be Not Afraid
Alyssa Cole
Named for the words allegedly said by Crispus Attucks, the man of African and Wampanoag descent who shed the first blood for the Revolution, Be Not Afraid tells the story of Elijah and Kate, two people on opposite sides of the American Revolution for very different reasons. Elijah fights for the Patriots, having made a deal with his owner to fight in his stead in exchange for land, livestock, and freedom. Kate, on the other hand, is one of many enslaved people who have taken the Brits up on their offer to manumit them if they join their side. The love story is brief but heartfelt, and my only issue with the story is just that—it's TOO SHORT. It was written as part of a Revolutionary anthology, For Love & Liberty.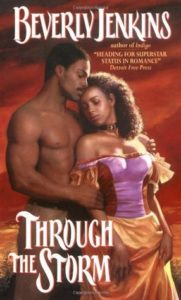 Through the Storm
Beverly Jenkins
When we first meet Raimond Le Veq and Sable Fontaine (if you've read Forbidden you might be familiar with the latter), the pair are on separate paths. Raimond is a high ranking officer in the Union Army (confusing white soldiers to no end) and Sable is ready to be free. Fate throws them into each other's paths as they each serve the Union in their own ways, until they meet again after the war. Their situation in New Orleans is incredibly different from where they found themselves in battle, but Sable takes to the Gens du Colour society—and the Le Veq family in particular—like a pro. If only the pair could get over themselves enough to make their love work.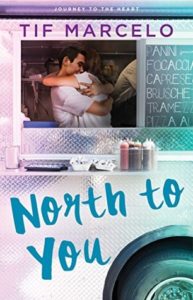 North To You
Tif Marcelo
This one goes a bit of a different route than the historicals. In San Francisco, Camille Merino runs a food truck that is a culmination of her dreams. While checking out a food-centered event, she literally runs into an old flame, and the heat is still there. Drew Bautista is in town on leave from the Army, ready to help his family rebrand their restaurant. He's hoping that this month will help restore his relationship with his father, who has never accepted that he joined the Army instead of the family business. Every relationship in this book is magical, from siblings to parents to friends, and there are recipes for Filipino food in the back matter. Just so you know.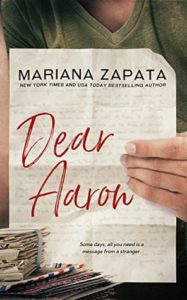 Dear Aaron
Mariana Zapata
Do you like the slowest of slow burns? This is the book for you. At nearly five hundred pages, it's the longest of the book recs this week, though the first half is written correspondence—letters, emails, IMs, etc. Ruby has "adopted" a soldier for letters and care packages, having learned from a sibling that Army life is pretty lonely. Aaron is deployed somewhere—she isn't sure where. After a rocky start, the pair easily outstrip the assigned one email a week and maybe a care package, and even without prose, their feelings for each other are apparent to the reader (even if they aren't quite as apparent to Ruby). If you like hopeless characters who just need to talk to each other (and eventually do), this is your story. Zapata also doesn't shy away from including talk of deployment, military life, and the necessary life decisions that might come up as a soldier.
Currently Reading: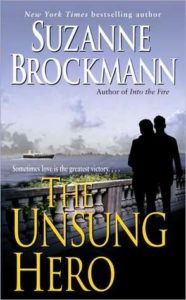 The Unsung Hero
Suzanne Brockmann
Okay, so there are 20 Troubleshooters books, and I've had the first one for years. Being still in the mood, I decided to try it out. Navy SEAL Tom Paoletti is on leave after a head injury on the job, and there's no better place to spend some of it than with his granduncle, Joe. Of course, time with Joe means time with his BFF Since The War (double-yew, double-yew, eye, eye), Charles, who has terminal cancer. Tom can't help but hope that he might run into Charles' daughter, Kelly. So far in my reading Brockmann is primarily setting the scene, with Tom having spotted an international terrorist while on recovery leave, but I hear there's going to be some shenanigans, so here's looking at you, kid.
Deals!
Are you ready for a new segment of Kissing Books? Here are a few choice books that are currently deal-priced on Amazon!
CD Reiss's Bombshell is 1.99 right now! I don't usually go for nanny/single father, but this one was so fricking sweet.
A Bollywood Affair, by Sonali Dev, is 2.99 right now. It's the perfect blend of angst and "aww" and will set you upon the path of reading everything Sonali has out right now—which at last count is only at three, but there's another coming out next year.
180 Seconds by Jessica Park is 1.99. (Okay, this is the last famous person/not famous person deal.)
And if Through the Storm wasn't enough Civil War/awesome women doing awesome things for you, Alyssa Cole's An Extraordinary Union is 2.99!
How often do you find Gilded Age romance? Joanna Shupe's Magnate, the first in her Knickerbocker series, is 1.99.
Recent and Upcoming Releases:
And finally, some books that have recently come out or are coming out soon:
Heat Wave, Elyse Springer
Spectred Isle, KJ Charles
The Duchess Deal, Tessa Dare
Mr. Big, Delancey Stewart (8/29)
My Fair Lover, Nicole Jordan (8/29)
Breakfast in Bed, Rochelle Alers (8/29)
Deacon, Kit Rocha (8/29)
Sanctuary, Rebekah Weatherspoon (8/29)
Okay, so that's a lot. I've got to get back to reading, and I'm sure you do, too.
In the meantime, catch me on Twitter @jessisreading or Instagram @jess_is_reading, or send me an email at jessica@riotnewmedia.com if you've got feedback or just want to say hi!