Today is an AMAZING day for books! The last book in William Ritter's Jackaby series hits the shelves, Sue Grafton is finally on 'Y' in the Kinsey Malone series, and it's the release day of what will probably be my favorite book of the year: The Heart's Invisible Furies by John Boyne!
I have a few fantastic new titles to tell you about here today, and as always, you can also hear about several more great books on this week's episode of the All the Books! Rebecca and I talked about a few amazing books we loved, including The Heart's Invisible Furies, Stay With Me, and The Futilitarians .
---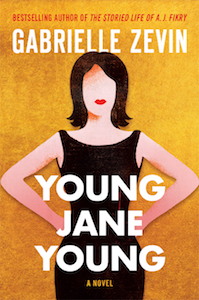 This week's newsletter is sponsored by Young Jane Young by Gabrielle Zevin.
From the bestselling author of The Storied Life of A. J. Fikry comes another perfect fable for our times — a story about women, choices, and recovering from mistakes. Young Jane Young's heroine is Aviva Grossman, a Congressional intern who makes the life-changing mistake of having an affair with her married boss — and blogging about it. She becomes a talk-show punchline; she is slut-shamed. How does one go on after this? A smart, funny, and moving novel about what it means to be a woman of any age, Young Jane Young captures our current political climate and the double standards of life for women.
---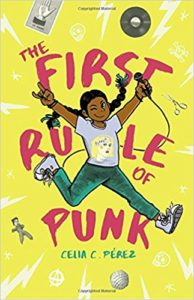 The First Rule of Punk by Celia C. Pérez
As if moving to a new school isn't hard enough, twelve-year-old Malú accidentally crosses the school's queen bee and violates the dress code on the first day. Malú wants to live by her father's advice to be herself, but it's hard when she's told being herself doesn't work at this school. So she does something she knows will help her feel better: she starts a punk band with a group of other misfits. This is a charming book about fitting in and fighting for what you believe.
Backlist bump: Ask My Mood Ring How I Feel by Diana López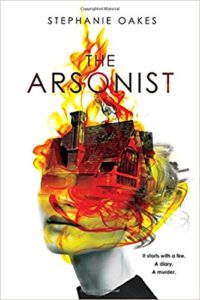 The Arsonist by Stephanie Oakes
Holy cats, there is so much going on in this book, it's almost easier to just wave Muppet arms and yell, "READ IT!" than to explain it. But let me try: Molly is a teenager with a father on death row. Pepper is a Kuwaiti immigrant with epilepsy and the world's laziest seizure dog. And Ava is a long-dead resistance fighter. Here's how they go together: When Molly receives a mysterious package, it leads her to Pepper and a chance to solve Ava's decades-old murder. As they race to find all the pieces of the puzzle, they'll realize that maybe someone is leading them to the answers for their own reasons, and perhaps the answers they find are for different questions entirely. This is a big, weird, twisty novel, and I loved it!
Backlist bump: The Sacred Lies of Minnow Bly by Stephanie Oakes
Eastman Was Here by Alex Gilvary
It is 1973 and Alan Eastman's life is crumbling apart. His wife has taken their children and left him, he's now living with his mother in New Jersey, and he feels like his best years are behind him. When he receives a call from an old rival with a job opportunity to cover the end of the Vietnam War, he sees it as a chance at redemption. But once he reaches Saigon, Eastman learns that wherever you go, there you are: He's the same person with the same problems, just in a different country. Eastman Was Here is a darkly humorous, poignant novel about aging, love, and keeping up with a changing world, from one of today's best young writers.
Backlist bump: From the Memoirs of a Non-Enemy Combatant by Alex Gilvary
(Also out today is Brian May's book about Queen, called Queen in 3-D, which I haven't seen yet but I am going to buy the hell out of it! I figured some of you would also be excited about this news.)
That's it for me today – time to get back to reading! If you want to learn more about books new and old (and see lots of pictures of my cats, Millay and Steinbeck), or tell me about books you're reading, or books you think I should read (I HEART RECOMMENDATIONS!), you can find me on Twitter at MissLiberty, on Instagram at FranzenComesAlive, or Litsy under 'Liberty'!
Stay rad,
Liberty