Hello fellow mystery fans! Salvador Dali was exactly where his body was supposed to be and in a delightful twist, his mustache is in tact.
---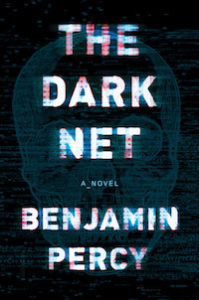 Sponsored by The Dark Net by Benjamin Percy
The Dark Net is real. An anonymous and often criminal arena that exists in the secret far reaches of the Web. And now an ancient darkness is gathering there as well. This force is threatening to spread virally into the real world unless it can be stopped by members of a ragtag crew. Set in present-day Portland, The Dark Net is a cracked-mirror version of the digital nightmare we already live in, a timely and wildly imaginative techno-thriller about the evil that lurks in real and virtual spaces, and the power of a united few to fight back.
---
What If Everyone's Short-Term Memory Only Lasted a Day or Two?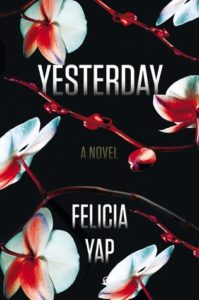 Yesterday by Felicia Yap: There has been a new surge of mystery/thrillers written by women that I like to say, "that book has a bite." I would place Yesterday in that category BUT it also is unique in that Yap has managed to create a slightly different world within our current society. In Yesterday people are either Mono or Duo: Monos only retain short-term memory for 24 hours; Duos only retain short-term memory for 48 hours. It creates hierarchy within society: Monos are considered less than, laws etc. have existed based on it. Now imagine if that's how short-term memory worked and try being a detective solving a murder! Not only is DCI Richardson trying to solve the case of the body dumped in England's River Cam, but it turns out the victim was having an affair with a Duo married to a Mono. It feels like everyone in this story is struggling with their memory and has secrets to keep. Told from the point of view of the victim's iDiary (how everyone keeps track of their memory), DCI Richardson, and Mark and Claire (the Mono/Duo couple at the center of it all).
Over on Book Riot Amanda Nelson put together a great list of mystery/thriller audiobooks.
A Conversation With Walter Mosley. (If you haven't yet read any of Mosley's work–you really should–here's a reading pathways.)
Louise Penny (Chief Inspector Armand Gamache author) video interview.
In stranger than fiction news: A parrot helped convict a woman of murdering her husband.
Watch the trailer for My Friend Dahmer based on Derf Backderf's graphic novel depicting serial killer Jeffrey Dahmer as a teenager.
Michelle Richmond's The Marriage Pact sold its film rights to 20th Century Fox.
Watch the trailer for Netflix' Mindhunter based on the same titled book by Mark Olshaker and John E. Douglas. (Premieres October 13.)
Fictional Female Serial Killer? Yes, Please!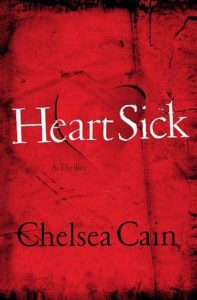 Heartsick (Archie Sheridan & Gretchen Lowell, #1) by Chelsea Cain: I've been meaning to read this series for-ev-er. The cancellation of Cain's Mockingbird left me so bummed that I finally reached for my Heartsick copy and shame on me for not having gotten to this series sooner! If you like dark, fckd-up serial killers who play some seriously wicked games, you'll love Gretchen Lowell–from afar. Stay very far away from this evil woman. Archie Sheridan lives with a scar on his chest and a mind full of damage after barely having survived being kidnapped and tortured by serial killer Lowell. He had been the detective on her case and had spent 10 years trying to catch her. Ultimately he did, but considering his life is in shambles and he can't stop visiting her in jail, who really caught whom? With a new killer snatching victims, Archie is asked to help catch the killer while also giving a young reporter access into his life for a series of feature articles. This felt like a mental cat-and-mouse where everyone seems to think they're the cat, but that's just not possible. A fantastic, dark read I stayed up way past my bedtime reading. And now I need to read all the Chelsea Cain.
Literary Mystery With a Unique PI Who I Love!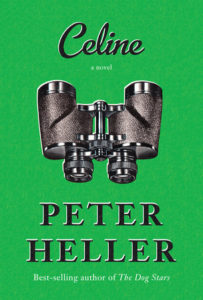 Celine by Peter Heller: Celine is no longer a spring chicken and has emphysema, but that doesn't stop her from being a great PI who takes on mostly pro bono cases. Her new case comes via Gabriela, a woman with quite a story of her upbringing who needs Celine to help her find out what happened to her father years ago. Celine takes on the case and brings her partner Peter along for the adventure to Yellowstone National Park. While Celine is focused on Gabriela's case, Celine's son is focused on unraveling a mystery about Celine which gives a great look into Celine's life. A good mystery that doesn't go the way you'd think, filled with great characters, and a fabulous, dry-witted, unique PI. I hope to someday get to spend time with Celine again. And I really enjoyed the narrator, Kimberly Farr, on the audiobook.
Watch Now: If you've been looking forward to watching the adaptation of Petra Hammesfahr's novel The Sinner–the USA Network mini-series starring Jessica Biel–it premiers tonight.
Browse all the books recommended in Unusual Suspects previous newsletters on this shelf. And if you like to put a pin in things here's an Unusual Suspects board.
Until next time, keep investigating! And in the meantime come talk books with me on Twitter and Litsy–you can find me under Jamie Canaves.