Happy Friday, friends. We made it through another week; let us give thanks and be merry! Today we're talking about The Water Knife and the Graceling Realm series, plus awards news, GRRM, a slew of TV adaptations, and more.
---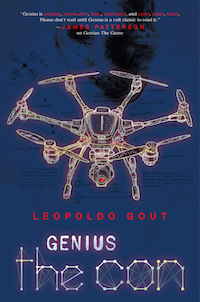 This newsletter is sponsored by Genius: The Game by Leopoldo Gout.
Trust no one. Every camera is an eye. Every microphone an ear. Find me and we can stop him together.
In Genius: The Game, an action-packed novel by Leopoldo Gout, three brilliant teens from around the world use their knowledge of hacking, engineering, espionage, and activism in a race to save the world.
---
The World Fantasy Awards nominees have been announced! Borderline and Obelisk Gate continue to make the awards rounds, A Taste of Honey is up for Long Fiction (by which I believe they mean novellas), The Paper Menagerie is up for Collection, and I am just delighted.
Speaking of awards, for those of you who want to catch up with nominees here are 100 shortlisted genre titles, ranging from YA to mystery to speculative fiction. I've read 38 of the 100 — not too shabby. So many more to go…
One more in award news: Underground Railroad has won the Arthur C. Clarke Award!
Westeros is coming. But not The Winds of Winter, at least not for a while yet. George R.R. Martin announced that there's likely to be a Westeros book in 2018, part of his very own GRRMarillion (LOL).
There's lots of TV adaptation news (thanks, SDCC!):
– Are you caught up with The Magicians? If not do not click this link, major spoilers for S2! If you are, click away and enjoy the interview with Stella Maeve, Jason Ralph, and Olivia Dudley.
– Do you need more supernatural hijinks on your TV? Enter Midnight, Texas. I am hooked after the pilot; there was a nice balance of solid acting and production value (they really went for it with those corpses) with the hokiness and RED LIGHT OF DOOOOOM, etc., that I would expect from the concept.
– I managed to forget that the Dirk Gently's Holistic Detective Agency show exists, but it is real and Season 2 is coming.
– The Sirens of Titan by Kurt Vonnegut might be coming to TV, courtesy of Dan Harmon (??!?!??!!). Harmon plus Vonnegut actually sounds kind of perfect, and I will be keeping an eye this!
– And I'm sure you've already seen the Wrinkle in Time trailer but just in case you haven't, or you want to watch it for the 4,000th time, here it is.
And for your Friday whimsy: Gucci put together a Star Trek-inspired campaign. Bedazzled fanny packs of the future!
The Water Knife by Paolo Bacigalupi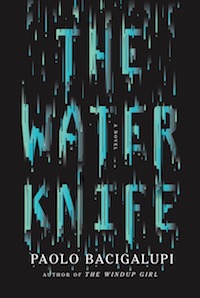 Set in a possibly-not-that-distant future, The Water Knife takes place in and around Phoenix, AZ as the city crumbles due to lack of (you guessed it) water. While some are lucky enough to live in "arcs" complete with AC, state of the art water recycling, and all the comforts you could want, most are stuck waiting around Red Cross water pumps, recycling their own urine, and trying to avoid the gangs patrolling the neighborhoods. You might not expect a book that hinges on water rights to be as grim, violent, and fast-paced as The Water Knife is; you would be mistaken.
Did I mention this book is grim and violent? Characters get shot, tortured, coerced into sex, betrayed, you name it, and often a combination thereof. Lucy, a journalist who can't bring herself to leave the struggling city, is finding out what her dark side looks like. Maria, a young woman trying to find her way from one pitfall to the next, and who experiences some of the most brutal violence in the book, reveals a pragmatic streak that turns the plot in new directions more than once. Angel, a scarred man who does wetwork (sorry) of various sorts for the woman running Vegas, turns out to be one of the most surprising characters in the book. Bacigalupi has been called a grimdark writer, and the shoe fits — which is why the moments of light and hope in this book are so potent.
The Water Knife is blood-soaked, but it's also a meditation on the power of community. I was fascinated by the tech, much of which is already out there albeit in slightly different form. Having lived in Arizona, California, and Colorado, the geography was familiar enough to make me nostalgic. And his vision of the way society has shifted feels prescient in the way that the best sci-fi does. If you're looking for another perspective on the potentially horrible future of the United States (because when aren't we), pick it up.
The Graceling Realm series by Kristin Cashore
Kristin Cashore has a new book coming out this fall (Jane Unlimited, September 19 2017), which reminded me that I want to remind you all of just how good this series is! On the surface, it looks like your standard "swords and powers" YA fantasy, but it digs deeper than you might think.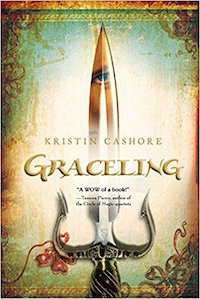 Graceling is our introduction to the Seven Kingdoms and to Katsa, a young woman with a Grace (or special power) for violence. Pressed into service as an enforcer by the king of the Middluns, she's spent most of her life believing that all she can do is hurt people. But she's started to reclaim her power, working with a secret council running underground rescue missions. Then she meets a Graced fighter who interferes with one of her missions; Po has the gall to be interesting and attractive as well as a skilled fighter, one who can match her. As we start to see the political workings of the Seven Kingdoms, we also see Katsa find her way to a life that offers more than just violence.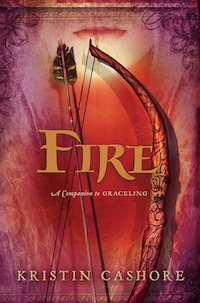 Fire, the second book published, is technically a prequel. I can't describe the plot much without major spoilers for Graceling, but that's fine because there's so much more. Our main character Fire is literally the most beautiful woman in the world — which brings her nothing but misery and injury. In the hands of a less skilled writer this would be nothing but one cliché after another, but Cashore creates a woman who is isolated, dangerous, and striving to understand what it means to be something other than what people label her. This is the book in the series I reread the most, and it hits me in the feelings every time.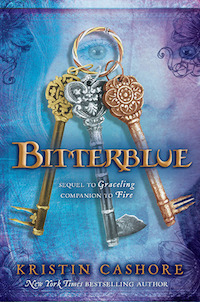 Bitterblue is the most politically agile and complex of the three, following a young queen as she attempts to bring her country back from the destruction wrought by her father. Unlike Katsa and Fire, her journey to understanding is about her world rather than just herself. What lies do we tell ourselves, and why do we tell them? Can the truth actually set us free? What do you do when reconciliation is impossible? These are huge questions, and Cashore follows them into dark and difficult places.
If you need a series that's solid distraction with romance, action, adventure, and a big beating heart, add this to your summer stack.
Happy reading! If you're interested in more science fiction and fantasy talk, you can catch me and my co-host Sharifah on the new SFF Yeah! podcast.