Ahoy, Audiobook fans!
I'm back back in Cali Cali, with the rest of my list of Southwestern audiobooks. 
Here are books from the states I visited on the way back from Oklahoma to California (If there's a duplicate state it's because I stopped there on the California to Oklahoma stretch as well as the journey from OK-CA).
---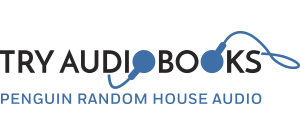 Sponsored by Penguin Random House Audio
The summer months are a great time for road trips with the whole family, but the car ride can get old…quick. Listen to an audiobook the whole family can enjoy and your destination will arrive in no time! Visit TryAudiobooks.com/Family-Travel for suggested listens and for a free audiobook download of MY FATHER's DRAGON!
---
New Mexico Redux: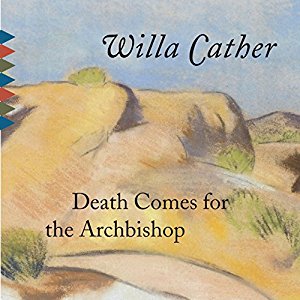 Death Comes From the Archbishop by Willa Cather
"Willa Cather's story of the missionary priest Father Jean Marie Latour and his work of faith in the wilderness of the Southwest is told with a spare but sensuous directness and profound artistry. When Latour arrives in 1851 in the territory of New Mexico, newly acquired by the United States, what he finds is a vast desert region of red hills and tortured arroyos that is American by law but Mexican and Indian in custom and belief. Over the next four decades, Latour works gently and tirelessly to spread his faith and to build a soaring cathedral out of the local golden rock—while contending with unforgiving terrain, derelict and sometimes rebellious priests, and his own loneliness.
Death Comes From the Archbishop shares a limitless, craggy beauty with the New Mexico landscape of desert, mountain, and canyon in which its central action takes place, and its evocations of that landscape and those who are drawn to it suggest why Cather is acknowledged without question as the most poetically exact chronicler of the American frontier."
Colorado: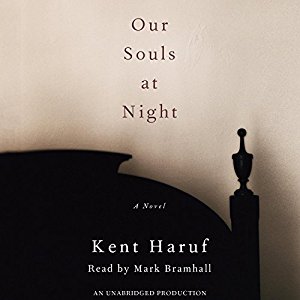 Our Souls at Night by Ken Haruf
I actually listened to this book on a different road trip and never paid much attention to the fact that it took place in Colorado. I wasn't thinking much about the setting because the story is sweet and moving and, frankly, not the kind of thing I usually read. From the publisher, "In the familiar setting of Holt, Colorado, home to all of Kent Haruf's inimitable fiction, Addie Moore pays an unexpected visit to a neighbor, Louis Waters. Her husband died years ago, as did his wife, and in such a small town they naturally have known of each other for decades; in fact, Addie was quite fond of Louis's wife. His daughter lives hours away in Colorado Springs, her son even farther away in Grand Junction, and Addie and Louis have long been living alone in houses now empty of family, the nights so terribly lonely, especially with no one to talk with.
Their brave adventures – their pleasures and their difficulties – are hugely involving and truly resonant, making Our Souls at Night the perfect final installment to this beloved writer's enduring contribution to American literature."
Utah: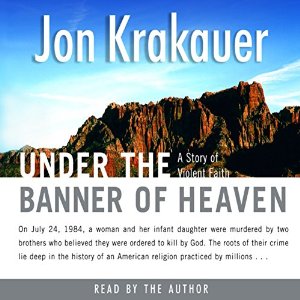 Under the Banner of Heaven: A Story of Violent Faith
Apologies, Utah, I know this book is not representative of your entire state and I don't mean to imply otherwise. But this book does take place in Utah, and it's a fascinating story. Krakauer is a talented investigative reporter who tells the story of the Lafferty brothers, who committed a double murder and claimed they were ordered to do so by God. The story doesn't stop there, however, and Krakauer "constructs a multilayered narrative of polygamy, savage violence, and unyielding faith. Along the way, he uncovers a shadowy offshoot of America's fastest growing religion and raises provocative questions about the nature of religious belief." Under the Banner of Heaven is vivid, disturbing as hell, and whatever the audio equivalent of a "page-turner" is.
Nevada Redux: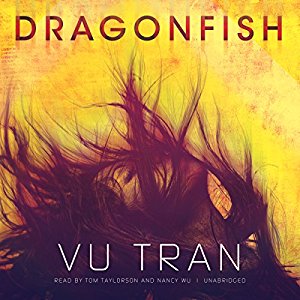 Dragonfish by Vu Tran
"Robert, an Oakland cop, still can't let go of Suzy, the enigmatic Vietnamese wife who left him two years ago. Now she's disappeared from her new husband, Sonny, a violent Vietnamese smuggler and gambler who's blackmailing Robert into finding her for him. As he pursues her through the sleek and seamy gambling dens of Las Vegas, shadowed by Sonny's sadistic son, 'Junior,' and assisted by unexpected and reluctant allies, Robert learns more about his ex-wife than he ever did during their marriage. He finds himself chasing the ghosts of her past, one that reaches back to a refugee camp in Malaysia after the fall of Saigon, as his investigation soon uncovers the existence of an elusive packet of her secret letters to someone she left behind long ago. Although Robert starts illuminating the dark corners of Suzy's life, the legacy of her sins threatens to immolate them all."
New Books: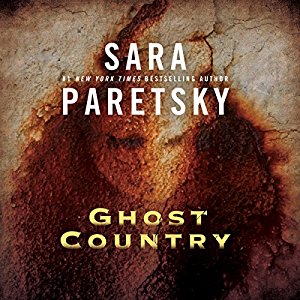 Ghost Country by Sara Paretsky
"Ghost Country is a powerful, haunting novel of magic and miracles, of four troubled people who meet beneath Chicago's shadowy streets – and of the woman whose mysterious appearance changes all of their lives forever.
They come from different worlds and meet at a time of crisis for all of them. Luisa, a drunken diva fallen on hard times, discovers on Chicago's streets a drama greater than any she has experienced onstage. Madeleine, a homeless woman, sees the Virgin Mary's blood seeping through a concrete wall beneath a luxury hotel. Mara, a rebellious adolescent cast out by her wealthy grandfather, becomes the catalyst for a war between the haves and have-nots as she searches among society's castoffs for the mother she never knew.
As the three women fight for their right to live and worship beneath the hotel, they find an ally in Hector Tammuz, an idealistic young psychiatrist risking his career to treat the homeless regardless of the cost. Tensions in the city are escalating when a mysterious woman appears during a violent storm. Erotic to some, repellent to others, she never speaks; the street people call her Starr. And as she slowly transforms their lives, miracles begin to happen in a city completely unprepared for the outcome."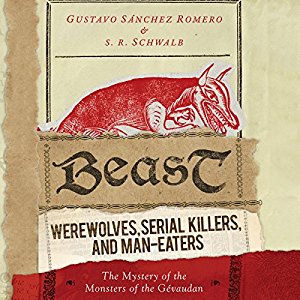 Beast: Werewolves, Serial Killers, and Man-Eaters: The Mystery of the Monsters of the Gévaudan by Gustavo Sanchez Romero
"Something unimaginable occurred from 1764 to 1767 in the remote highlands of south-central France. For three years, a real-life monster, or monsters, ravaged the region, slaughtering by some accounts more than 100 people, mostly women and children, and inflicting severe injuries upon many others. Alarmed rural communities – and their economies – were virtually held hostage by the marauder, and local officials and Louis XV deployed dragoons and crack wolf hunters from far-off Normandy and the King's own court to destroy the menace. And with the creature's reign of terror occurring at the advent of the modern newspaper, it can be said the ferocious attacks in the Gévaudan region were one of the world's first media sensations.
Despite extensive historical documentation about this awesome predator, no one seemed to know exactly what it was. Theories abounded: Was it an exotic animal, such as a hyena, that had escaped from a menagerie? A werewolf? A wolf-dog hybrid? A new species? Some kind of conspiracy? Or, as was proposed by the local bishop, was it a scourge of God? To this day, debates on the true nature of La Bête, "The Beast," continue.
Beast takes a fascinating look at all the evidence, using a mix of history and modern biology to advance a theory that could solve one of the most bizarre and unexplained killing sprees of all time: France's infamous Beast of the Gévaudan."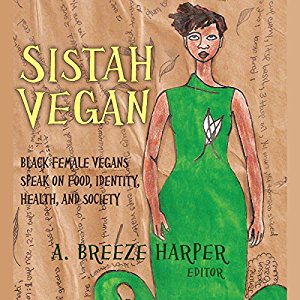 Sistah Vegan: Black Female Vegans Speak on Food, Identity, Health, and Society by A. Breeze Harper
"Sistah Vegan is a series of narratives, critical essays, poems, and reflections from a diverse community of North American black-identified vegans. Collectively, these activists are de-colonizing their bodies and minds via whole-foods veganism. By kicking junk-food habits, the more than 30 contributors all show the way toward longer, stronger, and healthier lives. Suffering from type-2 diabetes, hypertension, high blood pressure, and overweight need not be the way women of color are doomed to be victimized and live out their mature lives. There are healthy alternatives. Sistah Vegan is not about preaching veganism or vegan fundamentalism. Rather, the book is about how a group of black-identified female vegans perceive nutrition, food, ecological sustainability, health and healing, animal rights, parenting, social justice, spirituality, hair care, race, gender identification, womanism, and liberation that all go against the (refined and bleached) grain of our dysfunctional society."
Links for Your Ears:
One of Book Riot's fearless leaders, Amanda, talks about her love of a good audio thriller and lists ten of her favorite titles here. 10 EXCELLENT MYSTERY/THRILLERS ON AUDIO. (I've already added all the ones I haven't read to my list).
Comic book nerds rejoice! Stan Lee Lends His Voice to New Superhero Audiobook Project.
AudioFile Magazine spoke to Thérèse Plummer about her narration of Kevin Wilson's Perfect Little World: Behind the Mic: Perfect Little World.
Until next week, listeners,
~Katie