Hello fellow mystery fans! Canuck is a crow who not only managed to stop mail delivery but also once stole a knife from a crime scene. This crow desperately wants to be a character in a small town mystery novel and should not be denied.
---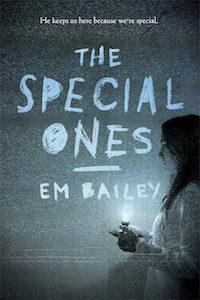 Sponsored by The Special Ones by Em Bailey, a HMH Book for Young Readers.
Esther is one of four Special Ones: spiritual guides who live in a remote farmhouse under the protection of a mysterious cult leader. He watches them around the clock—ready to punish them if they forget who they are—while broadcasting their lives to eager followers outside.
Esther knows that if she stops being Special, he will "renew" her. Nobody knows what happens to Special Ones who are taken away for renewal, but Esther fears the worst. Like an actor caught up in an endless play, she must keep up the performance if she wants to survive long enough to escape.
---
For fans of dark, fictional serial killers:
Lovemurder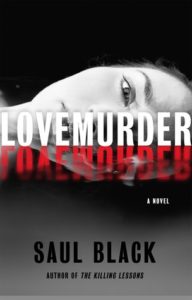 (Valerie Hart #2) by Saul Black: Valerie Hart is attempting to live a normal life as a San Francisco detective who has just put a past relationship back together. But then a murder victim is found with a note for Hart. Turns out the serial killing team she split up years before by catching Katherine Glass and imprisoning her is back. Or at least the free accomplice is, and he's demanding the release of Glass or he'll continue killing. Hart has no desire to go back to having to interact with Glass and her psychological games–let alone play a cat and mouse game with the serial killer on the loose–but seeing as Glass' accomplice was never caught because no one knows anything about him, she has no choice. Dark, gruesome, and suspenseful. (Reads as a standalone.)
I wrote about male thriller writers using ambiguous pen names. And Rincey and Katie discussed their feelings in the Read or Dead podcast: The Essence of a Woman is Not Contained in a Bra
First teaser for Alias Grace, upcoming Netflix mini-series, adapted from Margarate Atwood's novel about an Irish maid who is convicted of her employers murders.
David E. Kelley talks about Stephen King's Mr. Mercedes adaptation.
Amazon has gotten the US rights to the BBC's seven upcoming Agatha Christie adaptations.
Upcoming Netflix original crime drama will star Michael C. Hall with Harlan Coben writing.
Blake Lively will star in espionage thriller The Rhythm Section (adapted from Mark Burnell's first in the Stephanie Patrick novels).
Watch The Snow Man trailer starring Rebecca Ferguson, Michael Fassbender, and Val Kilmer. Adapted from Jo Nesbø's same titled novel in the Harry Hole series.
If it isn't your truth to reveal, do you join the lie?
The Lying Game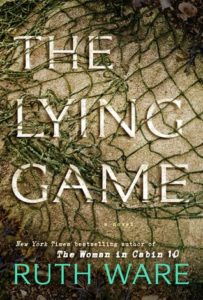 by Ruth Ware: Four women in their early thirties, who as teens bonded over a term at boarding school, are all reunited by a single text message. It is clear there is something more than just old friendships that has Fatima (a Doctor, mother, wife), Isa (a mother of a six-month-old), and Thea (a casino dealer) dropping everything to run back to Kate's home–the home they spent their weekends at while attending Salten House. The home Kate has called them back to because someone walking a dog came across human remains. While the police are investigating the body, the women are trying to reconcile their past while lying to the people in their current lives and pretending to be home for a school reunion dinner (even though they've never attended any previous reunions because they'd been expelled from the school). Told in first person by Isa, we watch as all the women struggle with the lies they once told and the lies they're still telling. The question is: who are they lying for, why, and when is it time to tell the truth?
Last Comic Standing meets And Then They Were None/Clue– stand-up routines included:
Ten Dead Comedians
by Fred Van Lente: Ten very different comedians receive a text message invitation by a famous comedian they all look up to and find themselves on an island together. While they all accepted in hopes of furthering or resurrecting their careers, they all rather quickly realize something is very wrong when one of them dies. And then the next… It's all comedians for themselves as they try and figure out who amongst them is the killer, and why they traded in comedy for horror. An entertaining read with various personalities, from social justice comedians to ones you'll recognize from real life, who you get to know just enough to be full characters but not enough where you're upset with the fact that they're all probably going to die…
Recent paperback releases:
Winter of the Gods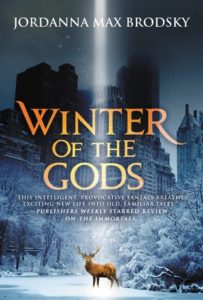 by Jordanna Max Brodsky
The Couple Next Door by Shari Lapena
The Trap by Melanie Raabe, Imogen Taylor (translation)
Unnatural Habits (Miss Fisher's Murder Mysteries) by Kerry Greenwood
Browse all the books recommended in Unusual Suspects previous newsletters on this shelf. And if you like to put a pin in things here's an Unusual Suspects board.
Until next time, keep investigating! And in the meantime come talk books with me on Twitter and Litsy–you can find me under Jamie Canaves.