Happy end of June, folks! Today we've got Jeff talking about his latest big project. But first, our regularly scheduled housekeeping:
– There's now a Lit Fic chat for the Insiders Forum! Check out the updated schedule here.
– We've pushed out an update to the New Release Index, aimed at making all the bells and whistles (the month selector, the Watchlist ribbon, etc.) work better, smoother, faster. Give it a whirl and let us know how we did!
– Congrats to our Epic mailbag winner of this month, Nicole H.! We'll let you know the Novel-level winner next round; make sure to keep your New Release Index updated each month to be entered.
---
I remember the day I became a podcast fan. It was seven years ago, and I was re-painting a bedroom for our yet-to-be-born son. And I hate painting, so in effort to make the day more palatable, I downloaded a bunch of episodes of this radio show that my friend had recommended, This American Life.
I wouldn't say I was head-over-heels, but I enjoyed the 10 episodes I listened to that day and was interested to see what else was out there. I ran through the now-usual suspects next: RadioLab, Planet Money, etc. I also finally pulled the trigger on listening to some of the talk show-format podcasts that writers I liked were doing (Bill Simmons, John Gruber). And that was it. Podcasts became a part of my everyday life.
It was a few years later after Book Riot had been around awhile that I heard a show called The Frequency on Dan Benjamin's 5by5 podcast network, which hosted and still hosts the podcast that has meant more to me than almost any other, Back to Work with Benjamin and Merlin Mann.
The Frequency is a weekly rundown of interesting stories from the world of technology. It's informal, zany, and geeky. And I realized that I wanted to do a show like that, but for books. So Rebecca and I got some USB mics, convinced my brother Kyle to edit the shows for us, and as of today we are 215 episodes into the Book Riot podcast. And then came All the Books, Reading Lives (RIP), Dear Book Nerd (RIP), Get Booked, Read or Dead, and SFF Yeah!
The connection we made with the Book Riot audience through podcasts has been the biggest surprise in this whole BR experiment. Our podcast listeners are the most engaged, vocal, and frankly valuable part of our audience. It's impossible now to imagine doing what we do without these shows, both in terms of the revenue the advertising brings in, and how much the connection with people matters and keeps us going.
But I kept thinking about how I got into podcasts in the first place. The audio-documentary format that uses the medium of personal audio to create a strange intimacy between the subjects, hosts, and listeners. What would it take to do something like that with books? It's been on my mind for years.
And so this week sees the premiere of episode #1 of Annotated. It's a short-form documentary podcast series about books, reading, and language. This first episode, "Is it 1984 yet?," is about the resurgence of interest in George Orwell's 1984 and the story of how 1984 came to be.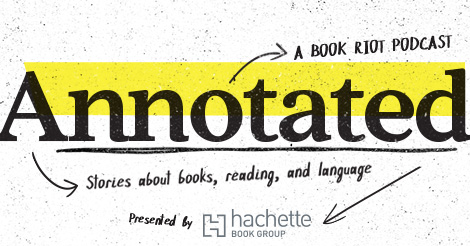 There will be five more episodes in this first season, with a new episode coming out every two weeks through the first week in September. It's been a dream of mine to try and it's been tough, and nerve-wracking, and exciting. We've got some great stories coming out, so I hope you will give it a chance. I'd love to hear what people think–we're learning as we go and want to get better and tell more interesting, fun, and thought-provoking stories (email me at annotated@bookriot.com).
My great friend and writer Jeremy Desmon agreed to help with with structuring the stories and figuring out if my nerdy story ideas were decent (most weren't), and my brother Kyle continues to be up for anything we throw at him. The folks at Hachette took a flyer on being the exclusive sponsor of this limited run show, and I am really humbled that they agreed with nothing more than a Google doc to go on.
Toni Morrison said you've got to write the book you want to see in the world, so this is the podcast version of that for me. I am not sure if it will work or be sustainable as part of the business, but I couldn't not try.
I've remembered in the course of this that there are so many amazing stories out there about these books we love, the authors who have written them, and the librarians and editors and booksellers and teachers and advocates for reading who have been out there making the reading world as we know it. We hope to do them justice.
If you like the show, do pass it along to other who might like it. And if you have an extra moment to rate and review it, especially on Apple Podcasts, that goes along way toward finding a large enough audience to support more shows.
Happy listening,
Jeff