Take a Look, It's in a Book, It's a LeVar Burton Podcast!
Did anyone else notice the Explicit label on LeVar Burton's new podcast, LeVar Burton Reads? Whatever. All I can say is this: when Mr. Reading Rainbow himself started narrating a snippet of fiction for the bumper episode (a speculative fiction reading, no less–we see you Lt. Commander Geordi La Forge), I got goosebumps. How many times can I click subscribe? The first full episode will appear on iTunes on June 13. Y'all.
Bet You Thought We Were Done With Harper Lee News
We'll never be done. But iunno…I'm kind of looking forward to reading Harper Lee's To Kill a Mockingbird, the graphic novel. Lee's estate is a-okay with plans for the adaptation, which will be illustrated by Fred Fordham who worked on Philip Pullman's graphic novel, The Adventures of John Blake: Mystery of the Ghost Ship. I did not, nor do I ever plan to read Go Set a Watchman, but I'm fond of the "put an illustration on it" concept, and likely would only ever have reread TKAM in this format. It's novel enough…
Down in the Underground, A Land Serene, A Library
I didn't realize I'd be singing you links today. But here we are. And what deserves the magical treatment of a Labyrinth melody more than a library in an underground forest? It's difficult to figure out what exactly is being said in the Architect announcement describing the reading and art space in Shanghai's Onepark Gubei community club, but it sounds like different levels and areas of the space will complement different moods and levels of interactivity (put me on the waiting list for the "leave me alone I'm reading!" room). And, honestly, the gallery speaks for itself.
Ready, Set, Speed Read!
Lifehacker, the site we all lovingly check in with to have our minds blown by tips destined to never be employed in our blithely inefficient lives (just me?), has compiled a list of speed reading apps to help you show books and other readables what's what. Part of me wants to try these out, but the other part of me is as hesitant as I was that first time I upped my audiobook speed to 1.25x. :hand-wringing:
---
Thanks to A Dark So Deadly by Stuart MacBride for sponsoring this week's newsletter.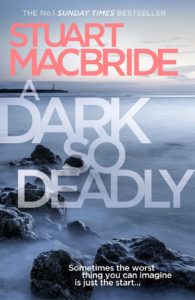 A gripping standalone thriller from the Sunday Times No. 1 bestselling author of the Logan McRae series. DC Callum MacGregor's career was going pretty well until he covered up a mistake to protect his pregnant crime-scene tech girlfriend. Now, Callum's stuck on a squad with all the other misfits—the officers no one else wants, but who can't be fired—never likely to get within reach of a decent case again.  That is, until they accidentally get handed the biggest murder investigation the city of Oldcastle has ever seen. When a mummified body is found in the local garbage dump, the top-brass assume pranksters have stolen it from a museum. But as Callum and his colleagues investigate, it starts to look less like student high-jinx and more like the work of a terrifying serial killer…