Today's Riot Rundown is sponsored by TarcherPerigee, publisher of Start Where You Are by Meera Lee Patel.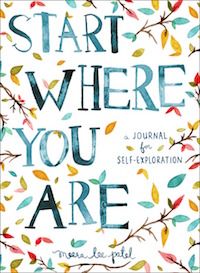 A lushly illustrated, interactive journal featuring beautiful watercolors and inspiring quotes from celebrated writers, artists and visionaries…
The hardest questions are the ones that open doors. Every spread in this book features an inspiring quote from a famous figure paired with an exercise. These exercises–often taking the form of a chart, list or written prompt–are designed to help you apply the lesson within each quote to your life.
There is no right or wrong way to complete this book. If you're honest with your thoughts, you'll become privy to various pieces of yourself – some that you know very well, and others that have previously gone unnoticed.
Take your time. Use what you have. Start where you are.