Happy Friday, friends. Skynet hasn't taken over yet, so at least we've got that.
---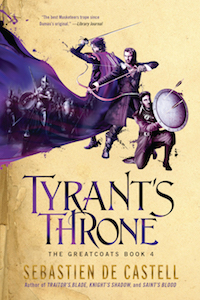 This newsletter is sponsored by the thrilling final volume in the Greatcoats Quartet, Tyrant's Throne by Sebastien de Castell.
The King is dead. The Greatcoats, legendary travelling magistrates who once brought justice to the Kingdom of Tristia, are now scattered to the winds and branded traitors. Falcio Val Mond and his best friends, master swordsman Kest and deadly archer Brasti, have been reduced to working as bodyguards. Surviving ducal conspiracies, invading armies, and an ever-shifting tapestry of sinister forces, Falcio, Kest, and Brasti fight for what is right. With just the iconic, tattered leather coats on their backs, the three comrades continue to pursue justice and their ultimate goal: to place their king's rightful heir on the throne.
---
Happy Pride Month! Have some:
– Queer fantasy!
– LGBTQ #ownvoices SF/F YA!
– Lesbian/bi fantasy!
– And while I don't go into it specifically in the review below because there's just so much to talk about, The Prey of Gods is a delightfully queer, action-packed sci-fi AND fantasy novel that you should add to your list immediately!
What do Frankenstein and the Alien franchise have in common? [Spoiler alert] A whole lot, according to Josh. While I haven't seen Alien: Covenant yet (only for lack of time, I assure you), I find his argument compelling.
Speaking of humanity meddling with things it shouldn't, I love this list from Tor.com of books in which hacking — either of tech or people — plays a pivotal role. Many of us have dreamed of mecha suits and body mods and a new AI best friend; why not read about them and all the ways it can go horribly wrong?
If you enjoyed the bejesus out of Wonder Woman, as I did, you probably want some read-alikes! Margaret has compiled a list.
I am not an excerpt reader myself (not enough story!), but I know you are out there and you may be excited to get an early read from Philip Pullman's Book of Dust.
And now, reviews! Today's picks could not be more different, and yet I love them both so, so, so much.
The Prey of Gods by Nicky Drayden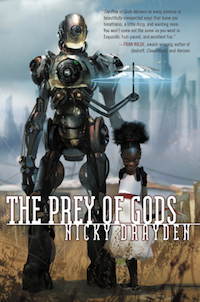 Imagine if American Gods by Neil Gaiman, Zoo City by Lauren Beukes, and All the Birds In the Sky by Charlie Jane Anders contributed DNA towards a headstrong, rambunctious child — that child would be something like The Prey of Gods. It's set in South Africa in a near-future where life is generally pretty good, which is exactly the problem for a demigoddess who feeds on fear. But then a new illegal drug on the market, advances in genetic engineering, and the burgeoning sentience of a household robot introduce just enough entropy into the system to give her a chance to change things up — and humanity is not going to love these changes. Which is the point, as far as she's concerned…
Drayden blends mythology with mitochondrial DNA, explores the intersections of faith and artificial intelligence, and packs enough action into this novel to rival a Marvel movie. Her characters (of which there are several, voicing alternating chapters) are flawed and all too human, and just as in real life that is both their strength and weakness. I alternately wanted to shake them and cheer them on, which is of course the best possible combination. Drayden also manages to balance child and teenage narrators with adult narrators without ever losing the flow or the pacing of the novel, which is a rare feat indeed.
I can basically guarantee that if you pick up this book, you will never look at a DNA sequence (or a crab and/or porpoise) the same way again, and I will be throwing it at everyone who comes anywhere near me asking for a sci-fi/fantasy recommendation.
The Crystal Cave by Mary Stewart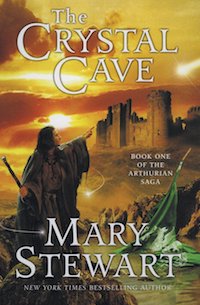 It was probably inevitable that after watching King Arthur: Legend of the Sword, I would reread Mary Stewart. Arthuriana in all its manifestations has been a love of mine since I first watched The Sword in the Stone, which led me to T.H. White, which led me to The Dark is Rising, which led me to The Pendragon Cycle, which led me to Persia Woolley and Marion Zimmer Bradley, which led me to Geoffrey of Monmouth once I got to college … you get the idea. But the series that I always go back to, the one I actually still own, is Mary Stewart's Arthurian Saga.
The Crystal Cave starts, naturally enough, with Merlin. And this is a Merlin with powers, but they're not the flashy powers of, say, your Gandalf-type wizard. Instead it's the power of Sight, true-seeing passed down from his mother. Add to that an education and the resourcefulness that being a bastard without an acknowledged father develops in a child, and you've got a formidable figure indeed. Telling the story of Merlin's childhood up through Arthur's conception, Stewart weaves a historical novel touched briefly by fate and the gods, but ultimately centered around the actions of men. It's a quiet and powerful start to an extraordinary series, one that I will keep rereading for years to come.
And that about wraps it up! If you need more sci-fi/fantasy chat in your life, check out our newly launched podcast SFF Yeah!, hosted by yours truly and my fellow geek Sharifah. If you need even more reading recommendations of any kind, you can find me and Amanda at the Get Booked podcast. May the odds be ever in your favor!