Hi fellow mystery fans! This week I've rounded up some great comic volumes that are perfect for mystery fans. If you're not a comic reader (I highly recommend giving them a try!) and would like to dip your toes into the world of comics but don't even know where to begin, here's a glossary of basic terms that Swapna Krishna put together. Also, keep in mind that many bookstores and libraries now carry volumes (usually about 5 single comic issues bounded together) so they're easier to get your hands on if you don't have (or are overwhelmed by) a comic book store. There are also digital comics that you can also purchase from many stores or even checkout from many libraries! Anyhoo, these are some recent reads that satisfy both my mystery loving heart and my comic loving heart.
---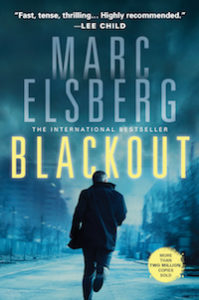 Sponsored by Blackout by Marc Elsberg.
When the lights go out one night, no one panics. Not yet. The lights always come back on soon, don't they? Surely it's a glitch, a storm, a malfunction. But something seems strange about this night. Across Europe, controllers watch in disbelief as electrical grids collapse. There is no power, anywhere.
A former hacker and activist, Piero Manzano investigates a possible cause of the disaster. The authorities don't believe him, and he soon becomes a prime suspect himself. With the United States now also at risk, Piero goes on the run, desperate to uncover who is behind the attacks. After all, the power doesn't just keep the lights on—it keeps us alive.
---
For Nancy Drew fans!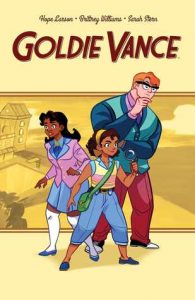 Goldie Vance Vol 1 by Hope Larson, Brittney Williams, Sarah Stern: Goldie's dad manages a Florida resort, and at sixteen Goldie is determined to one day become the in-house detective for the hotel–she's currently technically the valet but really can't help meddling and solving cases for the real in-house detective. While I'm not sure I'd want to stay at a hotel that needs a detective on the payroll, I love everything about this comic, from Goldie's mom working as a live mermaid (I so miss Pushing Daisies) to Goldie drag racing! I especially love the retro feel to it.
For procedural fans!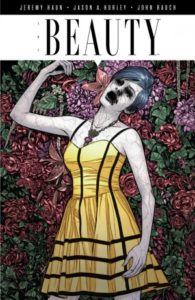 The Beauty Vol 1 by Jeremy Haun, Jason A. Hurley, John Rauch: This starts with a really interesting concept: what if there was an STD that would make you our society's "ideal" beautiful? In other words, becoming beautiful is the side effect of this STD. In the graphic novel it seems society is now split between those who've intentionally become "infected" in order to be gorgeous (the majority) and those disgusted by the idea or trying to stop it. There also seems to be this not-so-tiny issue where the beauties seem to just be blowing up. Like, exploding people. So maybe there is more to this STD than just becoming beautiful? That's what Detectives Foster and Vaughn are trying to figure out. Throw in corrupt politicians and big bad pharma and you've got an interesting case!
Unique and clever!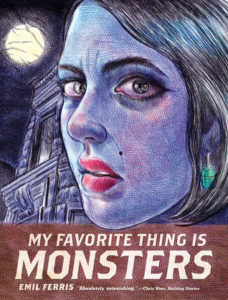 My Favorite Thing is Monsters by Emil Ferris: 10-year-old Karen Reyes is trying to navigate through uptown Chicago during the '60s without a dad, a mom who's sick, an artistic brother usually in trouble, and a community of different ethnicities living together. Reyes is clever, intuitive, artistic (this is her graphic diary after all) and obsessed with monsters–so much so, she identifies as one. When an upstairs neighbor is murdered, Reyes puts herself on the case. Ferris has created a page-turner that takes you into Reyes' home life, community, and the murder victim's past while also forcing you to linger on each page to catch every single detail in this wonderfully drawn graphic novel. Each page looks like Reyes sketched out her day, thoughts, memories, and nods to pulp magazines and b-movie horror in her school notebook, and it's perfect.
I leave you with:
After the hit of Big Little Lies novel and HBO adaptation it's no surprise there's more of Liane Moriarty's work in the adaptation pipeline: Blake Lively will exec produce and star in The Husband's Secret.
At EW author's explain how their characters (many detectives) got their names.
At Book Riot Charley Macron recommends 5 True Crime Comics That'll Keep You Up at Night.
AND in super exciting news for podcast listeners starting June 9th Book Riot will have a mystery/thriller podcast Read or Dead hosted by fantastic Rioters Rincey Abraham and Katie McLain. You can subscribe now to not miss the first episode and listen to their introduction podcast.
Browse all the books recommended in Unusual Suspects previous newsletters on this shelf.
Until next time, keep investigating! And in the meantime come talk books with me on Twitter and Litsy— you can find me under Jamie Canaves.