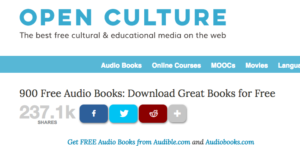 I have long been a fan of Open Culture and I don't know why people don't talk about or use it more. Do people not love free things as much as I do? I love free things so much. And Open Culture is chock full of free things–-ebooks, audiobooks, lectures, and videos–-all in the public domain. Sure you can root around on different sites for different things, but wouldn't you rather have a whole bunch of it in one place? Me, too. Some of these are short stories; pieces by Jamaica Kincaid are read by Edwidge Danticat and Chimamanda Ngozi Adichie; and others, like C.S. Lewis' Chronicles of Narnia, are full novels. There are a variety of formats, including MP3s, which leads me to my next item…
---
Sponsored by Audiobooks.com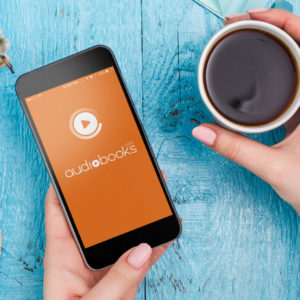 100,000 titles, 1 app, endless listening! Your first book is free when you sign up for Audiobooks.com, the premier membership service for audiobook lovers. You can stream books live or download for offline listening, and enjoy great features like sped-up narration, sleep timer and custom bookmarking. Browse by genre or curated lists, check out promotions and giveaways, and switch seamlessly between devices with cloud-syncing technology. Plus, Audiobooks.com integrates with CarPlay, Android Auto, Sonos and tvOS for easy listening in your car and home. Try Audiobooks.com today!
---
It's hard to feel like something is dead when you have 6 billion of them living on your computer and you use them all the time, but okay, I guess.
What's that? You want *more* free audiobooks? OK, I've got you covered (BOOK PUNZ!). Kim Komando talks LibriVox Audio Books.
New Releases
Neil Gaiman's Norse Mythology
From Lydia Yuknavich's review in the New York Times:
"There is a difference between reading a book and listening to stories, a difference amplified to epic proportions in the case of Norse Mythology. I knew it immediately when all of the hairs on my arm shot up during the retelling of how Odin lost his eye when he traded it for a sip from the well of wisdom. My theory was confirmed when my 16-year-old son passed by my bedroom door one night and could not stop himself from coming in to listen — for an entire hour. Hearing a story aloud, you are seduced by the wonder of an ancient oral tradition."
Nevertheless by Alec Baldwin
The Washington Post says of Baldwin's narration, "Baldwin's trained delivery, his air of candor and, above all, his engagement with what he is reading elevates this book above its printed form." Want to hear for yourself? Listen to an excerpt of it here.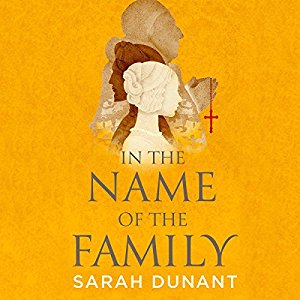 WaPo also reviews In the Name of the Family by Sarah Dunant, saying, "Nicholas Boulton delivers the general narration in a courteous, gentlemanly manner, a temperate foil to his virtuoso performance in capturing the extravagant, Renaissance personalities of the story's many characters."
An upcoming release for the young feminist in your life: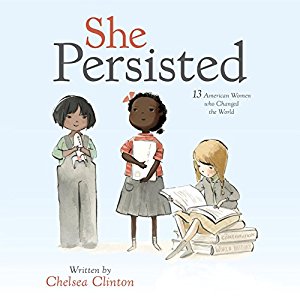 She Persisted by Chelsea Clinton (on sale 5/30)
This book is marketed as being for ages 4-8, but I think people of all ages could use a reminder about the awesome-ness of the women covered in this book. Among the lives recounted by Clinton: Harriet Tubman, Helen Keller, Clara Lemlich, Nellie Bly, Maria Tallchief, Claudette Colvin, Ruby Bridges, Margaret Chase Smith, Sally Ride, Florence Griffith Joyner, Oprah Winfrey, and Sonia Sotomayor. 
Links for Your Ears
Audible Highlights 10 Books Where Small Towns are Gigantic Characters
Cory Doctorow talks "Cage-Free Audiobooks and Libro.fm"
Students Learning to Read by Listening: I am incredibly stoked to see this happening. I have long been a believer that our educational system is too rigid in how we teach literacy skills. If you get kids hooked on the story, they're going to want to learn how to consume that story. Or so says me.
Turn books into audiobooks (if you have Windows, that is).
Are you a writer? Concerned about your novel getting proper audiobook treatment?
My bad:
Last week, I mentioned an awesome Audible article about audiobook narrators first taking the mic. And then I linked to the wrong article. I'm very sorry and you should definitely check out the *right* article here.