At least there's one good thing about Mondays: It's time for Book Radar! Sit back, relax, and check out deals, cover reveals and more upcoming book goodness. – xoxo, Liberty
All the Deal News You Can Use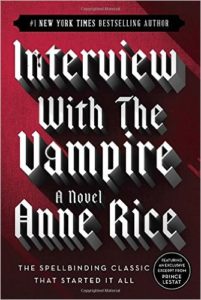 Donald Glover is making an adult, animated Deadpool television series because he loves us.
Anne Rice shared some details about her upcoming Vampire Chronicles television series. 
James Patterson convinced Bill Clinton to write his next book for him collaborate on a new book.
Bryan Cranston is bringing The Dangerous Book for Boys to the small screen.
George R. R. Martin's 1980 supernatural sci-fi novella Nightflyers is being turned into a TV series.
Harry Potter and the Cursed Child is officially coming to Broadway next spring.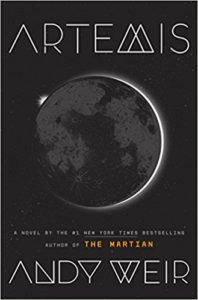 There's a pub date for Artemis, Andy Weir's follow-up to The Martian! Surprising no one: the film rights were snatched up right away.
In more unsurprising news, Starz has already renewed American Gods for a second season.
There's a Hellboy reboot in the works with Stranger Things' star David Harbour.
New Curtis Sittenfeld novel will imagine Hillary Clinton's life without Bill.
Julia Roberts will star is a film adaptation of The Bookseller.
Tom Hanks will star in the film version of The News of the World. (This was one of my favorite books of 2016!)
Cover Reveals
Out in 2018: Whitney Gardner's Chaotic Good cover is fabulous!
Nick Harkaway has a new novel coming! It's called Gnomon and its cover is fin-ally here.
Here's the fancy cover for Martha Brockenbrough's Alexander Hamilton, Revolutionary.
I immediately clicked this link when I saw "Indiana Jones set in space." It's an upcoming book from Amie Kaufman and Meagan Spooner.
Sneak Peeks!
Shonda Rhimes tweeted the first look at Still Star-Crossed, her television sequel to Romeo And Juliet.
A new trailer for the new adaptation of Stephen King's It. And there's one for The Mist. (I may have to make a whole separate column just for SK adaptation news.)
Get your tissues ready: It's the new trailer for Nicola Yoon's Everything, Everything movie.
The trailer for the Blade Runner sequel, Blade Runner 2049, looks batty.
Book Riot Recommends
At Book Riot, I work on the New Books! email, the All the Books! podcast about new releases, and the Book Riot Insiders new release index. I am very fortunate to get to read a lot of upcoming titles, and I'm delighted to share a couple with you each week!
Today I want to mention a couple upcoming sequels I just read and loved, so you have plenty of time to read the first books before these come out!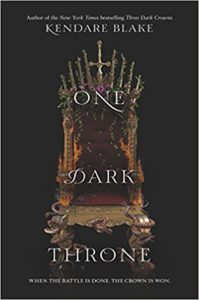 One Dark Throne (Three Dark Crowns) by Kendare Blake (Sept. 19, HarperTeen): Last year I read the first book, Three Dark Crowns, and was like WHOAAAAA. It's about three sisters who must fight each other to the death to decide who will be king. And it's so dark and twisted and sexy! Every time I thought it couldn't get twistier, IT DID. And it ended in a cliffhanger that had me clamoring for the next book. WHICH IS SO GOOD. It's a kick-ass, magicky, medieval extravaganza!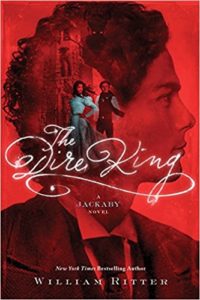 The Dire King: A Jackaby Novel by William Ritter (Aug. 22, Algonquin Young Readers):This is the fourth – and last – adventure of Jackaby and Miss Rook. I am having so many feeling about finishing up this series. It has been so much fun! It's like a mash-up of Sherlock Holmes, Doctor Who, and Buffy the Vampire Slayer. And unlike the last book in a lot of series, I loved this one.
And this is funny.
A little Cher book humor at the library.