People Who May or May Not Wear Lab Coats Think We're Nice
"…According to a new study, reading regularly could make you kinder and more empathetic." Emphasis mine. Well, are we or aren't we kinder? Because I already bought the t-shirt. Our friends at Kingston University in London conducted a cheeky study, finding that readers were more likely to act in a socially acceptable manner compared to those who preferred watching television. Readers of drama, romance, experimental, and comedy fiction got extra high fives for positive vibes. I personally suspect that the masterminds behind the study forgot to mention that watching television adaptations also counts.
Adapt This! PBS Announces Little Women Miniseries
Oh, you hadn't heard? Apparently, we're not done talking about new adaptations of classics. Netflix got Anne of Green Gables, Hulu got The Handmaid's Tale, and now PBS and MASTERPIECE have announced they're teaming up with Colin Callender's Playground and the BBC for a television adaptation of Louisa May Alcott's timeless tale of sisterhood, Little Women. Casting has yet to be announced, but we do know that the three-part miniseries will sit nicely beside the BBC Special Edition Pride & Prejudice DVD box set.
Those Bookish Clintons
First, we hear that former POTUS Bill Clinton is writing a book with James Patterson. The suspense novel, The President is Missing, will be published jointly by Alfred A. Knopf and Little, Brown and Company in June 2018. Then, we get the news that Hillary Clinton will appear at BookExpo in New York City on the evening of June 1 (what's that line going to look like?). Go on with your bookish selves, Clintons.
Dapper Tot Reads A Cool Million
Not only do you have to read about Britt David Magnet Academy kindergartner Breyden Suragh to celebrate the fact that he read a million words during the school year; you also have to visit the page to witness his epic-cool fashion sense. Someone get this child a book bow-tie! Six-year-old Breyden and his accomplished peers received celebrity treatment as part of his school's "millionaire bash" for kids who reached that million-word mark. The reader and his school gained viral attention thanks to his uncle who gave his nephew a shoutout on Twitter. We applaud you, Breyden and crew.
---
This week's newsletter is sponsored by The Spectacular Sisterhood of Superwomen by Hope Nicholson, published by Quirk Books.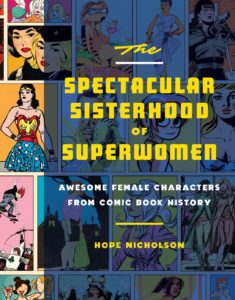 Think comic books can't feature strong female protagonists? Think again! In The Spectacular Sisterhood of Superwomen you'll meet the most fascinating exemplars of the powerful, compelling, entertaining, and heroic female characters who've populated comic books from the very beginning. With vintage art, publication details, a decade-by-decade survey of industry trends and women's roles in comics, and spotlights on iconic favorites like Wonder Woman and Ms. Marvel, The Spectacular Sisterhood of Superwomen proves that not only do strong female protagonists belong in comics, they've always been there.