For all the folks who've been wanting to add the Read Harder podcast to their favorite app: we got you. As of today, when you visit the podcast's page on Insiders, you'll see a new Subscribe option! You can grab the RSS feed there and use it to add the show to your podcatcher.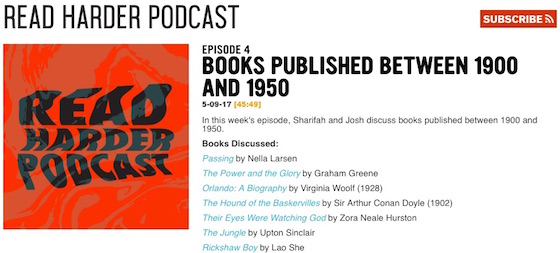 A couple Qs & As:
Q: Why can't I see the episodes and subscribe option?
A: It will only show up if you're logged in!
Q: What apps does this work with?
A: Tried and tested: iTunes, iPhone Podcasts, Pocket Casts, Overcast, Podcast Addict, BeyondPod, Downcast. It should also work with any app that allows you to add a podcast manually via RSS.
Q: I still can't find the Read Harder podcast by searching!
A: Since it's a private podcast, we're not submitting it to search results for any podcast platforms. As long as your app allows you to add a podcast by feed, you should still be good to go! Related: we know how awesome the show is, but this address is private and not meant to be shared publicly or with anyone subscribed below Novel level on Insiders.
Q: You didn't answer my question!
A: Drop us an email and we'll help figure out what's up.
Happy listening!