Greetings Audiobookers!
I'm Katie and I'll be taking over as your audiobooks tour guide! (This also means I'll be hosting the Book Riot Insiders audiobook chat at its new time, the second Thursday of each month from 1-2 PM EST, so Insiders, mark yer calendars!)
---
This week's newsletter is sponsored by Audiobooks.com
100,000 titles, 1 app, endless listening! Your first book is free when you sign up for Audiobooks.com, the premier membership service for audiobook lovers. You can stream books live or download for offline listening, and enjoy great features like sped-up narration, sleep timer and custom bookmarking. Browse by genre or curated lists, check out promotions and giveaways, and switch seamlessly between devices with cloud-syncing technology. Plus, Audiobooks.com integrates with CarPlay, Android Auto, Sonos and tvOS for easy listening in your car and home. Try Audiobooks.com today!
---
I'm currently listening to two audiobooks: one is A Colony in a Nation, written and narrated by Chris Hayes and Only Daughter, written by Anna Snoekstra and read by Saskia Maarleveld.
A Colony in a Nation is really interesting–-it's one of those books that has a straightforward way of synthesizing information you know to be true in a better-articulated package than you (or at least I) could do alone. Hayes looks at race relations, crime, and the privilege/marginalization dichotomy from through the lens of the "colony" (poor areas, often with heavy Black and brown populations) vs. the "nation" (middle/upper class white areas) and the systems that keep these two communities separate. He's a good narrator; it's always a treat when the author narrates their own book (although there are a few times where he tries a little too hard to do the "voices" of the people he's quoting and I've found myself cringing during my commute).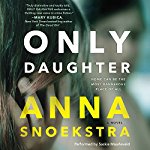 The jury is still out on Only Daughter –-I'll report back. So far, the plot has required absurd suspension of disbelief–the protagonist assumes the life of a girl who went missing 11 years prior. If you can get past the fact even the twins in the Parent Trap couldn't pull it off (and they were, you know, twins) it's kind of an interesting story. If I were reading the print version, I probably would have abandoned it by now, but the narrator's voice is so soothing (a calm Australian accent is hard to turn off) that I've been letting the book play while I do laundry.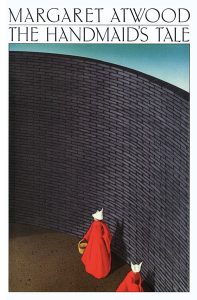 With The Handmaid's Tale sweeping the nation (interpret that however you'd like), I want to put in a plug for The Handmaid's Tale (BBC Radio Collection) version of the audiobook. Full disclosure, it's a slightly abridged version of the book (I know, I know) but it's read by a full cast and it's basically like listening to a really lovely stage performance of the infamous book. There's also a version narrated by Claire Danes that I'm told is very good but I'm partial to the aforementioned BBC version.
New Release I am Very Excited About: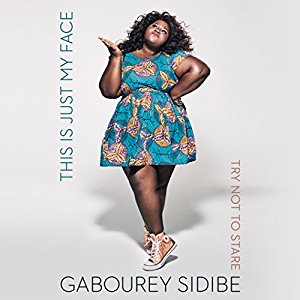 This is Just My Face: Try Not To Stare by Gabourey Sidibe
"Gabourey Sidibe—'Gabby' to her legion of fans—skyrocketed to international fame in 2009 when she played the leading role in Lee Daniels's acclaimed movie Precious. In This Is Just My Face, she shares a one-of-a-kind life story in a voice as fresh and challenging as many of the unique characters she's played onscreen. With full-throttle honesty, Sidibe paints her Bed-Stuy/Harlem family life with a polygamous father and a gifted mother who supports her two children by singing in the subway. Sidibe tells the engrossing, inspiring story of her first job as a phone sex 'talker.' And she shares her unconventional (of course!) rise to fame as a movie star, alongside 'a superstar cast of rich people who lived in mansions and had their own private islands and amazing careers while I lived in my mom's apartment.'
Sidibe's memoir hits hard with self-knowing dispatches on friendship, depression, celebrity, haters, fashion, race, and weight ("If I could just get the world to see me the way I see myself," she writes, "would my body still be a thing you walked away thinking about?"). Irreverent, hilarious, and untraditional, This Is Just My Face will resonate with anyone who has ever felt different, and with anyone who has ever felt inspired to make a dream come true."
Links for your ears!
Listen To Gabourey Sidibe's Hilarious Audiobook Bloopers — EXCLUSIVE CLIP–Bustle
EW Releasing Chapters of David Sedaris' Audiobook Before its May 30th Release–EW
Stephen Fry talking about Sherlock Holmes is pretty much the most British thing ever– Mashable
Five reasons I learnt to stop turning a deaf ear to (and start loving) audiobooks–Scroll.in
Audible Releases Alien: River of Pain–Yahoo Finance
I'm new to the newsletter game and I'd love to hear from you about what you want to see in the newsletter, what's making your ears happy these days and/or anything else. Feel free to tweet at me (@msmacb).