Hello fellow mystery fans! Family Councils Ontario has created a reading program for Long-Term Care Homes and if they pick their books wisely this could turn into some awesome mystery party events–just sayin'!
Nevertheless, she persisted!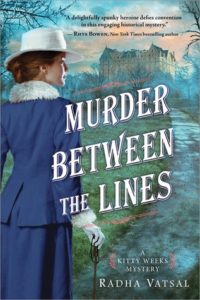 Murder Between the Lines by (Kitty Weeks Mystery #2) by Radha Vatsal: I adore Capability "Kitty" Weeks and her persistence to live her life as she chooses. While she's finally gotten the writing job she wants she's always pushing for more, and to actually be treated as a proper journalist—something believed only men can be in the early 1900s. (Good luck getting Kitty to stand down!) After visiting an all girls school for a writing assignment Kitty finds herself needing to dig deeper into the death of one of the girls since she's unable to accept the sleepwalking explanation. Set in N.Y. at the beginning of WWII the novel is filled with historical facts and puts Kitty into women's suffrage events, visits from President Wilson, and even has her looking into Thomas Edison's battery invention. I'm looking forward to more of this series!
James Patterson plans to write a true crime book about Aaron Hernandez, the former NFL star who took his own life while serving life in prison.
Even though I must solve everything I loved this quote in The New York Times article In Praise of Agatha Christie's Accidental Sleuths by Radhika Jones: "I never tried to piece together the clues. I vastly preferred to hear it from Hercule Poirot or Jane Marple. Why spend time with such endearing, clever characters if you're not going to let them do their job?"
Fun!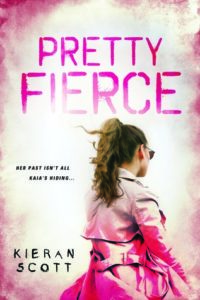 Pretty Fierce by Kieran Scott: When I read too many disappointing or problematic books in a row I usually try to pick up a fun book to wash my brain clean and Pretty Fierce delivered! Kai's parents are contract killers who've raised her around the world as they moved from job to job–that is until a job goes very wrong and Kai ends up orphaned and living with strangers. She's also finally attending high school and has a boyfriend she loves to pieces, which is of course when the past comes back for her. It seems there are people out to kill (?) kidnap (?) clearly cause Kai harm and since she still doesn't know what her parents last job was nor what happened to them she has to find out who is after her in order to stay safe. And her boyfriend is coming along for the action-packed ride because let's just say those two haven't been very honest with each other and they've got some stuff to work out while trying to stay alive. I can totally see this being adapted into a CW series starring Aimee Carrero kicking ass.
Emil Ferris' unique and clever mystery graphic novel My Favorite Thing is Monsters created a four studio bidding battle for the screen rights. Sony won.
For Shakespeare Lovers: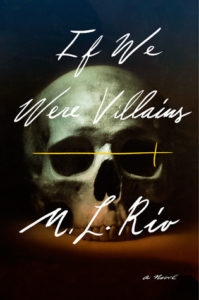 If We Were Villains by M. L. Rio: Ever wanted to solve a murder while being submersed in Shakespeare's words? Have I got a book for you! Seven students attending Dellecher Classical Conservatory as Shakespeare actors have bonded and created a click as they eat, sleep, breathe Shakespeare–that is until a real life tragedy! The novel starts with Oliver being released from jail and a detective coming to ask if he'll now finally reveal what really happened ten years ago at the Conservatory. As Oliver finally tells what led to the tragedy, and the roles each student played before and after, you'll wonder how much is life imitating art and vice versa… This one had a type of ending that I love–but I can't tell you.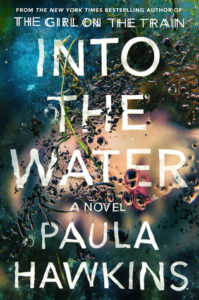 And if you've been dying to get your hands on Paula Hawkins' Into the Water it is now out in the wild! If you're a must-read-before-the-adaptation reader DreamWorks Pictures is already working on the film so times a ticking.
On Book Riot: Since mystery fans are usually fans of plot twists here are 100 must-read novels with twists!
And Amanda Nelson, Jenn Northington, and Katie McLain did a special mystery/thrillers themed Get Booked podcast!
I have to go shopping now:
If you've always wanted a Scooby-Doo Mystery Machine bag dreams do come true!
Until next time, keep investigating! And in the meantime come talk books with me on Twitter and Litsy— you can find me under Jamie Canaves.
---
Level up your reading life with Book Riot Insiders! We've got exclusive content and goodness for subscribers, including a new releases calendar, an Insiders-only forum, and more. Join us!