Arsenic and Old Glasses?
A new theory based on an examination of three of Jane Austen's old pairs of glasses says the author might have died from accidental arsenic poisoning. The glasses show evidence that Austen's vision went downhill close to her death, and that she possibly developed cataracts (a sign of arsenic poisoning). Speculation about Austen's skin pigmentation near the end of her life also points to possible accidental arsenic ingestion. Of course, the actual cause of her death is still an open mystery, and one we're not likely to solve with existing evidence. While accidental poisoning from toxic substances was more common in Regency England than it is now, this evidence is scant.
Young Readers Are Sticking to Print Books 
Ebook sales in the UK have fallen for the second year in a row while physical bookstore sales have risen, and it looks like younger readers are driving the reversal. While the huge numbers of adult coloring book sales probably has something to do with this (alas, you still can't color on your Nook or Kindle), a 2016 Nielsen survey of readers 16-24 showed that 62% of them prefer to read a physical book to a digital one. Also a notable trend: use of tablets and phones overtook dedicated ereaders as the device of choice for reading digital books. Perhaps younger readers spend so much time looking at screens otherwise, they want a physical book for their reading?
We're Getting a New Lisbeth
Sony is releasing their adaptation of The Girl in the Spider's Web in October of 2018, and they're doing it with a whole new cast. The company is conducting a "global search" for the next Lisbeth Salander, making the lucky actress the third to play the role on the big screen. It's disappointing that we won't see Rooney Mara back in the role (she was so perfect). Maybe Lisbeth will become the Doctor Who of thriller movies–same great character, new actress every few years.
---
Thanks to Unbound Worlds' Cage Match for sponsoring this week's newsletter.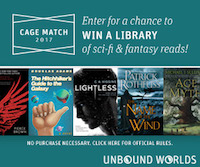 Cage Match is back! Unbound Worlds is pitting science fiction characters against fantasy characters in a battle-to-the-death tournament, and you can win a collection of all 32 books featured in the competition. Enter now for your chance to win this library of sci-fi and fantasy titles!