New Books from Gaiman and Pullman
Neil Gaiman and Philip Pullman both announced new books related to their already-published material: Gaiman, a sequel to Neverwhere, and Pullman a companion trilogy to His Dark Materials. Gaiman cites his work with the UN Refugee Agency as the inspiration for the sequel, called The Seven Sisters. Pullman doesn't seem to name a direct reason for new books in the Dark Materials universe, but the original books are deeply concerned with the anti-intellectual nature of religious fundamentalism, and we could always use more considerations of that topic, especially now.
First Trailer for The Immortal Life of Henrietta Lacks
The HBO limited series adaptation of The Immortal Life of Henrietta Lacks finally has a trailer (hey-o, Oprah!). Seems like this adaptation has been in the works for years. It's hard to tell how true the series will be to the book (and therefore to real life), but so far, looks good. It's a story that needs to be told, and if you haven't read the book, read it before the series premieres on April 22!
People of Color Accounted for 22% of Children's Book Characters Last Year
The Cooperative Children's Book Center out of the University of Wisconsin tracks the diversity of children's literature year by year (and has since the mid-'90s), and this year about 22% of characters in children's books were people of color. Twenty years ago, that number was 9%. As with many things in publishing, progress is slow, but happening. The CCBC credits teachers who were searching for books for their minority students that represented them with the creation of the study–go, teachers!
---
Thanks to A Tragic Kind of Wonderful by Eric Lindstrom for sponsoring this week's newsletter.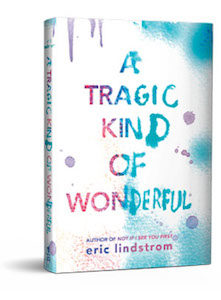 For Mel Hannigan, bipolar disorder makes life unpredictable. Her latest struggle is balancing her growing feelings in a new relationship with her instinct to conceal her diagnosis by keeping everyone at arm's length. But when a former friend confronts Mel with the truth about the way their relationship ended, deeply buried secrets threaten to upend her shaky equilibrium.

As the walls of Mel's compartmentalized world crumble, she fears that no one will accept her if they discover what she's been hiding. But would her friends really abandon her if they learned the truth? More importantly, can Mel risk everything to find out?